Is Pinterest worth it for interior designers? How do I promote myself as an interior design business owner on Pinterest? Do I need a Pinterest business account?
These are just some of the questions we hear from interior designers when talking about Pinterest.
Like so many other social media platforms, Pinterest feels like a whole world of its own and can be easily overwhelming if you don't use it much.
In this blog post, we will cover everything you need to know to use Pinterest to promote your interior design business. From choosing the right type of Pinterest account to creating boards and using the right tools, and we will also throw in some content ideas for your Pinterest profile.
Want a shortcut? Check out our Pinterest Guide for interior designers where you can find everything you need to know about Pinterest to attract home decor clients.
This blog post may contain affiliate links and we may earn a small commission when you click on the links or purchase paid products at no additional cost to you. We only recommend products and software we truly believe to be helpful for your business.
Pinterest fundamentals for home decor business owners
Pinterest is a social media platform founded in 2009. It quickly grew in popularity and it's easy to see why. It's addictive, easy to spend hours on, and yet helpful whether you are looking for detailed advice or random inspiration.
In many ways, Pinterest has become a visual search engine and its users treat it more like Google than social media.
And while in the past the community aspect used to be more significant, today the commenting and messaging features play a much smaller role. These days it's all about pinning helpful content and driving traffic to high-quality websites. 
How Pinterest works
Every user can create boards and save pins that are either images shared by other Pinterest users, images that you find on the internet, or images that you upload directly to Pinterest.
How to share or create a Pin
Essentially, there are three ways how to share an image (pin) on Pinterest.
Option 1: After finding something you like on Pinterest's homepage or on someone else's board, you pin it from there to one of your boards.
Option 2: After finding something you like outside of Pinterest, i.e. on a different website (whether yours or someone else's) you pin the photo(s) you like using the pin it button (we will get to these buttons later).
Option 3: You can also upload a picture manually to Pinterest from your computer and specify a website where the pin should lead (i.e. where will people land when they click on it).
The second two options should be your most used ones if you want to use Pinterest to drive traffic and potential clients to your business.
How to create a Pinterest board
To create a Pinterest board, click on the big plus icon on the right side of your Pinterest profile. There you can choose whether you want to create a Pin or a Board.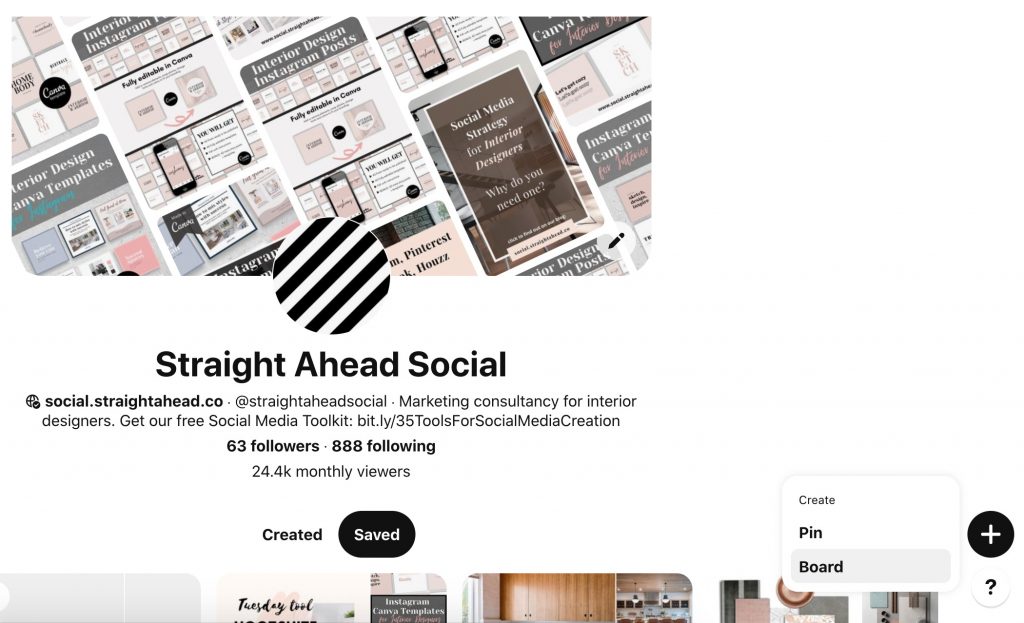 When creating Pinterest boards, don't forget to add descriptions that fit the theme represented on the board.
There is no specific number of Pinterest boards you should have on your profile, but you should definitely think carefully about what you are going to pin to your boards.
In other words, make sure your boards are relevant to your business. We do not recommend creating publicly visible boards filled with your personal content, let's say a recipe board or a travel board unless they are relevant to your brand.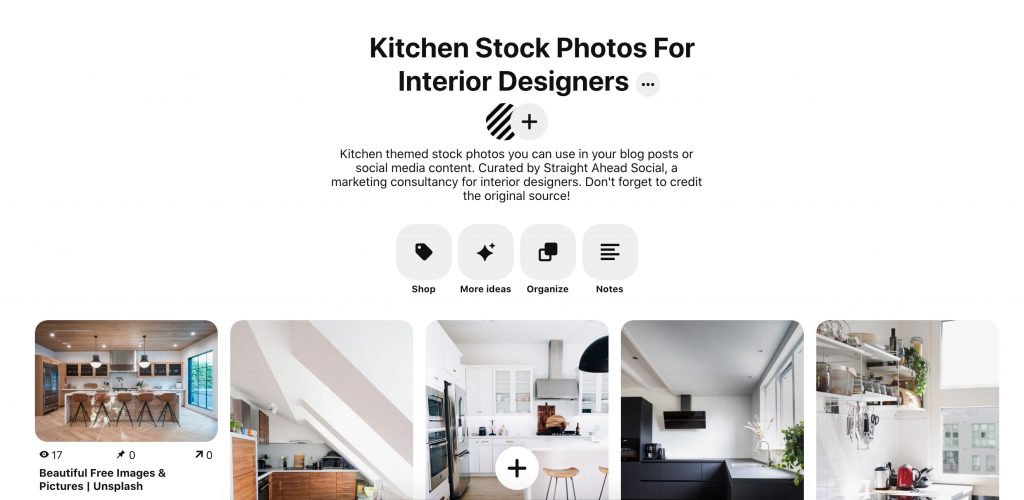 You can always create secret boards if you don't feel like having two separate Pinterest accounts – one for your business and one for your personal use.
The reason behind keeping your boards relevant to your business is simple. It sends a clear message to any viewers and potential clients, without confusing them about your brand.
Make sure your Pinterest boards are relevant to your business.
It's similar to having a company blog – you would post articles related to your interior design business there, such as redecorating tips and current interior design trends. A recipe article would look very much out of place on such a company blog, so you wouldn't probably even think of doing so. In essence, your company's Pinterest profile is another online 'storefront' to your brand, just like your website or a company blog.
You can organize Pinterest boards into Sections. Sections make your profile look neater if you have a lot of different boards on a variety of topics.
Pinterest Business Account VS Personal Pinterest Profile
As an interior design business owner, you don't have to necessarily have a Pinterest business account in order to showcase your work. It does have several benefits over a personal account though and you might want to consider switching to the business if you haven't done so yet.
There is no cost to a Pinterest business account unless you are using paid advertising – a Pinterest business account is free to set up and use.
Benefits of a Pinterest business account for interior designers
There are several Pinterest features that are available only to business account users. Starting with ads (promoted pins), analytics, and rich pins. We will delve more into these a bit later on.
As a rule of thumb, there is nothing to lose if you switch to Pinterest for business and there is no reason why would we advise you against doing so.
Switching to Pinterest for business
To switch, or convert your existing personal account to a business one, just go to Settings, then on to Account settings, scroll down to Account changes and choose Convert account.
You can switch back to a personal Pinterest account if you decide to do so later on although you will have to contact Pinterest first if you linked your business profile to your website and other social media profiles.
The Pinterest business account looks a bit different from a personal account as it includes analytics and an ads section in your 'business hub.'
In the analytics section, you can see how your pins performed in the last 30 days. You can track impressions and engagement, looking more closely at how many people repinned, saved, or clicked on your pins.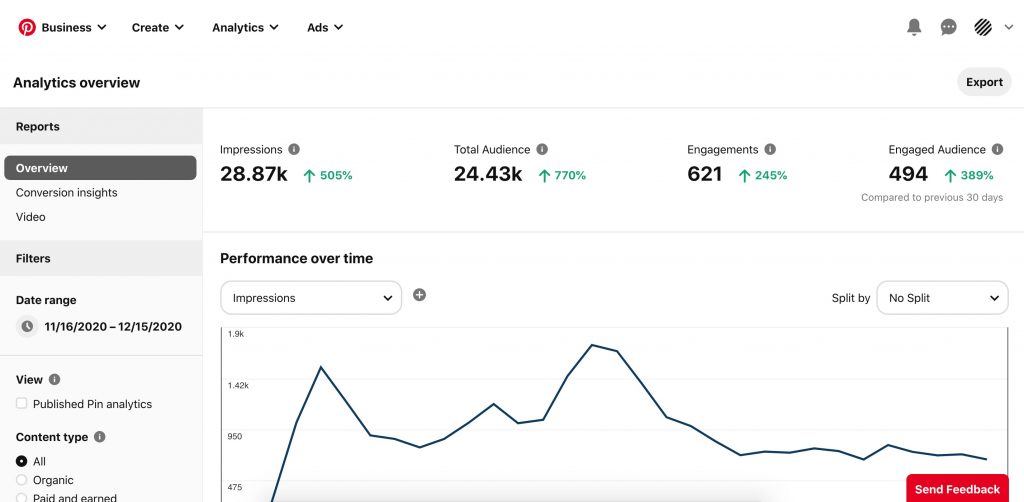 You can also see what kinds of devices are people using when looking at and interacting with your pins.
If you create paid ads on Pinterest, you can also see detailed analytics of those.
Once you create or convert your account to a business one, don't forget to claim your website. This way you can display your website link right in your profile.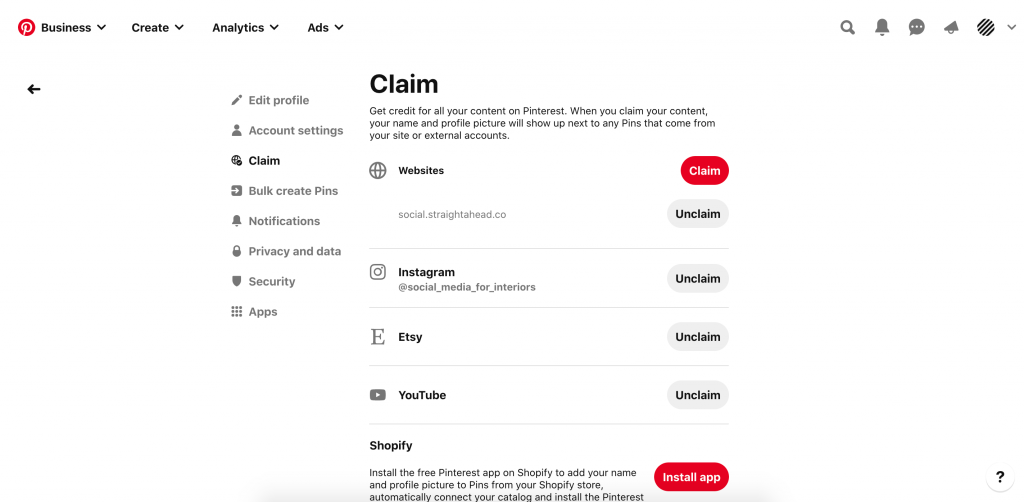 You can also link to other social media platforms you are using. These won't be displayed in your profile but they will be shown next to content that is pinned from your website or your social media sources.
How to write a great Pinterest bio
When writing a Pinterest bio, similar rules apply as when writing an Instagram bio or other social media bios.
A perfect Pinterest bio should definitely include the following:
Your company name
Description of what your interior design company does
A link to your website if you have one (through Claimed website)
Location if your company serves only local customers
You can think of your Pinterest bio (or any other social media bio) as an elevator pitch. People reading it should get a clear idea of who you are, what services you provide, where do you provide them, and what makes you different from other interior design businesses.
Think of your Pinterest bio as an elevator pitch.
Your Pinterest bio can be up to 160 characters long so make your company description brief and to the point.
Don't forget to include keywords and search terms that your ideal client is likely to use when searching for an interior designer. Make sure your bio doesn't sound robotic – always write for real people instead of Pinterest's algorithm.
How to choose a Pinterest profile picture
The rules for choosing a great Pinterest profile picture are similar to those applied to Instagram. You want to choose a photo that shows your face clearly (unless your main business is an e-shop and physical contact is not as important), with a smile, and looks professional.
If you don't have any photos that fit the bill, it's better to schedule a professional branding photoshoot rather than use any old selfie you find on your phone.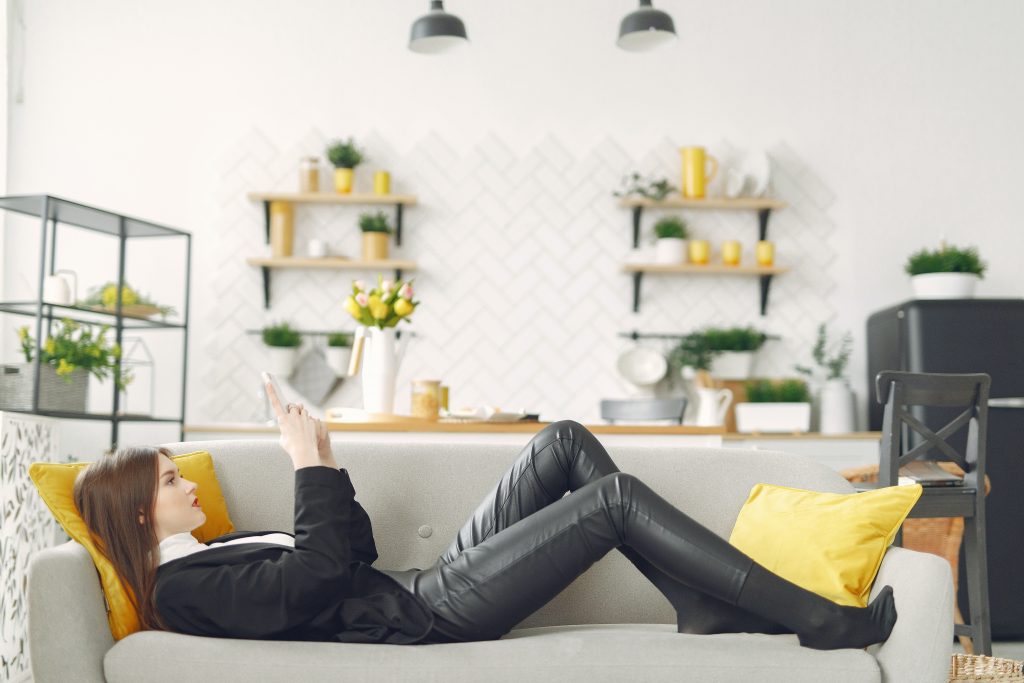 Pinterest Secret Boards
While Pinterest boards are usually publicly visible to anyone who visits your profile, secret boards are just what it says on the tin – secret and visible only to you and the people you share them with.
You can use secret boards to work on boards that aren't immediately ready to be public or to share a board with a project inspiration with your client.
You can also use secret boards for content you are pinning for your personal use if you don't want to have a separate personal profile.
Group boards on Pinterest
Group boards, also called collaborative boards, are public boards on Pinterest where more members can contribute with their pins. The idea behind group boards is to group like-minded users, or similarly themed Pinterest content, based on a specific interest.
Using correctly, Pinterest group boards can give you greater exposure, showing your pins to a whole new audience without a lot of additional work or paying for advertising.
There are many group boards focused on interior design and home decoration. Beware though, that not all Pinterest group boards are equally 'good' or high quality.
You should consider how many followers a group board has and how many collaborators are there – too many collaborators can indicate a spammy group.
You can also look at your competitors and which groups they joined.
Watch out for boards that are full of irrelevant content or are flooded with pins by one particular user.
A quality group board is balanced in how much content is being pinned by its members and how much the content sticks to the board's theme.
With some group boards, you might have to message the board founder first in order to be approved as a pinning member. The rules for joining a group board are usually clearly stated in the board's description.
Pingroupie is currently the best tool to find group boards that are appropriate for your business.
Here are some of the many interior design Pinterest group boards just to give you an idea:
Interior Design and Home Decor Ideas
Inspiring Homes! best of Interior Design (Community)
Interior Design: Home Decor, Office Decor
Home Interior Design Ideas & Inspirations
#decor Home Decor | Interior Design
Hollywood Regency | Interior Design
How to create a group board on Pinterest
Creating your own group board on Pinterest is pretty easy. It's growing the group board that can take a lot of time and energy.
As with growing any new community, you should have a plan and commit to growing it consistently in order to see the results you wish for.
To create a Pinterest group board, go to an existing board (or create a brand new one in your desired theme) and invite collaborators by clicking on the plus icon next to your profile picture under the board name.
There you will see a couple of ways to share the board with other people – you can share the board link or look up a Pinterest user using their name or email address.
You can also add collaborators to secret boards, which is handy when you want to share an inspiration board with your client without making it public.
How to change the board cover
To change a board cover, go to your board, click on the three dots under the board name and click on 'Edit board' in the Board options. You will see a plus symbol where you can choose a new board cover from your existing pins (images) saved on this board.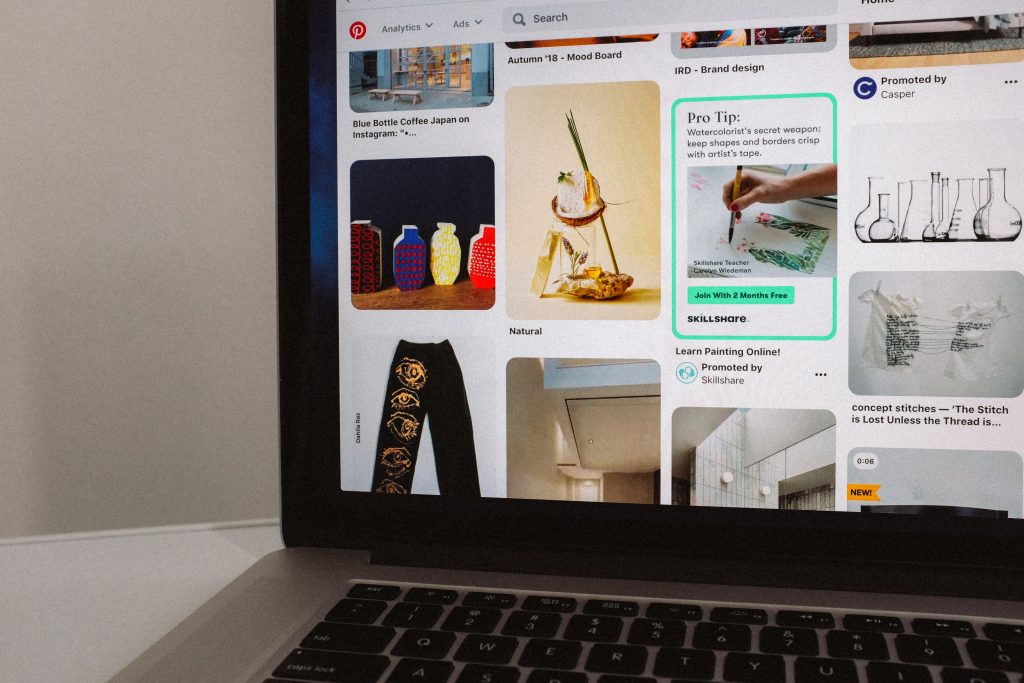 Hashtags on Pinterest
Using hashtags on Pinterest isn't as widespread as on Instagram but that doesn't mean you cannot use them at all. And while Pinterest officials haven't been encouraging using hashtags for several years, they changed their minds sometime around 2018. Now in 2021 things are different again.
You can add hashtags to pin descriptions or pin titles. Clicking on the hashtag doesn't work as on, let's say, Facebook, where you can see all recent posts published with this hashtag, but you can still use hashtags to search for certain topics.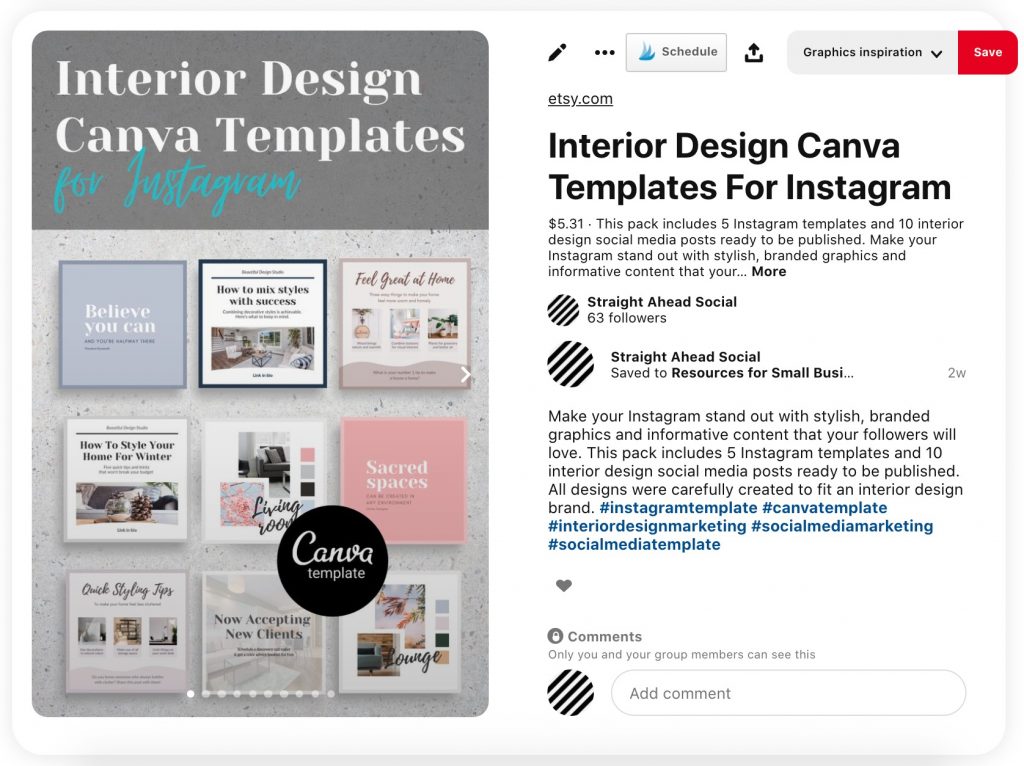 In other words, hashtags now work more like keywords on Pinterest. Some say that using hashtags in pin descriptions helps make pins rank higher and quicker on Pinterest. But as Pinterest is slowly phasing out many functionalities associated with hashtags (such as hashtags suggestions when writing a pin description), it seems very much as if Pinterest wasn't overly concerned about them.
Pinterest Pincodes
Pincodes work very similarly to QR codes. By scanning a Pincode, you will get redirected to a Pinterest board or a profile the Pincode is made for.
Simply put, a Pincode is a shortcut to a Pinterest profile or board without having to look for it on the platform or using a link.
How to create a Pincode
Creating a Pincode for a Pinterest profile is easy – click on your profile picture when you're on your profile page, and just download the Pincode image that Pinterest has generated for you.
When creating a board Pincode, click on the three dots icon next to your board name and choose Create Pincode. You can either choose a picture for your Pincode from all the pictures saved on your board or let Pinterest choose one for you. You can then download the Pincode as a png image and share it on your other social media, your website, or wherever you would use a QR code.
Oh, by the way, creating pin codes for Pinterest boards is only available for business accounts.
To use someone else's Pincode, open the Pinterest app on your phone, go to search, and tap on the camera icon on the right side of the search bar. You'll have to grant Pinterest permission to use your phone camera and access your photo library.
Just as you would scan a QR code, you can then just point the camera at the Pincode and after a short cute animation, voila, you are at the board or a profile that the Pincode leads to.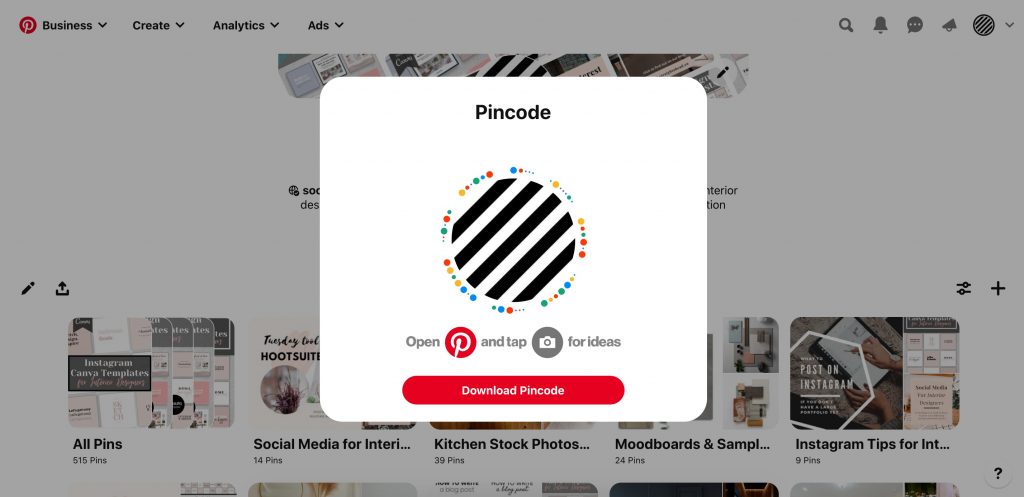 Pinterest Rich Pins
Simply said, rich pins are pins that include more information than your standard pins. This extra information is taken from your website (presuming that is where you are pinning them from). As of the time of publishing this (early 2021), there are four types of rich pins on Pinterest: app, article, product, and recipe.
For interior designers, article and product-rich pins provide the most value. Rich article pins will show information such as the article headline, the author's name, and a short description. This is great for designers who blog regularly and it makes the blog pin more compelling to be clicked on.
Rich article pins will show information such as the article headline, the author's name, and a short description.
Rich product pins show pricing information, availability, and where to buy the product. This comes very handy for designers who have an e-shop and makes it easier for people to buy products straight from their Pinterest app.
If you would like to use rich pins, you will have to apply first, which can take some time and work. It will also involve adding meta tags on your website so if you are not very familiar with website development, better ask a professional to help you.
Having said that, if you have done things like adding tags to a webpage header before, Pinterest has a pretty clear manual for how to add rich pins.
Also, if your website runs on WordPress, you can use the Yoast SEO plugin to set up rich pins.
You can also turn off rich pins if for whatever reason you don't want to use them anymore. But keep in mind that by doing so you will turn them off across your entire website.
Pinterest Lens
Pinterest Lens, introduced in 2017, is a feature that lets you search for things you see in the real world on Pinterest just by pointing your smartphone camera at them.
This Pinterest visual search is used widely with things like food, fashion, beauty products, travel destinations, and, you've guessed it, home decor. This is especially interesting with the Pinterest shop tab that appears on the Lens search results.
In 2020, around half of the items searched via Lens belonged to the home decor category. Home decor accessories such as vases, mirrors, rugs and throw pillows were among the top-shopped products.
For interior designers, there is also value in using Pinterest Lens for inspiration. As there are hundreds of photos uploaded on Pinterest every day, it is morphing into an almost endless catalog of interior design ideas. Pointing your phone camera at a furniture piece or an interior space is a quick way how to get ideas for a design situation that is similar to the one you are dealing with.
A word of warning – Pinterest Lens is still evolving and although its AI is getting more clever every year, it might still take a while to get 100% relevant inspiration to what you are looking for. So be prepared for some rather interesting suggestions when using Pinterest Lens.
Getting interior design clients on Pinterest
For many interior designers, getting new clients is often the motivation behind joining Pinterest. Alas, the journey from a social media follower to a paying client isn't straightforward and this applies to Pinterest as well.
If getting new clients is your main objective on Pinterest, you should be aware of Pinterest's limitations and where it sits in the client acquisition funnel.
Pinterest's greatest strength is in driving traffic and doing it consistently over longer periods of time if you put your work into it.
Pinterest's greatest strength is in driving traffic and doing it consistently over longer periods of time if you put your work into it.
To utilize Pinterest the best way possible, make sure your website is filled in the bio and that you actually have pin-worthy content on your website.
Don't expect flocks of potential clients to come to you via Pinterest if you have no website, because that's not how Pinterest works.
How to use Pinterest to drive traffic to your website
One thing that many interior designers and home decorators do on Pinterest is that they create a lot of beautiful boards and share a lot of pins, but only a very few of them actually lead to their own website.
Yes, you can be perceived as an active user if you repin a lot of content. But at the end of the day, you are supporting someone else's business if your main goal is not sharing your own content.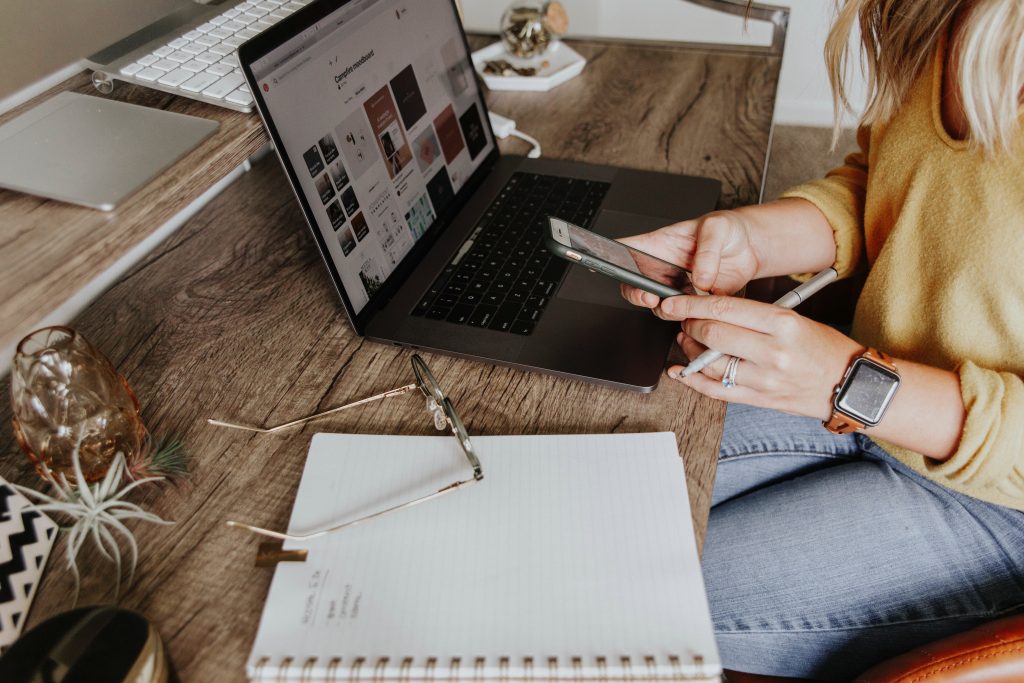 Driving traffic from Pinterest to Instagram
Both Pinterest and Instagram are visual-centered social media platforms. Even though they are used differently, on some occasions you might want to drive some traffic from Pinterest to your Instagram account.
This is easily done by just pinning your Instagram posts to your Pinterest boards.
Just like we did it with one of our boards:
After pinning your Instagram content onto an appropriate Pinterest board, it's a matter of optimization and distribution to make these posts really drive traffic from Pinterest to Instagram. In other words, these pins should be as Pinterest-friendly as all your other Pinterest content if you want people to click on it.
When pinning your Insta images to Pinterest, be aware that Instagram's preferred image dimensions are different from those favored by Pinterest. While square pictures look best on Instagram, on Pinterest it is long, vertical images that will be most popular and preferred by Pinterest's algorithm.
Doing Affiliate Marketing Using Pinterest
Can you do affiliate marketing on Pinterest?
In short, yes you can!
Some Pinterest users are concerned about whether it's possible to do affiliate marketing using Pinterest without a blog.
As an interior design business, it is highly recommended that you have your own website and a blog. But if you don't have either, there's no reason why you couldn't be making money by recommending your favorite furniture pieces or accessories with affiliate links.
As mentioned before, interior design is one of the most popular topics on Pinterest, meaning there is a lot of demand for interior-related content. This doesn't have to be necessarily just showing your own projects.
Just as you would be recommending your favorite furniture supplier for a commission in 'real life,' you can do the same on Pinterest.
The only thing you need is your unique affiliate link, provided by the company you partner with, and publish this link with a pin you create.
When creating an affiliate pin, keep in mind the basics of creating an engaging pin, just like you would with any other Pinterest content.
Make sure the image is compelling enough for people to click on and don't forget a proper title and description. Adding a few relevant hashtags at the end of the description won't hurt either.
When creating an affiliate pin, keep in mind the basics of creating an engaging pin, just like you would with any other Pinterest content.
Put yourself in the shoes of your potential client and look at your affiliate pin through their eyes – is the image visually interesting? Does the pin contain all the information you would like to know? Don't be afraid of adding text overlay to your pin if it makes it more engaging.
One last note about affiliate pins – if you are using Pinterest's group boards, make sure you check whether affiliate links (or links to products) are allowed on your selected board before you pin your affiliate pin there.
Some group board creators are very strict about this, others don't mind at all!
Pin it button
A 'Pin it!' button is one of the very basics you should do on your website and blog, regardless of whether you are active on Pinterest or not. Pin-it buttons on your website are more for the visitors of your website than for you.
What it does is that once a visitor hovers over a photo on your website, they will see the Pin it button, allowing them to save it easily on their Pinterest profile.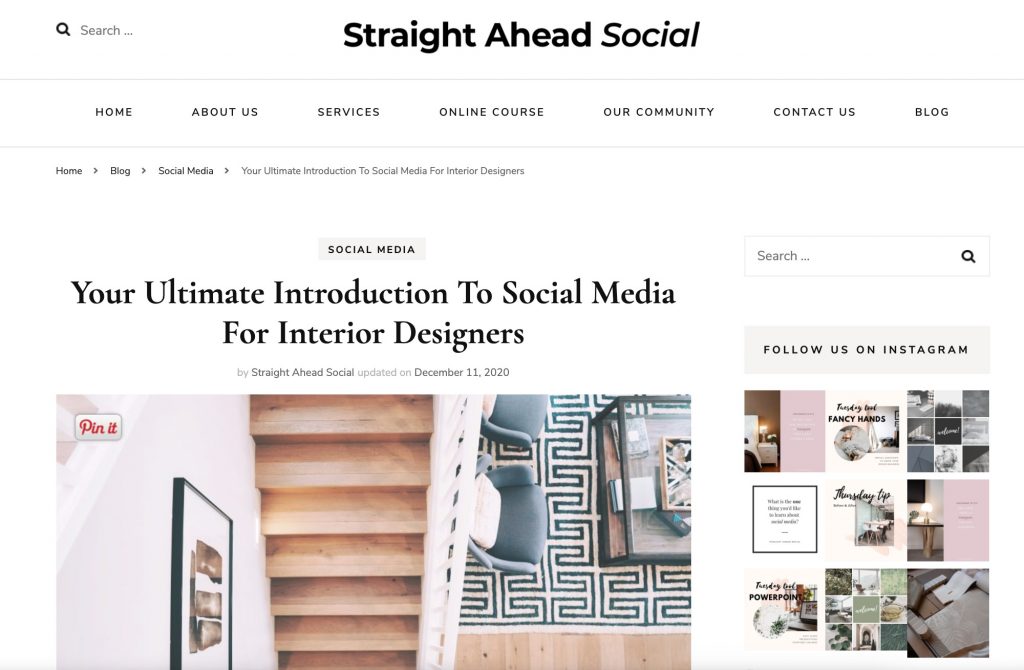 How to get a Pin it button
If you have a WordPress website, there are several plugins you can use, like this one or this one.
If your website is made with Squarespace, the pin it feature should be already available to you in your Squarespace Home menu.
Same with Wix websites, you can select the pin it feature in the Wix Editor.
Pin it browser extension
The pin it button described above can be sometimes confused with the Pin it browser extension.
This is understandable as the purpose of both is to save pins on Pinterest. In this case, though, the browser extension allows you to save pins from any website, regardless of whether they have the pin it extension installed on their website hosting service or not. That means you can use it to pin photos from your own website as well as from anywhere else on the internet. This might come in handy if you are looking for inspiration for a client project, or if you want to save a selection of products from a supplier for your personal reference on a secret Pinterest board.
Depending on which internet browser you use, you can easily install the extension using the Pinterest guide.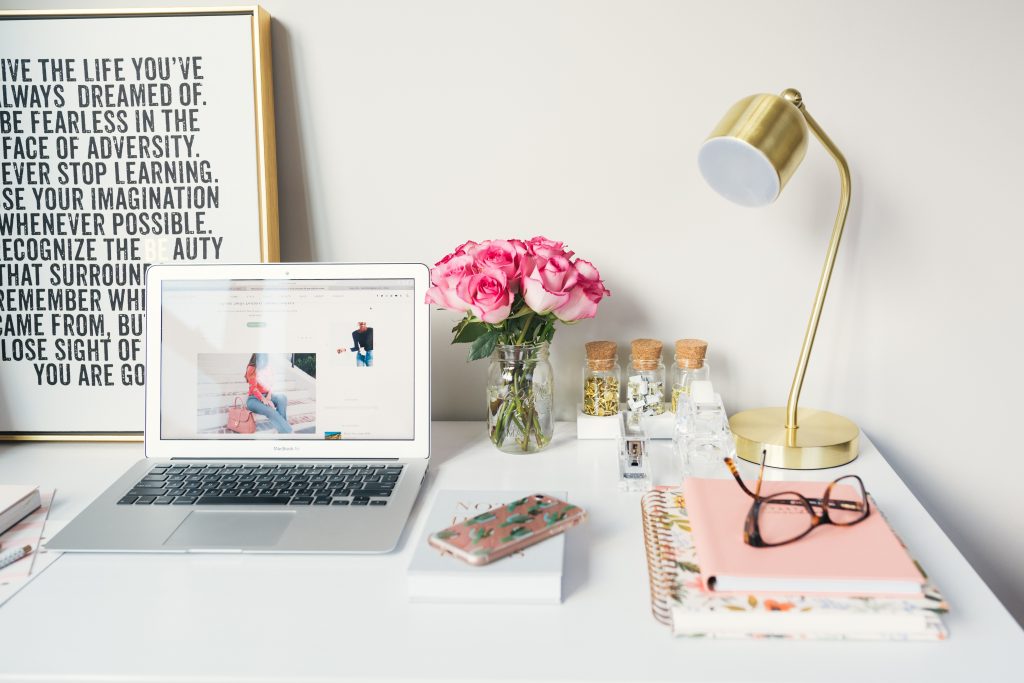 Fresh Pins And Duplicate Pins
A fresh pin is an image that Pinterest hasn't 'seen' yet. Duplicate pins, on the other hand, are images that were already pinned on Pinterest and lead all to the same website.
As Pinterest favors new content, it's generally recommended to focus on creating fresh pins rather than repinning the same pins again and again.
In theory, you could create a fresh pin from your old images by just changing a font or changing the main picture. But in the end, you are creating pins for Pinterest users, not just the Pinterest algorithm. Because of that, the most important thing that Pinterest will consider is how much are users interacting with your content.
As Pinterest favors new content, it's recommended to focus on creating fresh pins.
Does this mean that you need to churn out new Pinterest content day after day?
No, fortunately not.
Your older pins are still valuable. For one, once they are circulating on Pinterest, more users might find them useful over time. The more engagement is there on your pins, the more will Pinterest push them in front of more people, bringing you more traffic to your website.
You can also pin older pins to new group boards as you find new ones that are relevant to your business. This way you will show your pins to new audiences, creating new opportunities for engagement, even though you are not creating a fresh pin.
Creating Interior Design Pinterest Content
Now you know how Pinterest can help you grow your interior business and you might feel ready to create some awesome Pinterest content.
Ideally, all your content and social media activities should have a synergic effect. Your blog post should be not only highly valuable to readers, but also pin-worthy and contain material that is sharable on social media (think quotes, tips, paragraphs…).
The next time you think about future blogging topics, imagine a Pinterest-worth filter that you use to run your ideas through. Ask yourself questions such as:
Will this topic look good on Pinterest?
Is the title catchy enough for a Pinterest picture?
Is the title not too long for a Pinterest picture?
Can I create multiple title variations for Pinterest pins?
Is there enough imagery in the blog post to be pinned on Pinterest?
Which of my Pinterest boards does this blog fit onto?
Which Pinterest group boards can I repin this blog to?
Chances are you already have some Pinterest-worthy content on your website. It could be already published posts on your blog or photos of your past projects. If that is the case, your first step should be creating new pins for the content you already have on your page.
Later on, we will look at some tools that will help you create new Pinterest images in almost no time.
Writing Captions on Pinterest
At the time of writing this blog post, Pinterest captions are not among the most important things to focus on when sharing your content on Pinterest.
Does this mean that you shouldn't pay them any attention at all?
Errm, no.
But should you stress over them and hire a professional copywriter?
Also no.
The captions should clearly say what your pin is about and maybe what the person looking at it will discover once they click on the image.
But there's no need to come up with lengthy stories, hooks, get emotional or use emojis as we are used to doing on Instagram these days. The majority of people clicking on your pin might not even pay much attention to more than the first two sentences of your caption.
So save your energy and concentrate it rather on creating Pinterest graphics as it's their quality that will decide whether someone clicks on your pin or not.
Ideal Pinterest Image Dimensions
The ideal Pinterest image dimensions have changed over the years. For quite some time, Pinterest has been favoring vertical images. In 2021, the ideal pin has an aspect ratio of 2:3 and is 1000 x 1500px.
For long pins, their ideal dimensions are 100 x 2100px.
When it comes to the Pinterest profile pictures, the dimensions are 160 x 160px and in 2021 they are cropped to a circle format.
Pinterest board covers are a bit different – their aspect ratio is 1:1 and they are 600 x 600px. You can choose your own board cover or let Pinterest choose it for you.
If you are after a more unified, branded look, you can create your own covers that reflect your brand and visual style.
Pinterest Board Ideas For Interior Designers
When it comes to board themes, there are plenty of ideas for interior designers and home decorators:
Inspiration for client projects
Mood boards
Initial design sketches vs how the project turned out
Before vs after
Interior lighting
Seasonal boards (Christmas decor; Summer outdoor decor; Fall decor…)
Your favorite accessories (with a potential for placing affiliate links)
Individual project boards
Room-themed boards (Living Rooms; Kitchens; Bathrooms; Home Office; Dining Rooms; Master Bedrooms etc.)
Material-themed boards (Wood interiors; Marble interiors; Glass interiors…)
Design features and elements-themed boards (Flooring; Window coverings; Built-in wardrobes; Staircases; Bookcases; Fireplaces; Kitchen backsplashes; Painted cabinets; Mirrors; etc.)
Design style themed boards (Contemporary interiors; Farmhouse; Coastal interiors; French country style; Boho; Scandi interiors; Golden accents; Floral design; Traditional homes; Retro design; Industrial style; etc.)
Furniture-themed boards (Custom-made furniture; Sofas; Dining tables; Office desks etc.)
Color-themed boards (Dark interiors; White interiors; Bold colors; Neutral palettes, etc.)
Advice-themed boards (Pantry organization; Shelf styling ideas; Color combinations, etc.)
Aaaand so on. There are really no limits to your creativity and the number of boards you can create.
Pinterest Content Ideas For Interior Designers
In regards to the actual pins, there are several ways how to approach creating them.
How-to guides are always popular as they provide value to the reader and give them an incentive to click on the pin.
Here are just some examples of How-to pins (and blog posts) you could create:
How to create a hotel-style bathroom
How to make your home feel more luxurious
How to dress your dining table for spring/Christmas/Thanksgiving
How to add more light to a dark apartment
How to plan a guest suite in the attic
How to create a productive space to work from your home
There are a lot of other topics that would be helpful even though they are not strictly a 'How to' content. For instance:
Calming palettes for your bedroom
Combining textures in modern interiors
Choosing interior paint
Styling with faux greenery
Planning a perfect breakfast nook
Choosing the best window treatment (for your home/kitchen/bathroom etc.)
When creating content for Pinterest, consider the basics of good copywriting and SEO. Think about what your ideal client might be looking for and what are they interested in. Name your boards and adjust your pin copy to their preferences, not to what you would prefer to read.
Think about what your ideal client might be looking for and what they are interested in.
Tailwind has a great write-up for Pinterest best practices that includes valuable advice about content creation if you feel like reading further on the topic.
Best Tools For Pinterest
If you have ever googled 'Tools for Pinterest' the results might have been a bit overwhelming. Luckily, trying out most of them is not necessary. Below we included three tools that are, based on our own experience, the best ones you should get your teeth into.
Tailwind is an all-around Pinterest tool for scheduling your pins, reaching communities, and lately even for image creation.
Pingroupie is a much simpler tool but best in what it does – finding group boards based on your criteria.
Lastly, Canva is our most favorite graphic design tool for creating not just Pinterest images but all social media and branding graphics.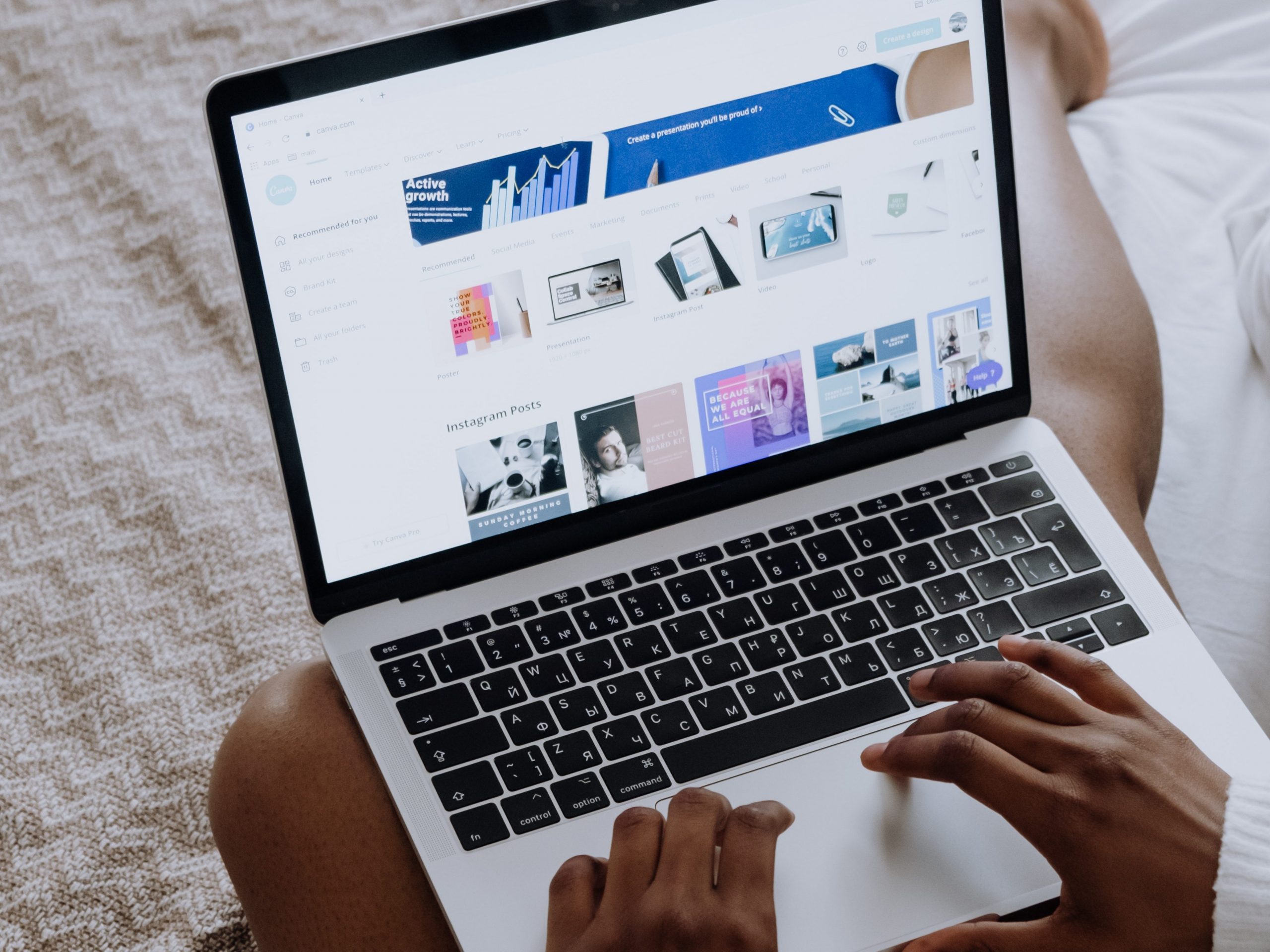 Let's look at each of them more closely.
Tailwind
Tailwind allows you to schedule pins to be published in advance, create new pins, connect with other Pinterest users in your niche, and analyze the performance of your Pinterest account all under one roof.
You can schedule both, pictures found online as well as images you created and upload them on Tailwind.
For super-easy scheduling, you will have to install a Tailwind browser extension. This will allow you to schedule pins quickly from any page you visit.
When scheduling pins, you can choose the exact date and time when Tailwind should publish your pins. You can also let the Tailwind scheduler use its own data to find out the best times to post your pins.
By the way, if you are wondering what are the best posting times on Pinterest, there were several studies done in the past few years on this subject. The 8-11 pm with 9 pm being the peak was quoted as the most popular window, and Fridays and Saturdays were quoted as the best times.
Having said that, your audience might be different so it's better to use your own data to set your Pinterest posting strategy. Or you can just leave it to Tailwind.
Tailwind offers a free trial that you can use to schedule up to 100 pins before having to upgrade to a paid plan.
PRO TIP: When scheduling your pins don't forget to set the correct timezone to reach most people in your geographical area.
What we also love about Tailwind is tips on how to improve your Pinterest, such as 'add more pins to board XYZ' or 'add a description to board YXZ,' based on what you are still missing. These tips, or tasks as Tailwind calls them, are especially great for designers who are just starting out with Pinterest and are not quite sure what to do next.
Tailwind Pin Creator
Tailwind's Pin Creator is Tailwind's native graphic design software that will help you create pin-friendly images in a couple of clicks. It's fairly easy to use and it gives you quite a few options to modify the designs.
It's not as flexible as Canva when it comes to designing, but if you just want to create pins quickly without too much hassle, it might be more than enough for your needs.
Tailwind Communities
Tailwind Communities (formerly Tailwind Tribes) is Tailwind's native community feature that allows you to interact with similarly oriented Pinterest users in order to boost your Pinterest views and give your pins a greater chance to rank higher in Pinterest's algorithm. The thought behind Tailwind Communities is to give you consistently relevant content to repin in order for Pinterest to consider you an active user.
Similar to many Instagram engagement pods and Facebook groups, the end goal is to help each other in order to work the algorithm behind each social media platform.
There are a number of communities that focus on interior design and home decoration. You can even create your own if you are up to the task.
In a way, you could see Tailwind communities as similar to Pinterest group boards. In both, you share relevant content inside them and re-pin content that suits your brand onto your own Pinterest boards.
Also, similarly to Pinterest group boards, each Tailwind community has its own rules about what can be pinned or shared within the community. Plus, suggestions for how you should interact with the content made by other community members. This means that in some Tailwind communities it might not be allowed to pin affiliate links (in fact, you could get kicked out if you do it against the rules), while in others it might not be a problem.
Each Tailwind community has its own rules about what can be pinned or shared within the community.
There is also an analytics feature for your Communities pins so you can easily check how your content is doing and how popular it is among other community members.
Pingroupie
Pingroupie is a free tool for finding group boards. Its interface is fairly simple but don't get fooled, the tool does its job very well.
When filtering the search results, you can choose the 'Request To Join Button.' This way Pingroupie will show you only those groups that you can join straight away, without contacting the creator and them adding you manually.
When looking for group boards, don't rely just on the most popular keywords such as 'interior design' or 'home decor.' Explore also more niche options like 'kitchen countertops' or 'lighting design.' You might be surprised how many niche boards will pop up in your search.
A lesser-known function of Pingroupie is Influencer search where you can look for Pinterest users with the most viewers. You can use the Influencer search to look up your competitors or other designers who are doing great on Pinterest.
Canva
Canva is a graphic design tool for creating pins and other social media graphics. We've been raving about Canva for quite some time now and for a good reason – it's very easy to use, comes with plenty of pre-made templates and its free version is more than enough for most designers.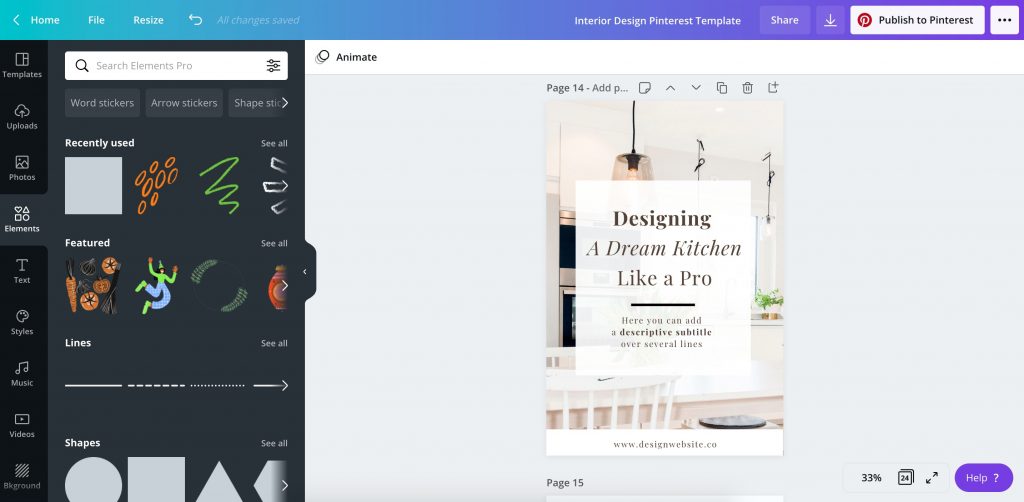 When creating a pin in Canva, you can easily choose a Pinterest pin format and pick one of the many templates, or create your own. Canva has also templates for video pins too, making creating a video pin a breeze.
And that's all the basics you should know about Pinterest for interior designers.
We hope you find all this information helpful!
Photo credits: Unsplash, Pexels.
Did you like this article? Save it on your Pinterest for later reference!