There are two camps when it comes to using stock photos in an interior design business. 
Camp number 1 believes that using stock photos, in general, is a big no-no. You should only ever post your own work on social media and on your blog, nothing else.
This might be a problem for interior designers who are just starting out and don't have a large portfolio yet, or don't have the budget for professional photoshoots.
We are firmly in camp number 2 and we believe that stock photos can be very well used in moderation. Of course, some fundamental rules apply – do not present stock photos as your own work, and credit the original source where required.
Do not present stock photos as your own work and credit the original source where required.
Some stock photo websites might not need to require crediting the source but that doesn't change the fact that you shouldn't present the images as your own work. This applies to both, social media use as well as using images on your blog.
Okay then, let's say you are with us in camp No2, i.e. the lovers of free interior design stock photos.
How do you go about finding them and using the correct stock images for your needs? And how do you do it in the right way so no one accuses you of stealing other people's work?
Well, we are glad you've asked!
Disclaimer: This blog post may contain affiliate links and we may earn a small commission when you click on the links or purchase paid products at no additional cost to you. We only recommend products and software we truly believe to be helpful for your business.
How Do I Choose Stock Photos?
The first thing to consider is the purpose and context where you will be using your stock images. Will they be posted on social media without any modifications? Or will you add text overlays or other elements, such as your branding? Busy images with a lot of things going on might be less suitable for text overlays or Pinterest pins.
On the other hand, minimalist pictures might seem boring as a standalone Instagram post unless that is the general style of your feed.
If you are choosing stock photos for your Instagram grid, be mindful of your color palette and choose pictures that fit your style. Adding lightly colored overlays is an easy way how to modify photos so they fit your brand style. You can easily do that using Canva, PicMonkey, or other graphic design software.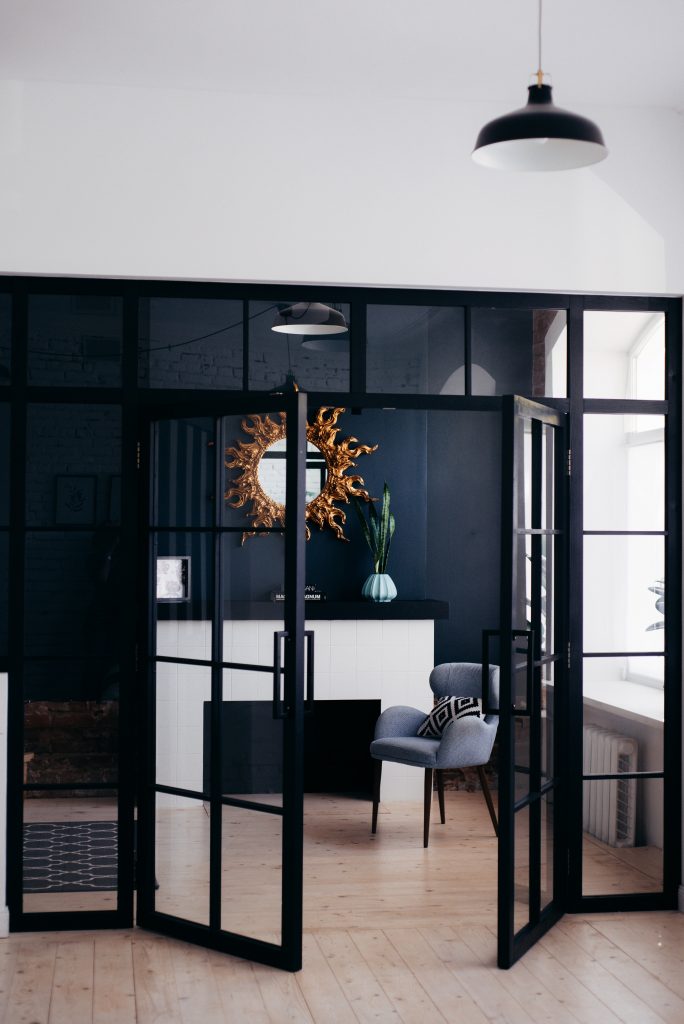 Pay attention to the orientation of the stock photo – for Facebook or blog posts you will want landscape-oriented photos. For Pinterest or Insta stories, portrait photos will be more suitable.
For Facebook or blog posts you will want landscape-oriented photos. On Pinterest or Insta stories, portrait photos will be more suitable.
You can always crop stock images but selecting those that are already in the correct format will save you some work.
If you are using images with people in them, make sure they look natural and not like a typical stock photo.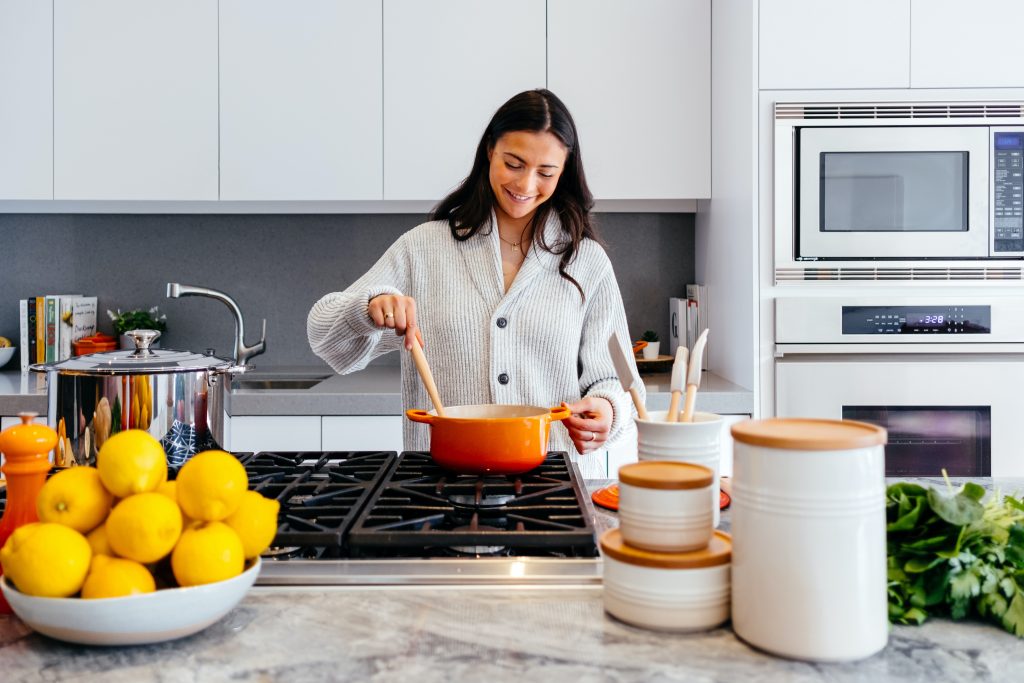 How To Use Stock Photos Legally
Do you need permission to use stock photos?
It depends on the website where you find stock photos and the purpose you want to use them for. Some stock photo websites, like Unsplash and Pexels, are completely free and require neither permission nor credit to the author of the stock photo regardless of the purpose.
Other websites might allow you to use their photos freely for non-commercial use but require you to buy a commercial license for other purposes.
It is always best to check the conditions of use stated on the website where you find free stock photos.
Crediting When Reposting Photos
You might be wondering where all of this leaves you when reposting photos from other designers on social media. Reposting (or regramming as it's also known on Instagram) is a slightly different situation.
When you are reposting other designers' work, always clearly state the original source. Have a look at two examples of how we do it on Straight Ahead Social's Instagram profile:
The first example shows that we mention the designer in the caption, integrating it seamlessly with saying what we like about this particular design.
In the second example, the credit is at the end of the post. It is not integrated into the caption but it still stands out so you can clearly see who is the author of the design.
Both ways of crediting work. To take this a step further, you can even tag the source in the picture like we did here:
Any way you choose make sure the source is always clear so you cannot be accused of misleading your followers.
Best Stock Photos Websites For Interior Designers
Free Interior Design Stock Photo Websites
Free interior design photos are not as hard to find as you might think. The downside of free stock photo websites is that the stock is somewhat limited, meaning you might see your selected photos often used elsewhere. As the popularity of free stock photo websites grows, the supply grows too so this might not be a big problem if you are willing to scour for new submissions regularly.
These are currently our favorite sources and we use them pretty much daily when creating content for social media, blog posts, or other marketing collateral.
Unsplash
Unsplash is currently our favorite free stock photo website for interior design as well as other themes. We love the wide selection of photos and the collection functionality that allows you to create your own themed collections. Their photos are also integrated into Canva, another of our favorites for content creation.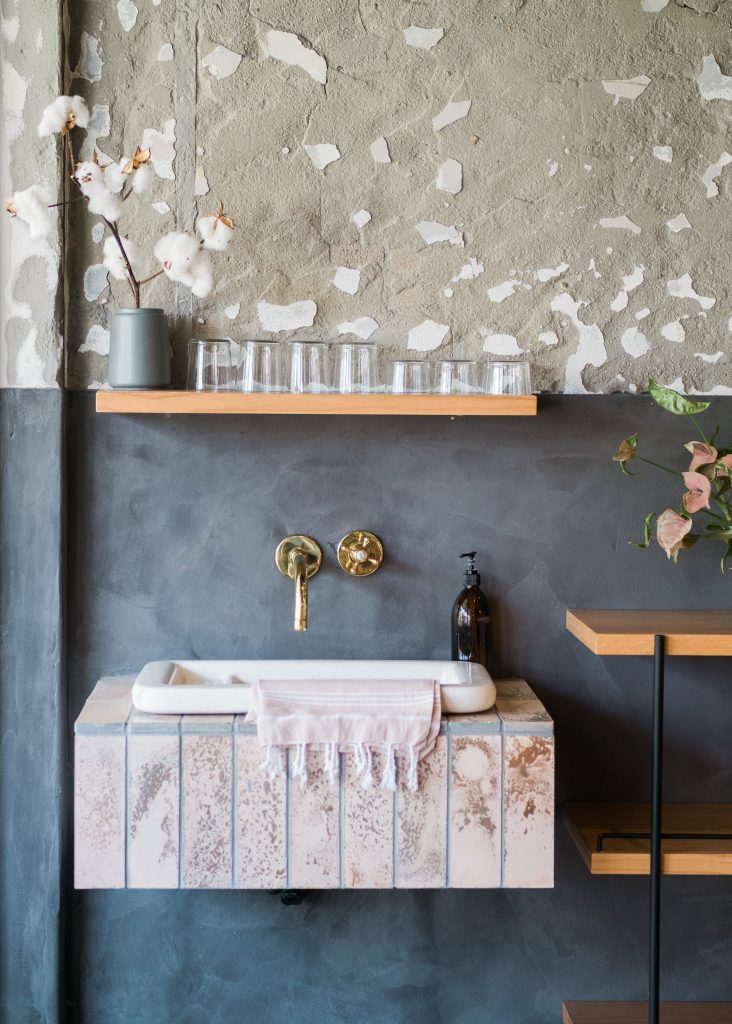 Pexels
Pexels is quite similar to Unsplash in the variety of photos they have. There is also the collection-making function on Pexels, making it practical to use. Compared to Unsplash, Pexels have also an assortment of high-res stock video clips, including free interior design stock videos.
Honorary mentions – StockSnap and Burst
Besides Unsplash and Pexels, two honorary mentions go to StockSnap and Burst by Shopify. These two websites have a smaller selection of interior design-specific stock photos but are still good for a variety of themes.
Premium Stock Photo Websites
If you need a lot of stock content, premium stock photo websites might be great for your needs despite the cost. Thanks to a very large supply of new photos it's less likely that you will see 'your' chosen interior design stock photos used elsewhere on the internet over and over.
Shutterstock
Shutterstock is one of the largest stock photo sources with an enormous database for all kinds of themes and topics. In addition to interior design stock photos, Shutterstock have also stock video clips and stock music. The downside is that the pricing might seem steep if you need a lot of content. They do offer a free trial and monthly subscriptions.
Adobe Stock Photos
Adobe Stock is part of the Adobe Suite and has all kinds of content such as photos, illustrations, audio tracks, video, and even 3D assets. Similar to Shutterstock, Adobe's stock of photos is enormous, including interior design stock photos. Credit packs and monthly subscription options are both available and you can get 10 free stock images to start.
Canva Stock Photo Library
Over recent years, Canva has been our favorite graphic design tool for all kinds of content. It excels on several fronts, including the ease of using interior design stock photos. In fact, the stock photos from Unsplash are integrated into Canva so it's easy to find the stock image you need while creating your social media graphics. 
For a much larger selection of stock photos, get the Canva Pro version. Together with hundreds of stock photos, the Pro version has other perks such as a huge library of design elements and more storage.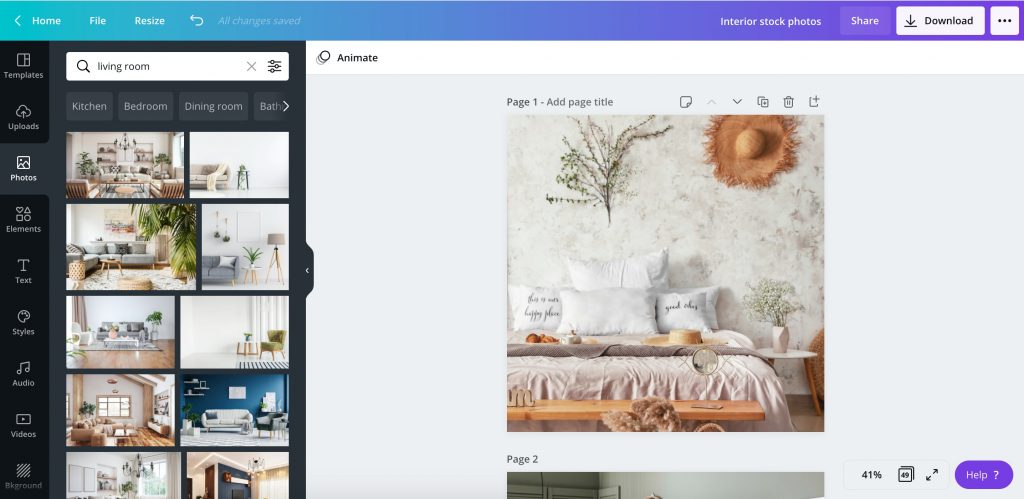 Examples Of How You Can Use Stock Photos In Your Interior Design Business
Knowing where to find great free interior design stock photos is one thing, knowing how to use them is another. If you are short of inspiration we have several suggestions.
Using Interior Design Stock Photos For Blog
High-quality images can elevate your blog post and increase the number of views compared to a post with sub-par pictures taken with a phone.
One of the reasons why your blog posts should have top-notch photos is that it increases the chances of being pinned on Pinterest, increasing the number of visits to your website. If you are unsure how this works, read our post on Pinterest for interior designers where we explain how to increase website visits using Pinterest.
When using stock photos on your blog, choose images that describe well the topic of your blog post. When looking for suitable stock images, try being as detailed as possible in your search. If you are writing about kitchen design, instead of typing just interior design or kitchen try kitchen backsplash, white kitchen cabinets, or breakfast bar for more precise results.
Choose images that describe well the topic of your blog post.
The majority of interior design stock photos will be without people but if you are after more lively images, type people next to your search term. For instance, people in the kitchen or people at home.
Using Home Decor Stock Photos For Social Media
Showing that you are an authority in the interior design domain can be done in different ways than just through your portfolio pictures. As with all social media content, the most important thing is that your posts are engaging. Whether it's your project photos or interior design stock photos come second.
There are many types of posts that you can create using exclusively stock photos. Here are some ideas to get you started:
Moodboards
Do this not that
Design tips & advice
Design inspiration
Material showcase
Pick one you love (e.g. 'Traditional or modern kitchen?')
Motivation quotes (use home decor stock image as a background)
Seasonal posts (Christmas decor, Easter…)
Explaining design terms (with descriptive images)
Asking questions about a specific design (e.g. 'Do you like marble countertops?')
And so on. The opportunities are practically endless!
And what's even better, all of these will not only show off your expertise as an interior designer but will also be highly engaging for your followers, helping you beat the Instagram algorithm and get in front of more eyeballs.
Do you now feel all pumped up to create awesome content using interior design stock photos?
Feel free to use our curated collection of home decor stock images to start your search!
Interiors & Interior Decorations Stock Photos
Kitchen Stock Photos
Bedroom Stock Photos
Bathroom Stock Photos
Kids' Rooms Stock Photos
Modern Interiors Stock Photos
Stock Photos With People In Interiors
Hygge Interiors Stock Photos
Photo credits: Unsplash, Pexels.
Did you like this post? Save it on your Pinterest for later!