Does the world of social media leave you feel overwhelmed? Are you spending too much time on Instagram without quite knowing what are you doing? Are you confused about which social media platforms you should be on?
Dear interior designer, this post is for you.
A word of caution: this article is quite a long read so if you don't have time to dive in, glance over the summary, bookmark this page, and get back to it later. Or watch our Youtube video on this topic.
Disclaimer: This blog post may contain affiliate links and we may earn a small commission when you click on the links or purchase paid products at no additional cost to you. We only recommend products and software we truly believe to be helpful for your business.
Summary:
Why Is Social Media Important
Fostering a sense of connection and their visual nature make social media ideal for interior design businesses
There's more to social media for interior designers than chasing new clients – building your brand and connecting with other industry professionals are also worth the effort
Not all social media platforms are treated equally – some platforms are more suitable for interior designers than others
Social Media Platforms
The best social media for designers are Instagram, Facebook, Pinterest, Houzz, and Youtube due to their nature and features
Instagram is best at showcasing your work and engaging with followers
Facebook is great for close-community engaging in Facebook groups
Pinterest is awesome at leading traffic to your website if you do it right
Houzz is THE platform to go-to for all things home renovations and design from a potential client's perspective which is a big enough reason to be on it
Youtube is still grossly neglected by interior design businesses, making it a great opportunity to reach out and engage with potential clients
Strategy
Social media strategy will allow you to have direction and not just post without any idea
A social media plan gives you more details about what to post and how
Saving time on social media management is possible thanks to scheduling in advance and automation
Outsourcing social media doesn't necessarily equal lower quality content – balance it right and you can have both, more time and engaging, authentic social media content
What is social media and how can it help you get more clients?
If you're reading this, chances are you've used Instagram, Facebook, or Pinterest before. You might have even posted something today. Maybe you clicked on a post on one of these social media platforms and landed here.
Social media created something of a revolution in the internet world. Virtually everyone uses them, whether for fun, work, to look for reviews and opinions, or for education. We, human beings love sharing our thoughts, experiences, and views, and we love to be connected to other individuals.
The business of interior design is an industry built on human connection and interaction. Even if your main business is e-design or virtual design, you will still talk to your client at great lengths – to hear their initial thoughts, bounce off ideas you have, refine the specs and requirements, and present the final design you created for them.
Social media might not be always directly involved in the client communication process (although these days more than ever before you might like to have a client catch up on WhatsApp, Zoom, or Messenger) but they tap deeply into our human nature and the need for genuine connection.
Not to mention the indisputable role of social media in the sales funnel, i.e. during the process from someone hearing about you for the first time to actually hiring you. A lot of times it can be a simple Instagram post, discovered by using appropriate home decoration hashtags, that makes a potential client notice your brand. If they like what they see and you've presented your work well, they might dig a bit deeper and look at your website and Pinterest, to confirm that your style and theirs match. They might also look at Facebook and Houzz for reviews of your work or ask around in forums and groups.
The business of interior design is an industry built on human connection and interaction.
Or, imagine a slightly different customer journey – someone in your local area needs their kitchen refurbished, so they go to a local Facebook group and ask for an interior designer recommendation. Luckily, there might be past clients of yours in this group who recommend you instantly. Or someone could have just seen your posts on Instagram and remembered that you were local, and again, recommend you.
There is a lot of work that social media do that isn't visible right away. And yes, they might seem like a lot of effort to set up at first. But once you have a well-running system, they can be very well put on autopilot. Leaving you to focus more on designing while they do their job, of reminding potential clients of your existence, and helping to spread the word.
Digital Marketing vs Social Media For Interior Designers
Social media are just one part of digital marketing. If you want to do everything you can to attract new clients in the virtual space, you need to also think of your website, SEO, newsletters, content marketing, and possibly even paid advertising.
In the real world, unless you have a budget to outsource all marketing to an external agency, you are probably neglecting a lot of digital marketing. It's not ideal but well, which part of running a business is? Our view is that you better do what you can (and try doing it the best way possible) than despair at what is beyond your capacity.
As mentioned previously, social media can be streamlined and automated later in the process, so you won't necessarily have to spend days managing your Instagram and Pinterest. Instead, you will be able to move on to other parts of the digital marketing mix.
And because social media are becoming non-negotiable for service-based businesses, it is understandable to start with them.
Best Social Media Platforms For Interior Designers
We've seen plenty of social media platforms springing up and then dying out over the years. Can you remember MySpace? Or Vine, a predecessor to TikTok?
The world of social media can be overwhelming, especially if it's not your day job to keep up with them. And while some social media platforms might be more popular than others, it doesn't mean that you have to chase what's trending and be everywhere. Not to mention that not all social media formats are equally suitable to the needs of interior design businesses.
Let's take Reddit, for example. It's one of the largest social media platforms with approximately 330 million users and has been among the most popular ones since its inception in 2005. Yet, despite there being a number of interior design communities on Reddit, because of its format and nature, it's not the best place for a designer or an interior decorator to advertise their home decorating services.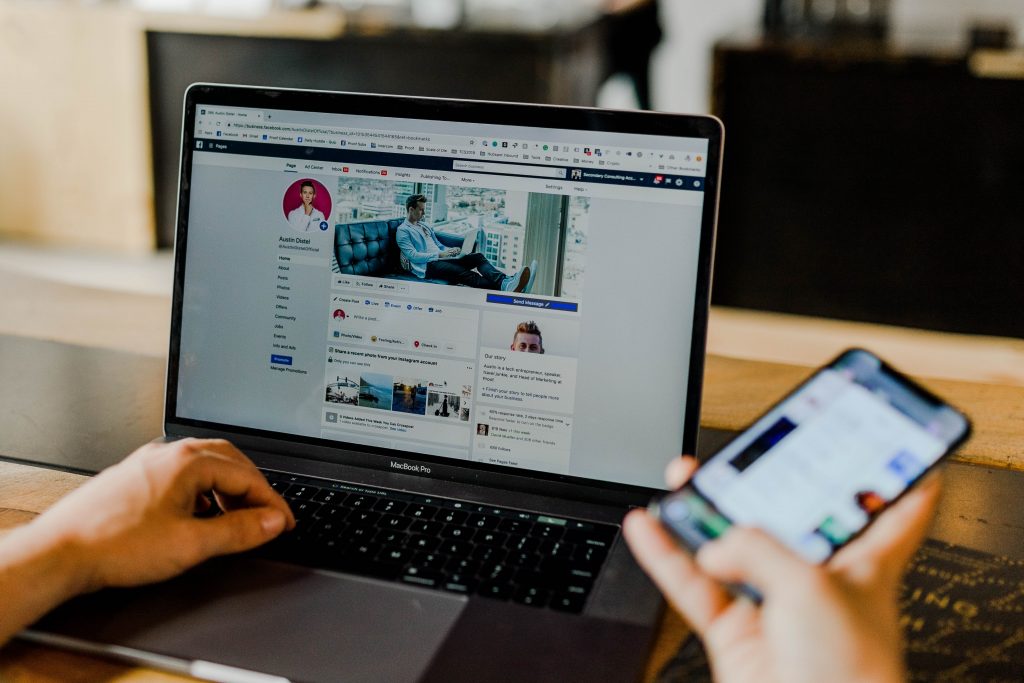 From all the currently trending social media platforms out there, only a handful is most suitable for interior designer businesses.
These are Instagram, Facebook, Pinterest, Houzz, and Youtube. And while the jury is still out on the order of suitability, this particular order reflects our experience and knowledge. As you can see, we don't include Twitter in there or Snapchat. Or TikTok, for that matter. That is because of their nature, not being on the scene long enough to prove their longevity, or a combination of both.
Only a handful of social media platforms is really suitable for interior designer businesses.
Below we will explain in more detail the specifics of each of these social media platforms and how they can serve interior designers to promote their interior businesses.
Instagram For Interior Designers
With its visual nature, Instagram is a no-brainer for interior design businesses. Compared to Pinterest, Instagram has also more of a community feel to its platform thanks to direct messages, comments, and shout-outs (tags). On the other hand, it's not terribly great for driving traffic to your website. But that's okay. The main goal of Instagram should be to showcase your work (you could say Instagram can act as an alternative portfolio space), show you as an expert in your profession, and make connections with people.
When we say make connections, we don't mean just potential clients. Thanks to hashtags, tagging, the location function, and the general collaborative spirit on Instagram, this platform is great for finding and connecting with tradespeople such as constructors, furniture makers, interior photographers, and real estate agents.
And while most designers do focus on getting new clients through Instagram, your time might be better spent building your professional image exactly by connecting with other professionals, educating your followers, and consistently inspiring potential clients.
Facebook For Interior Designers
Until recently, Facebook has been considered the social media platform number one for all kinds of businesses, including interior designers and decorators.
Unfortunately, with its ever-growing demands on companies to switch to paid advertising, the organic (i.e unpaid) reach and engagement of Facebook pages aren't as great as they used to be. As a result, designers spend a lot of time crafting social media content for Facebook without seeing great results.
Facebook can be still used very well to promote your interior design business, but the method of doing so has changed. These days it's closed Facebook groups where most of the stuff is happening, including genuine conversations, sharing experiences, and recommending businesses.
There are two ways how you can leverage the power of Facebook groups – either you create your own, or join existing groups where your expertise fits. The first approach is much more time demanding, as you need to consistently create content and find ways to attract new members, but it can be immensely more rewarding if you succeed.
These days it's closed Facebook groups where genuine conversations, sharing experiences, and recommending businesses are happening.
The second approach, joining an existing Facebook group, is as easy as hitting the 'request to join' button. But don't get too excited just yet – building your name within an established community is not that quick either. It also requires regular engagement within the group, and, first and foremost, providing value consistently until the members trust you enough to either hire you or recommend your interior design business further.
…
Speaking of Facebook groups, we created one specifically for interior designers, architects, stylists, and decorators to discuss all things social. Click on the picture below to join us!
Pinterest For Interior Designers
Pinterest is one of the most favored platforms among interior professionals, yet so many don't know how to use it correctly. Pinterest is one of the top social media for driving traffic, being able to bring flows of visitors to your website over a long period of time. You need to create a lot of content to achieve this goal, though.
The secret to Pinterest's success is not just creating tens of beautiful boards on all kinds of topics related to your decorating business. The thing that most designers who are on Pinterest forget is to actually pin images from their website, or at least create new pins that would lead people to their website or landing page.
It's not even that important whether the number of your followers is high or not. It's how many images leading to your website are in circulation on Pinterest, that determines whether you are wasting time or not.
Houzz For Interior Designers
Houzz aspires to be the platform for all things home renovation and interior design, offering architects, designers, and decorators a place to showcase their work, create new connections, and even sell interior related products.
If you're an interior designer based in North America, you have probably heard of Houzz.com already. This platform is still gaining steam in Europe and elsewhere and while you'll hear many designers being critical about it, the thing is, Houzz is growing and being used by both, your competitors as well as by your potential clients.
So while Houzz might not be very high on your social media priority list, we do recommend you at least establish your presence there, complete with a portfolio and correct contact details.
Youtube For Interior Designers
Did you know that Youtube has billions of searches every month, making it one of the largest search engines on the internet? Long are gone times when we went on Youtube to look at cute cat videos. These days we're also looking for answers to all kinds of pressing questions, inspiration, and new knowledge.
Youtube's viewer base is growing at a rapid pace and even though the pool of content creators on it grows quickly too, there's still a huge untapped potential for many kinds of industries. Including all kinds of professionals within the interior design industry.
Now, creating content for Youtube might seem overwhelming if you're not a video-making pro. Admittedly, you can find large interior studios on Youtube with much bigger budgets, making you feel like you can't compete. The truth is, as, with Instagram, there's still plenty of room for smaller fish in the Youtube pond. And the great thing about Youtube (and content marketing in general) is, that you can reuse content you've created for a different platform. Let's say you wrote a blog post about "Top trends in bedroom design." You can take this already finished content, turn it into a script, and create a brand new video to be uploaded on Youtube!
Youtube has billions of searches every month, making it one of the largest search engines on the internet
Why create a separate video of something you've already posted on your blog, you may ask? The reason is simple – while some of your potential clients might prefer to consume content by reading, others might be more of a watcher and prefer hanging out on Youtube. You can also create shorter snippets from your Youtube video and post them separately on Instagram reels. Suddenly you're reaching potential clients on THREE different platforms (blog, Youtube, Instagram) without not much additional work!
The Basics of Social Media Strategy
Now we've been through the five most suitable social media platforms for interior designers, let's talk social media strategy.
Why Do Interior Designers Need A Social Media Strategy?
Simply, because if you don't know why and how you are doing something in marketing, it's very hard to improve and achieve great results.

A social media strategy gives you direction, guidance, and control. Not only you know which way to go, but you also know where does it lead to, and what transport you are taking to get to your destination. That way you roughly know what to expect and when something doesn't work, it's easier to diagnose the root of the problem and start fixing it.
Difference Between A Social Media Strategy And A Social Media Plan
If we use the traveling analogy again, the social media strategy gives you the overall picture of where you are going and how. Like an itinerary from a travel agent. The plan, in this analogy, is then a helpful voice navigating you on Google Maps or Waze, or whatever app you use when driving. It tells you exactly which road to take and when to make a turn.
A social media strategy tells you what is your overall goal in social media, who you want to reach, and what you want them to do. A social media plan is then a step-by-step roadmap of how to achieve this.
Let's have a look at an example.
An imaginary interior design studio 'Beautiful designs' wants to get more client prospects in their niche, which is online coastal design.
Their social media strategy will say what exactly they want to achieve, i.e. how many new client prospects per month or year will be considered a success.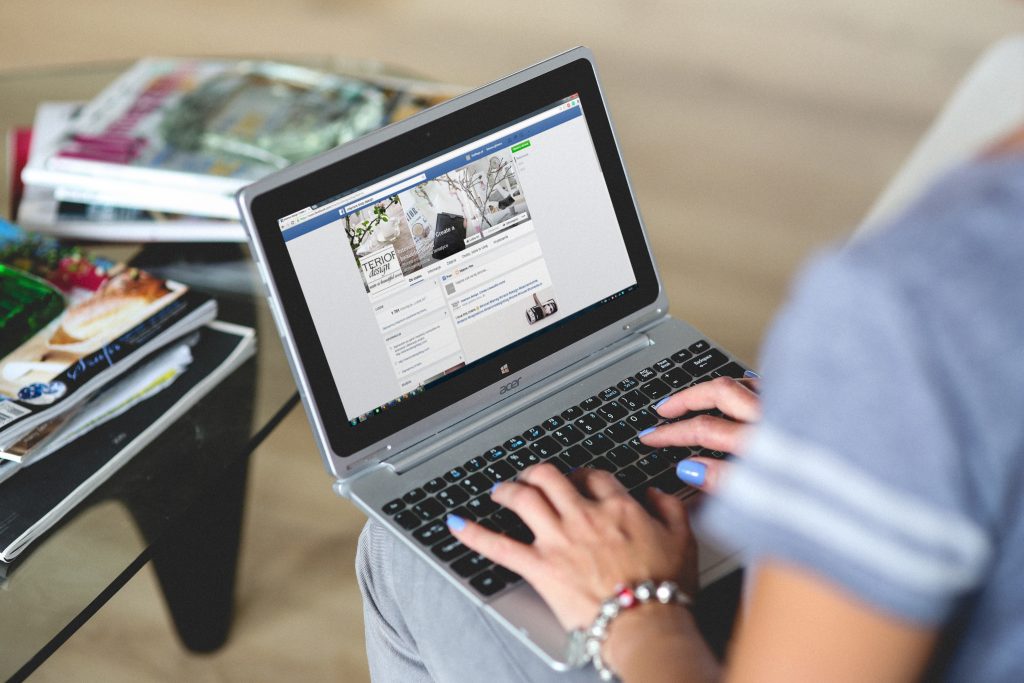 The strategy will also include information about the present state of their social media channels (which social media platforms are they currently using, how many followers they have, what's their engagement like…), and details about their competitors.
Why include all of this and not just jump straight away to how-tos?
If you are aware of your current state and the state of your competition, you can refer back to the strategy along the way to see if things are working and whether you are actually improving.
The social media strategy document can also include other information such as an ideal client persona (including researching which social media platforms are most popular among them), defining your tone of voice, and general brand style. The strategy document is basically like your moodboard when you're working on a client project – it's the basis you can always go back and refer to.
Social media strategy tells you what is your overall goal in social media.
Back to our studio 'Beautiful designs.'
Their social media plan will focus in greater detail on the actual steps they need to take to achieve this goal. Which social media platforms will they be focusing on (which should be based on your ideal client research), what kinds of content will they be creating, i.e. the actual social media post ideas, who will be posting the content, and how often.
It's also helpful to include brief guidelines about engagement, for instance how to reply to comments, mentions, what to do when someone is ignoring community rules, etc.
A crucial part of a social media plan should be a social media calendar. You might prefer using a separate social media calendar template, or scheduling your posts straight into a scheduling tool (we'll mention a couple few lines below). Whichever you prefer, just make sure the posts do get published when they are supposed to.
How To Make Social Media Management Easier, Save Time, And Energy
All of this strategy talk might feel a bit exhausting. But despair not, there are plenty of ways how to make social media management easier.
There's automation and workflows, there are plenty of social media scheduling tools and monitoring software, and, last but not least, there are also abundant outsourcing options.
Social Media Automation & Workflows
Workflows can be as simple or extensive as you want them to be. If you have a blog, you should definitely have a blog writing workflow, that would include how to make all the necessary graphics to go with your blog post and where to publish them (or, seed, as they like to say in the content marketing world).
Workflows can be easily created using tools such as Asana, Trello, or Todoist. As long as your files documenting your workflows are stored neatly in one place (ideally in the cloud), the form doesn't matter as much.
By automation, we mean any tool that does something automatically for you. Scheduling tools could be included here as well, but they are such a big deal we've placed them in a separate paragraph.
Automation can include tools that help you find the most popular hashtags in your niche, like Flick or Rite Tag. Or an app that will cross-post your social media piece to various social media platforms based on a trigger, such as Zapier or IFTTT.
Social Media Scheduling Tools
I know what you're thinking. There are so many social media scheduling tools out there, how to choose the best one?
To be honest, if you're just after automated posting and don't fancy extra features, you can just try a couple of platforms and pick the one you like the best. They differ mostly in their interface and some extra functions you might not even need at this stage.
Most of the best-known schedulers let you schedule a certain number of posts per month for free. The paid versions come with benefits such as being able to manage several social media accounts under one roof, improved analytics, being able to post the first comment, and managing comments from your scheduling platform.
Scheduling Posts On Instagram
Scheduling Instagram posts is a bit different from Facebook or Pinterest. The difference is that only Instagram business accounts are allowed to schedule and publish posts automatically. With personal and creator accounts you can still use some social media schedulers but they will only send you a push notification when it's time to hit the post. They will not publish it on Instagram for you.
This is one of the biggest reasons why switch to a Business account, as opposed to using a Personal or Creator Instagram account. There are also other perks such as access to Instagram's native analytics tool and advertising options on the platform.
Switching to an Instagram business account is easy and will take you just one minute. The only thing you need to do is to go to Settings -> Account and click on Switch to Business Account (or, alternatively, Switch to Creator Account if you wish to use that one instead). As will also Instagram tell you, you can always go back to a personal account just as easily. Just keep in mind that you will then lose all the perks associated with a Business and Creator account!
When it comes to scheduling posts on Instagram, our current favorite scheduling tool is Planoly, mostly thanks to its hashtag group function (available also in the free version) which lets you organize your hashtags in groups that you can then rotate when planning your posts.
…
By the way, if you don't feel like doing lengthy hashtag research, we did it for you already. Our Hashtag Guide for Interior Designers contains hundreds of hashtags organized in handy categories to fit interior design businesses.
Other great scheduling options include Later, Buffer, Hootsuite, Sprout Social, and Tailwind (the last one mentioned works especially well for Pinterest too).
There's also the option of scheduling posts on Instagram through Facebook. Since Facebook owns Instagram, they offer a free Creator Studio dashboard to manage all your Facebook and Instagram posts under one roof.
Its user interface has a lot to be desired but if you can't be bothered to sign up for a separate scheduling tool, it's an okay alternative and it already comes with Insights, a.k.a Facebook's analytics tool.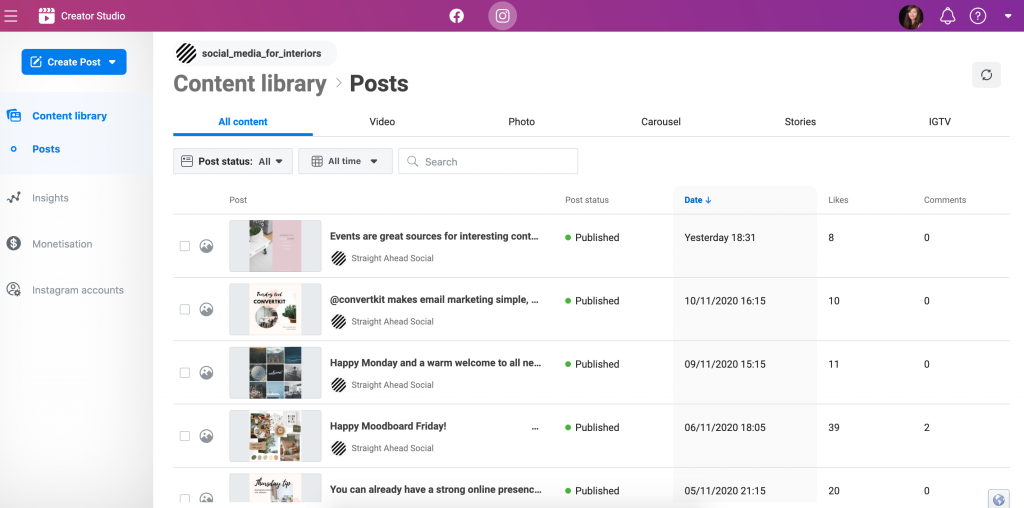 But really, if you are simply after scheduling your posts in advance and don't need premium features, just pick two of the most known scheduling tools, try them out for a while and see which one you like better.
Outsourcing Social Media
Not every interior designer has the resources to outsource social media management. But outsourcing can be cheaper than you might think. Outsourcing platforms such as Fiverr and Upwork offer hundreds of professional writers and content creators for all kinds of budgets. Admittedly, finding the right person will take some time, and you have to be careful to voice your requirements in a very specific manner. But in the end, the benefits of outsourcing social media management will be gaining hours of time and added expertise you might otherwise lack.
To get one thing straight – saving time on social media management doesn't mean your content should be of lower quality. There's a balance to be had between optimizing, outsourcing, and feeling natural. You might opt for automating only some parts while doing other tasks manually. For example, you can schedule your content in advance but then hang out on Instagram after publishing to respond to followers as soon as they comment.
Or you can outsource creating graphics for your social media posts but write all the captions yourself because your writing style is so unique and what your followers love about your brand.
There's a balance to be had between optimizing, outsourcing, and feeling natural on social media.
Automation and outsourcing social media don't have to be all-or-nothing. You are free to mix and match the tasks to be outsourced and automated according to your business needs and personal strengths.
And that is our introduction to social media for interior designers!
Do you feel pumped to learn more? Or do you have questions that were left unanswered? Drop us a line if there's something else we should include in this introduction.
Oh, and to get your creative juices flowing, we have something for you – a free 4 Week Content Plan For Instagram you can use to create a month's worth of content.
We hope you'll have fun with it!
Photo credits: Unsplash, Pexels.
Did you like this article? Save it on your Pinterest for later reference!