When it comes to having a solid social media strategy in place, there are several aspects that could make or break your content. Hashtags are one of these aspects. They make the difference between potential interior design clients finding your social media content versus not being able to find you when searching for services like yours. So it makes only sense to use the best hashtag tools possible to get the best results.
Hashtags are versatile tools that you as an interior designer can use to optimize your content and make it easy to find, whether you use them in captions, in the comment sections of your posts, in your Insta stories or even in your Reels.
If you enjoyed our previous blog on Instagram hashtags, today's blog is sure to inspire your hashtags strategy even further. Our top 5 hashtag tools are perfect for when you need to find interior design and home decorating hashtags to use in your social media posts.
Let's take a closer look.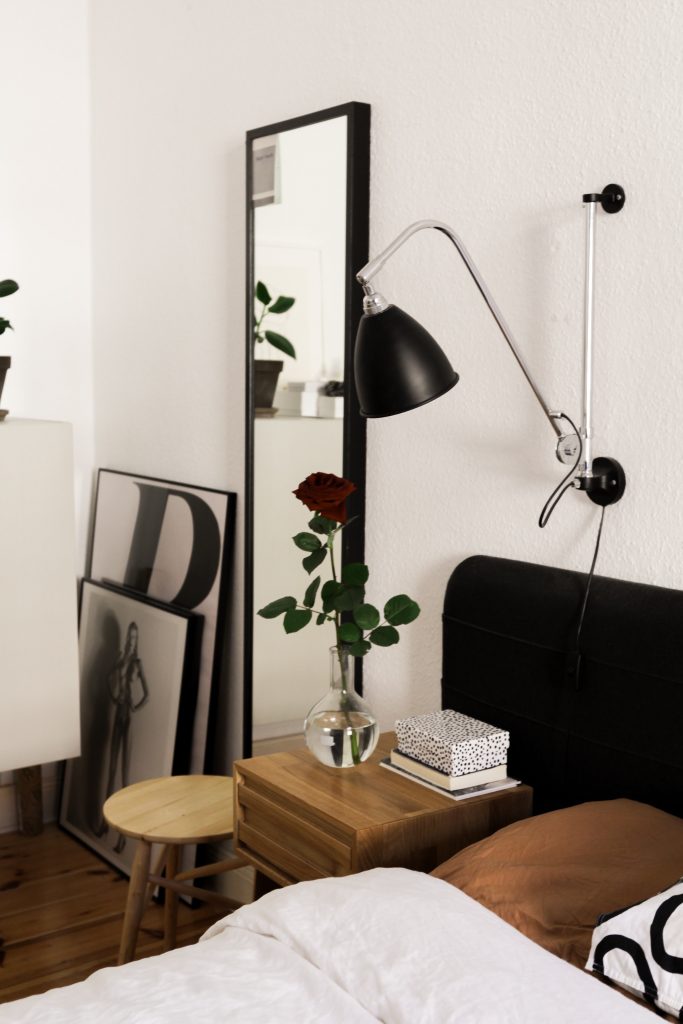 Disclaimer: This blog post may contain affiliate links and we may earn a small commission when you click on the links or purchase paid products at no additional cost to you. We only recommend products and software we truly believe to be helpful for your business.
IQ Hashtags
Does your Instagram profile feel stuck sometimes and have you stopped gaining new followers? When you see fewer people commenting on your posts or your follower numbers decreasing, it can be a warning sign that you need to step up your hashtag game to ensure that your content can be found.
However, if you are unsure which hashtags are right for you and spend too much time searching for them, you might be missing out on opportunities to grow your social media profile.
This is where IQ Hashtag gives you the edge. You can find popular hashtags for interior design and determine which hashtag size is the best fit for your interior decorating profile. You can also check which hashtags have performed best and have provided the biggest reach for your content and profile. Think of it as a powerhouse tool for your social media strategy.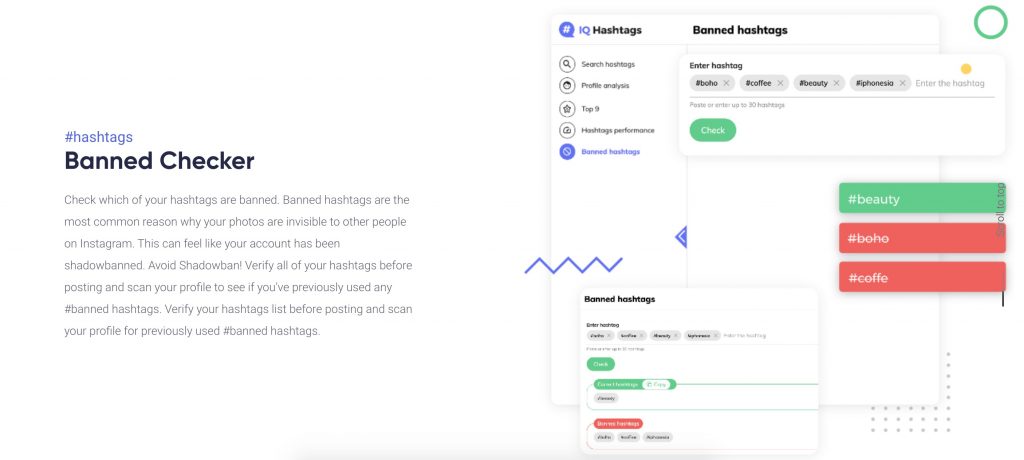 Planoly
Ask any interior designer business owner to make a wish list of how they would love to improve their social media strategy. and you will likely get the answer: I wish it took less time!
This is where Planoly can become a hashtag game-changer for your business. One of our favorite features is the easy organizing of hashtag groups and using them when scheduling new posts on Instagram. This is a great feature if you have dedicated content themes each week and need to quickly add hashtags to your posts.
You can see Planoly as an interior designer's ultimate hashtags copy and paste solution to make things easier for your content strategy!
Our Hashtag guide for interior designers
Spending hours Googling hashtags for interior designers can feel like a never-ending task of copy and pasting from online searches. And yet, you might still not have any luck getting just the right hashtags.
This is why we put together the ultimate hashtag guide for interior designers and home decorators. See it as your key to the most popular hashtags for interior design always at your fingertips.
This hashtag guide contains more than 1500 hashtags, hand-picked for interior designers, stylists, stagers, decorators, and architects. From most popular to niche hashtags, all hashtags you need to reach more potential clients are placed within your reach.
We did all the research for you. What's left is to download this guide, pick hashtags that fit your brand and let them do the work!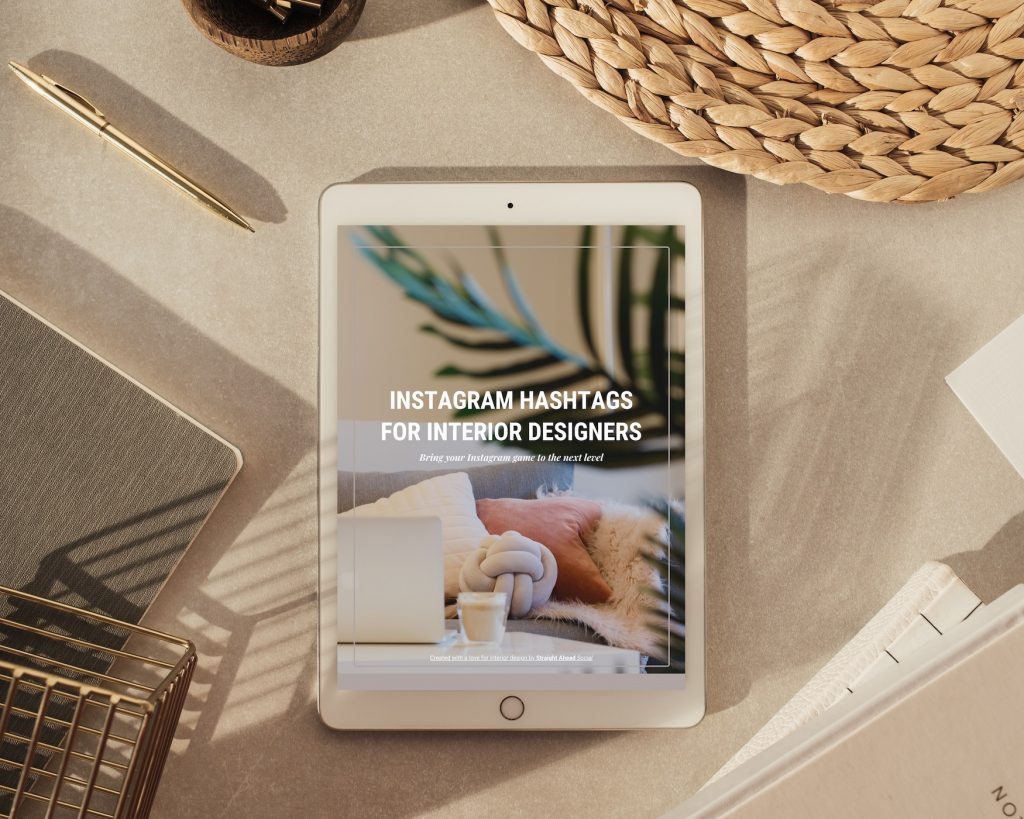 Ritetag
Grabbing the best interior design hashtags from a long list of options can feel like a mammoth task. After all, which hashtags do you use and which ones do you lose?
Ritetag is a great go-to to make this process a bit easier. This tool can help you to generate instant hashtag suggestions for images and texts on desktop and mobile. All of these suggestions are based on real-time hashtag engagement – and you can use the platform's suggestions for Pinterest too!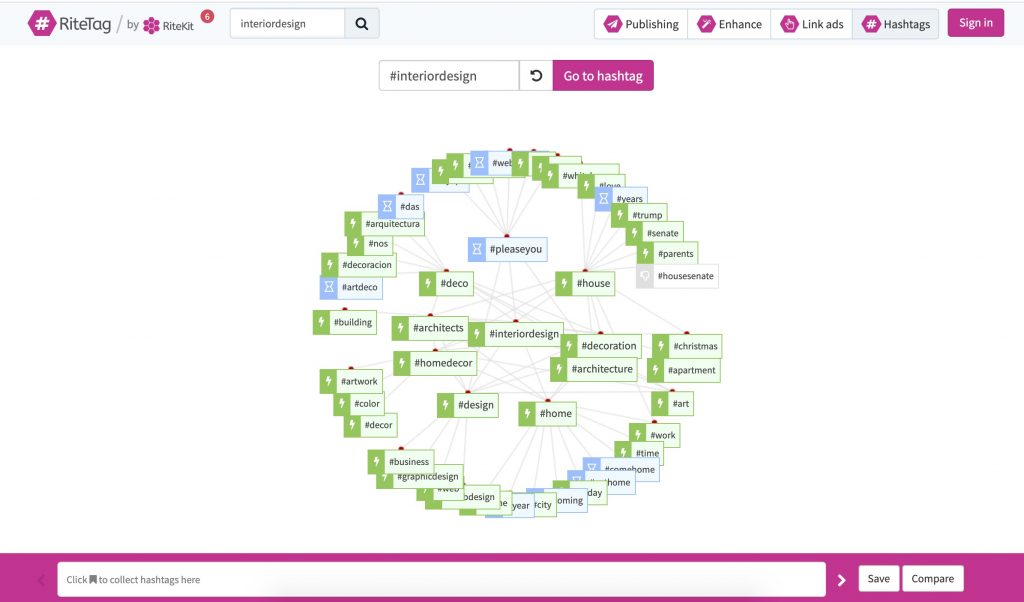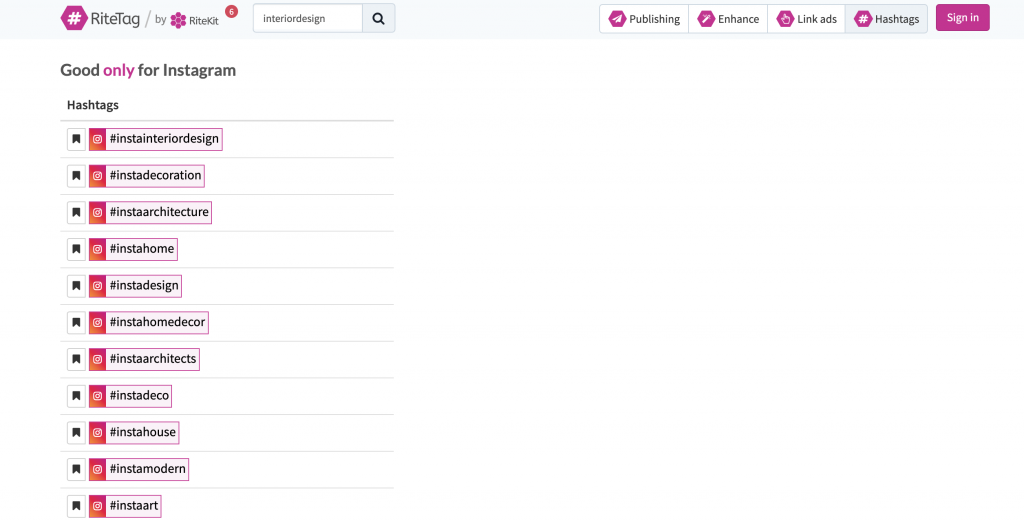 Instagram's native search tool
Instagram analytics is great to determine whether your interior design hashtags are driving the traffic that you have hoped for.
It helps you get key insights about the hashtags you use — including which hashtags are driving the most likes, comments, impressions, saves, and reach on your Instagram posts.
The native search tool is also a great asset when you are introducing new interior design hashtags. You will be able to pick up if these hashtags brought more traffic to your posts and or if you should try different ones.