Do you often feel like you do not have enough content to post on your interior design social media channels? Or that you exhausted some of your best ideas in one post?
Things might not be as bad as they seem! If you make repurposing content part of your social media strategy you are going to have a lot to work with!
In this article, we will look at how to integrate repurposing seamlessly into your content marketing strategy, plus we will share plenty of ideas for how you can repurpose your existing home decor content.
Disclaimer: This blog post may contain affiliate links and we may earn a small commission when you click on the links or purchase paid products at no additional cost to you. We only recommend products and software we truly believe to be helpful for your business.
Why you should repurpose social media content
Repurposing content is not about just reposting the same content again and again: rather, it is a way of "recycling" great content in a new format, which also gives it more legs to stand on and expands its lifestyle.
One of the biggest benefits of repurposing content is that you can reach new audiences without having to spend much time creating new content. For instance, when you have already created a great blog post or newsletter, you can simply reshape your content into different pieces – one blog can easily help you generate 5 or 6 social media posts!

Another benefit of repurposing is that it can give you an SEO boost when you use those targeted keywords that people are searching for on social media. You can more easily reach new ideal clients and connect with them when you leverage great content that has performed well in the past.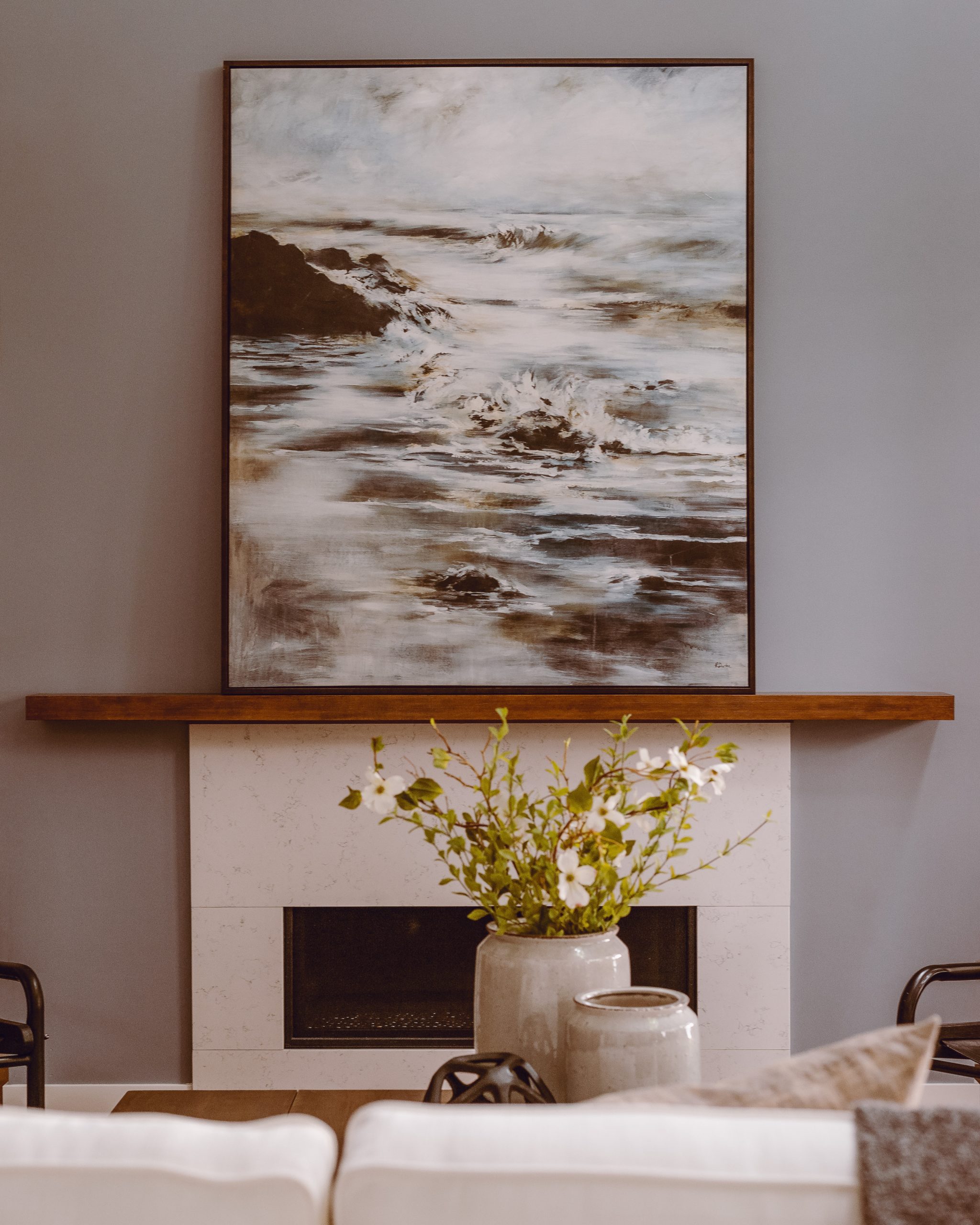 Also, you can extend your reach on new platforms by repurposing your content in various formats, such as a blog repurposed into LinkedIn articles or even how-to YouTube videos.

Increasing engagement on your social media platforms is another perk when repurposing posts that worked well in the past, and will help you increase the reach of your content too.
Just remember, though: repurposing is about reusing your own unique content and shouldn't be confused with reposting. Always make your original content the springboard from which you craft repurposed interior design content
What kind of home decor content should I repurpose?
A good starting point when it comes to the kind of content to repurpose is looking at your most popular blog posts first (providing that you do have a blog on your website!). Consider how you could rework these posts, even for different platforms.

Your blogs or Linkedin articles are other ideas to review, as you might find that you can expand on certain topics. On the other hand, if there are changes to your article content or new information that you can expand on, you can use this data to create a whole new set of posts.

When repurposing your content, remember that different platforms require different formats of content and that your audience might differ on various platforms. Always tailor your content to the platform you are posting it on. For instance, short videos might work great on Instagram, while longer videos (for example an Instagram live AMA) will be better suited for a Youtube channel.
Also, be mindful of what times your audience is using different social media and when they are the most active on these platforms. Ensure that you are posting your content when most of your audience is online – check out our favorite content planning tools to assist you with that!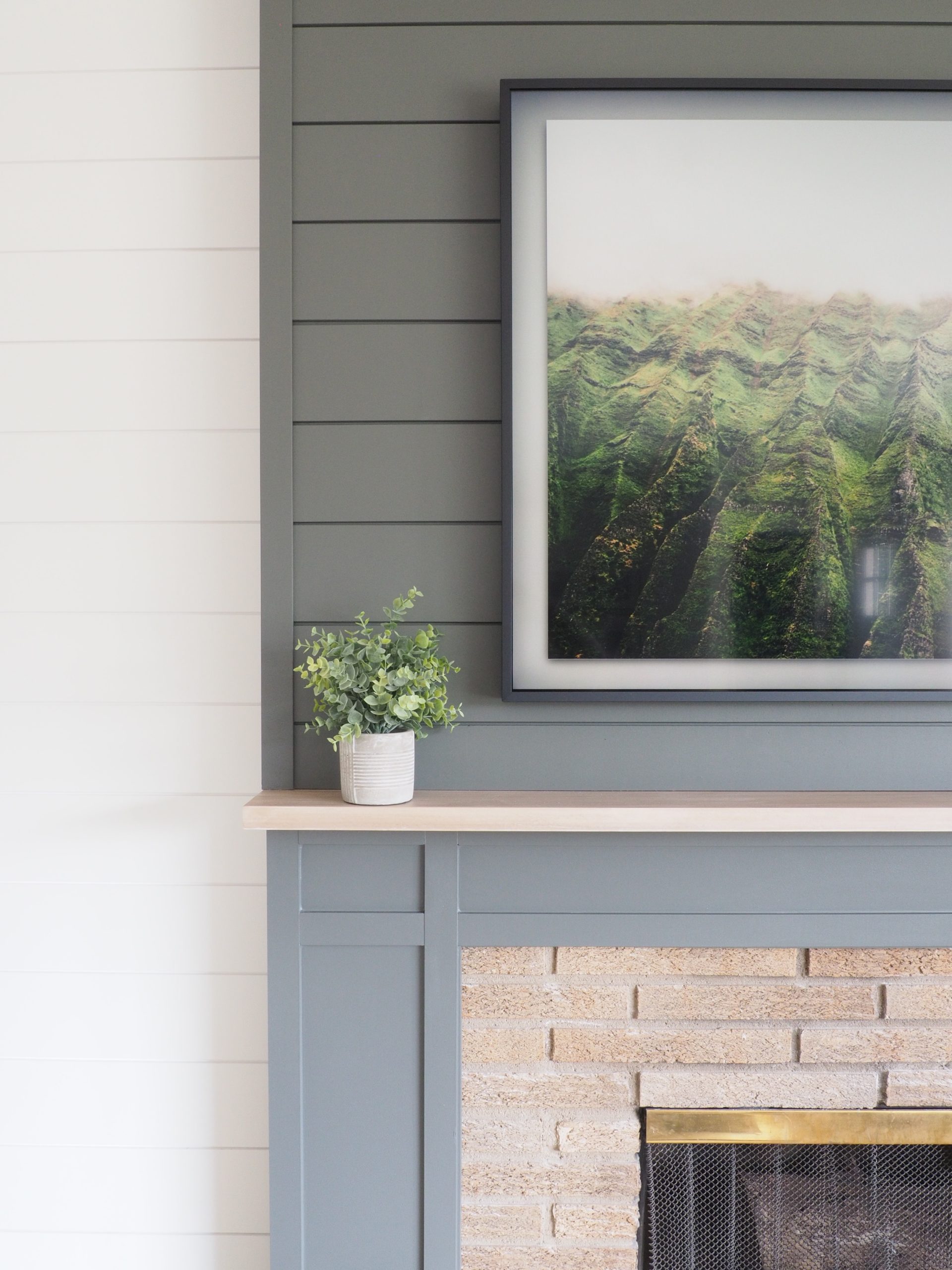 How to repurpose interior design content for social media
Ready for your big repurposing checklist? Follow our ideas below to get started.
Repurpose your blog post into a newsletter and several Instagram posts
When it comes to your newsletter, you do not always need to create content from scratch – a great blog post can easily be repackaged for a newsletter. By the same token, a blog post can be broken up into chunks of content for a good couple of Instagram posts – just remember to reword a bit and expand on sections here and there.
Repost your Instagram posts on Facebook
Not all your Instagram followers follow you also on Facebook and vice versa so by cross-posting your content to various platforms you can reach new audiences. Do remember to use the correct format – you can easily resize your visuals in Canva to ensure that they look perfect on your feed.
Turn a blog post into a YouTube video and short videos for Instagram
Using the content of your blog, you can create video scripts to connect and engage with your followers. This is the perfect opportunity to put your brand personality into "words" so to speak, so use your blog posts to make it come alive.
Have a design guide on your website? Use it to create multiple social media posts!
If you created guides or lead magnets, for example how to make the most of a small kitchen, how to take care of living room furniture, and so on, they can be perfect to use for tips and tricks types of posts. Bonus points if you pin them on Pinterest where they can drive traffic to your website!
Use some of your past project images to make a mood board or even this or that type of posts
Love creating mood boards or this or that posts? Create them using images that already performed well on your feed! For mood boards, use your close-up images of swatches or decor, and for home decor this or that posts, compare similar design themes, such as kitchens, bedrooms, or various design styles.
Repackage a past YouTube video as a short Reel
Whether you do an event video, a how-to or just something fun, Instagram Reels are a perfect place to create awareness for your brand. The same goes for if you were a guest on a podcast – create some video snippets to create interest around your brand! Descript is a great nifty app that will help you repurpose your videos in the correct formats and lets you add captions to your video snippets.
Create a short video using images from an event you hosted as a throwback post
This is a fantastic opportunity to not only provide insight into your design business but to show how your business is actively engaging with its community. Handpick your best images, add some background music, and show your followers what they shouldn't miss next time. You can use Canva or InShot to create your videos without having to hire a professional videographer.
Add a text overlay to images you already posted
Used a great project photo that can make a great background image too? You could use it on various platforms for posts that include design tips or home decor quotes! Here you can really get creative, as you can make an image more transparent or even convert it to greyscale or duotone to suit your brand more. Once again, Canva is your best friend here!
Consider using your blog posts for short online courses
Are your blog posts perfect to be grouped together for online course themes, such as "How to create a dream kitchen" or "How to plan a reno project"? Your expertise can be just what your ideal clients are looking for. Create value by giving them a crash course in interior design basics and they will be more likely to want to return to your brand for more!
Create a roundup of blog posts with a similar theme
Have you created a number of blogs around the same theme? Condense them to create a new blog with key highlights from each piece, encouraging your readers to stay on your website longer! After publishing, don't forget to pin images from this post to Pinterest to drive traffic to your website.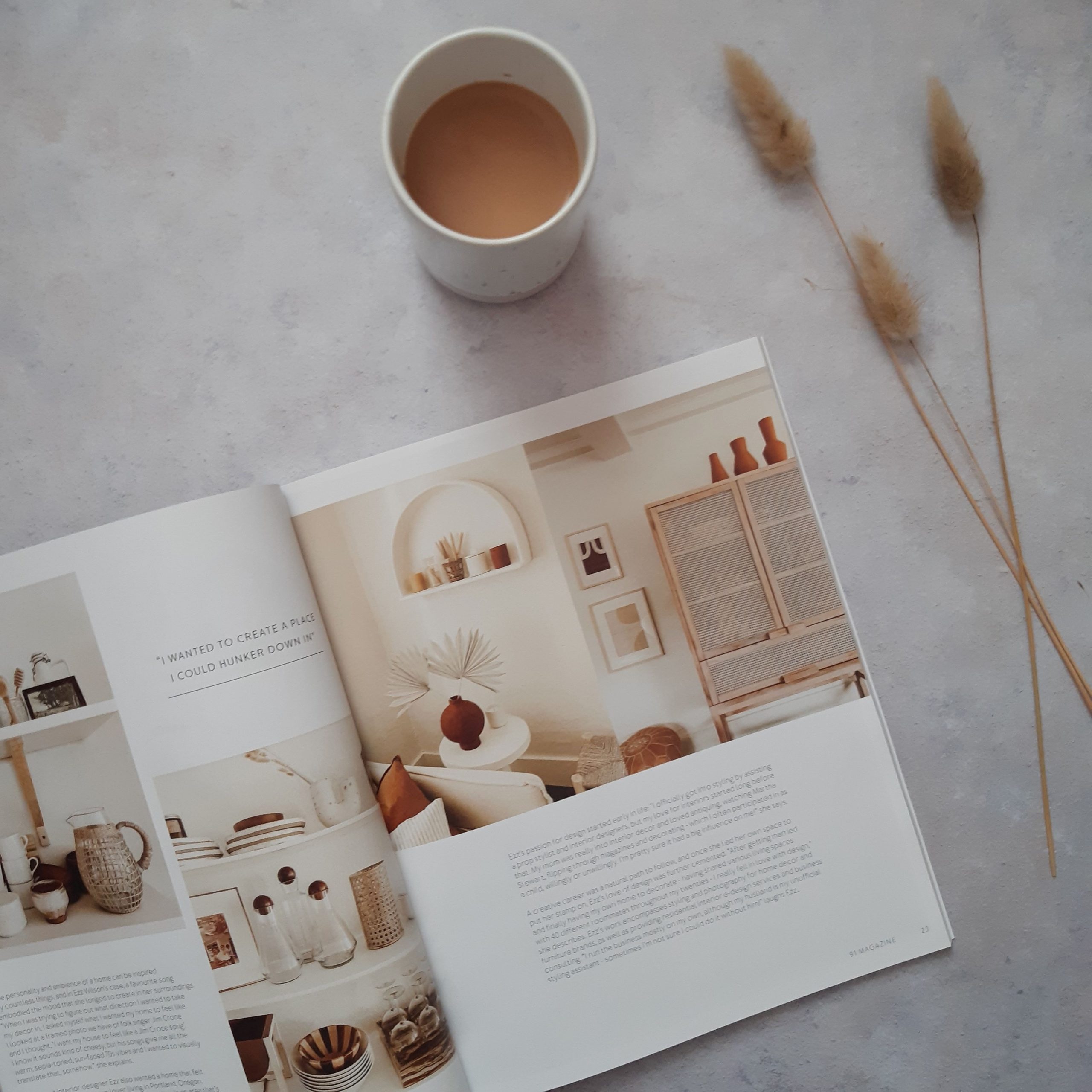 Repost your older Instagram posts with new captions
If you had a high-performing post that a lot of people saved, recreating it and showing it to your newer followers is one of the best things you can do to boost your Instagram engagement. Repackage it with new wording and test what else you could do to get even more engagement out of it – add emojis, try a different call to action, or post it at a different time. Check out this post if you need some help with writing engaging captions.
Create a podcast from your blog post
Wrote a blog post that you can use as a springboard to create an insightful podcast with a top guest or collaborator? Give it extra legs with one of the hottest content formats around!
Create a carousel post with photos that have a similar theme
Kitchen remodels, bedrooms, kids' playrooms… You can easily repurpose themed content with a fresh new angle as a carousel post. Don't forget to add a call to action and your contact details on the last page to encourage your followers to visit your profile for more inspiring content!
Turn content from blog posts into a downloadable PDF
Your blogs can be transformed into lead magnets that could attract potential new business to your brand. You can use a variety of formats to promote it on social media – from a static post to Reels, directing people to your landing page to download it there. Plus, your social media followers will feel rewarded for being part of your online community!
Promote your downloadable content in Insta Stories
And while we're on lead magnets and downloadable content – don't forget your Insta Stories! Not only you can promote your freebies in your Stories, but you can use a link sticker to direct people straight to your website or ask them to DM you for the download link!
Repost your blog posts on LinkedIn
Now, LinkedIn audiences can be a bit different than blog audiences, so if you are repurposing a blog from your website to LinkedIn, do take the time to tweak your content so that it will appeal to your professional audiences and followers. Think about how your topics relate to the professionals and adjust your headlines and hooks. This could be something like 'How to design a perfect home office' or 'Five Trends in office design that small companies can use.'
Turn long-form content into a series of Instagram posts or an email series
Do not let the time you spent on creating an in-depth blog go to waste – use it as the base of a set of Instagram posts, and consider slicing it up into smaller chunks to create an engaging email series that could increase your email open rates and drive more traffic to your website.
If you have a YouTube channel, repost your Reels as YouTube Shorts
Always feel like your Reels could do better in terms of their reach? You can repurpose your Reels as YouTube Shorts – another platform where you can speak to a massive audience! Ensure that you use the keywords that appeal to your ideal client – it will make finding your content easier.
Create social media graphics with quotes from your blog post, podcasts, or videos
Eye-catching graphics always create interest on social media. By using some of the best quotes from your top-performing blogs, podcasts, and videos you can drive attention to your existing content on external platforms while still creating value on the platform you are posting on.
Turn client case studies into blog posts
Case studies tell a story of how you created something beautiful and functional from the client brief. They are one of the best kinds of social proof you could have for your business as they are proof of your talent and what you can do. But don't stop just at publishing case studies on your website – repurpose them into blog posts with a bit more storytelling for a more "blog-like" feel. The best blogs have an easily digestible narrative so you might have to tweak your case studies a bit. Still, repurposing case studies will save you time that you would have to spend writing new blog posts from scratch, and you can showcase your skills in a straightforward way!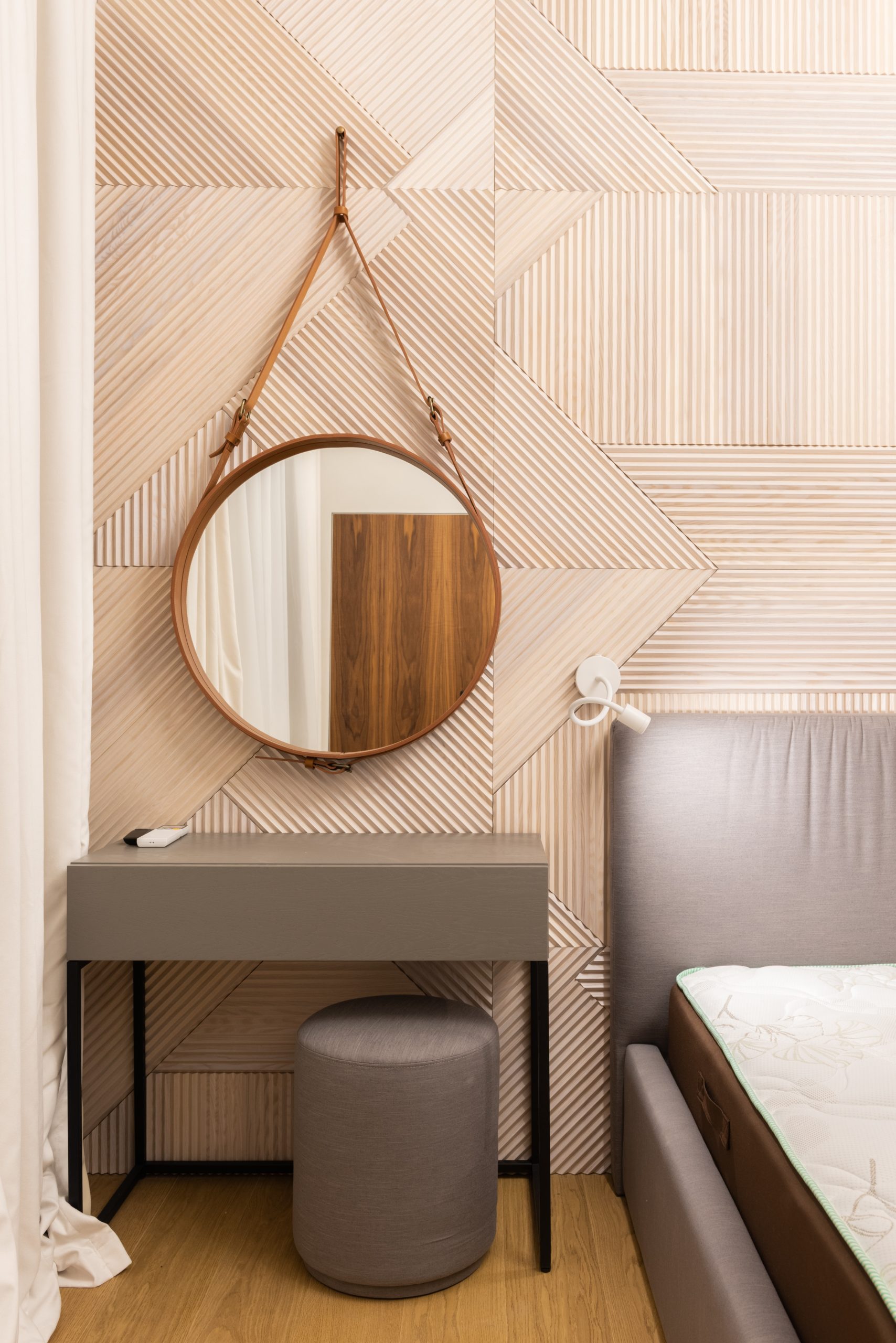 Featuring a buying guide on your website? Repurpose it in posts and mood boards
If you have a suggested buying guide on your website, it is a rich source of content for social media posts and can even inspire mood board visuals. Rehash your content, though, to be more informative and inspiring – don't bring in that hard sell. Instead, focus on educating and inspiring your ideal client.
Use your case studies as the base of LinkedIn thought leadership pieces
Your case studies can inspire great articles on typical interior design pain points that homeowners could be facing. Through LinkedIn articles, you can position yourself as not only an expert but also as a source of inspiration to solve problems that your target audience might be facing when it comes to interior design topics.
Turn client case studies into before and after Instagram posts
Speaking of case studies: you could also repurpose visuals and copy and repurpose them into before and after transformation posts. Pick your best images and condense your copy with key takeouts from the work that you did to bring the results even more into the spotlight.
Post a recording of your Facebook/Instagram Live on your YouTube channel
Don't let your live videos go to waste – repurpose your content for your YouTube channel to create additional on-brand content to elevate your professional profile. Using your live video content is also a great way to ensure that you have plenty of video content to keep your YouTube channel interesting and relevant.
Tips for how to make repurposing part of your content marketing workflow
Ready to start repurposing and saving time on content creation? Before you start, there are some tips to keep in mind to make the most of this content tactic.
Let your analytics guide you on which posts performed the best – and could be effectively repurposed
Consider which posts really stood out on your social media channels, and which got a lot of engagement and interaction. Then, brainstorm some ideas for how you could use this content in new ways.
Ensure that you do not post repurposed pieces too closely together
If you have just posted a blog or a link to a blog, do not repurpose it the very next day – give a piece some breathing room and see how it performs first. Otherwise, your social media followers might wonder why you are duplicating posts and might be less interested in following your profile.
Make sure that your repurposed content is platform-relevant
Not every piece of content is suited for all platforms. For instance, a light-hearted blog post might work better for Instagram posts than it would for LinkedIn, depending on the content. So, if you plan to repurpose content, always think about which platform you are posting on and what makes your interior design content relevant on this particular platform.
Slot in repurposing into the content buckets that you need to cover
There are some post types that are a must on any interior designer's content hit list, and repurposed images and content can easily slot into these posts, such as mood boards, quotes, this or that type of posts, polls, and more. Think strategically about how you can cover certain topics in a way that makes sense with repurposed content instead of creating more content from scratch.
Get your repurposed content seen by staggering your posting times so your content gets posted at times when most of your audience is online on your platforms
The reason behind repurposing content is that if your posts performed well with your audience, you want to show them to your new followers and those who haven't seen them last time.

One way that you can ensure you are posting at the right times, is to use schedulers such as Planoly, Later and Tailwind (for Pinterest pins) to schedule content at the most optimal times.
Use Canva for graphic design to refresh the look of your repurposed content
The one thing you might want to limit is to use a visual that looks exactly the same as the last time that you used it on your feed or profile. Sure, you could post it with a different caption this time, but it's better to wait a couple of months before reusing the very same image.
Using an app such as Canva will allow you to recreate content in templates or other fun designs such as adding text overlays that will create a fresh, eye-catching look on your feed.
Use social media templates to save time (and to ensure your graphics are the right size)
Canva templates are great for this purpose, as it takes just a few clicks to create new posts, and templates in the correct sizes will ensure that your content displays perfectly on any view – desktop or mobile. For repurposed content, this will ensure that your visuals especially look good – considering that different platforms have different specs.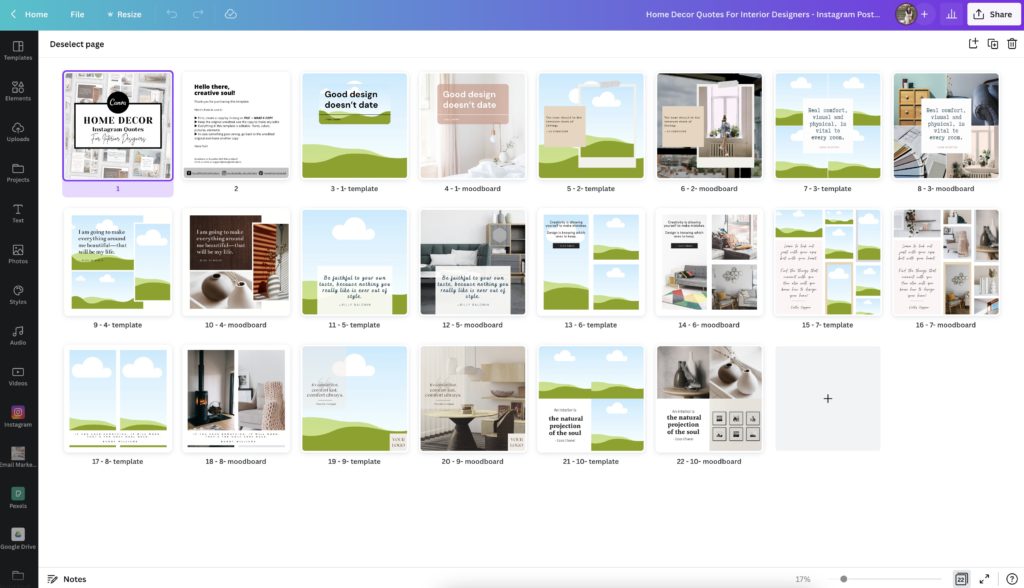 Use a social media calendar to keep track of all your social media content, not just your Instagram posts
It is important that you keep track of your social media content across all your channels, as this will help you see where you could slot in repurposed content without clashing with similar posts.

You could consider planning your home decor content several months in advance – this will help you post consistently without having to think about posting each day. You can include slotting in repurposed content in a way that it will not look like you are simply repeating the same content over and over again.
Start repurposing your social media content today
Repurposing interior design content can save you hours of time that you can spend elsewhere in your interior design business while attracting ideal clients to your social media platforms. Don't shy away from recycling social media posts and blogs – start using our repurposing tips and you might be surprised how much content you will be able to generate!

Were these tips helpful? Join our community for more social media tips and strategies for interior designers!