Have you ever wondered how to use Pinterest to get more interior design clients?
There is no doubt that Pinterest is one of the best social media platforms for interior designers. It can help you demonstrate your design expertise and attract more client leads.
Using Pinterest for getting more leads can be easier than you think. We are sharing 18 Pinterest tips for interior designers to generate more client leads on Pinterest. These Pinterest marketing ideas will make planning your content calendars easier, so save these tips with your content notes.
Disclaimer: This blog post may contain affiliate links and we may earn a small commission when you click on the links or purchase paid products at no additional cost to you. We only recommend products and software we truly believe to be helpful for your business.
Do interior designers use Pinterest?
Yes, many interior designers do use Pinterest! In fact, for many, Pinterest is a key marketing channel to advertise their home decor business. Wondering why Pinterest and not, let's say, Instagram or Tiktok?
The answer lies in Pinterest's visual nature and large user audience. When it comes to interior design, aesthetics play a significant role, and Pinterest provides an ideal platform to showcase visually appealing content and thus attracting new interior design clients.
And even if you don't have hours of time to spend on creating Pinterest graphics, or lack confidence in your graphic design skills, you can still create stunning pins by using professional-looking Pinterest templates.
But what if you do have a Pinterest profile but are not seeing any traffic from it or engagement on your pins? Our tips below should give you enough ideas to start.
Need more guidance? Grab our Pinterest marketing guide for interior designers with all the info you need to drive traffic and get client leads.
Ensure that your Pinterest bio is optimized
Is it easy to find your profile among other interior designers in the same niche? Can potential clients tell what you are offering and in which area? Is your bio interesting and inviting? Give your Pinterest bio the necessary tweaks to ensure that clients will find your bio interesting and that they will want to hear more about your business.
Switch to a business account
Having a business account will allow you to have access to valuable analytics that determine which pins got the most clicks and led to the most website traffic. In turn, you will be able to adapt your pin content and leverage the characteristics of your most popular pins. You will also be able to feature promoted pins, putting your pins directly within reach of your ideal clients.
Create eye-catching interior design Pinterest boards
Your interior design boards will make it easier for your potential clients to find your content, as your pins will be more refined and sorted. When you have a more concise selection of pins, clients will easily find ideas and services that can solve their interior design pain points, so put in the effort to create well-thought-out boards on your profile.
Use interior design keywords that focus on your ideal clients in your Pinterest pins
Hashtags on Pinterest aren't as popular as they used to be but it is still important to use keywords aimed at the content and services that you offer in your Pinterest captions. Use phrases that your ideal clients would be searching for when you are writing Pinterest captions, and include these keywords in your board titles as well.
Design beautiful home decor visuals that are perfectly sized
Beautiful designs that are not distorted and have a perfect aspect ratio will look professional and polished, so consider using graphic design tools such as Canva with ready-made templates and sizing that you can easily use for your existing website photos and social media graphics.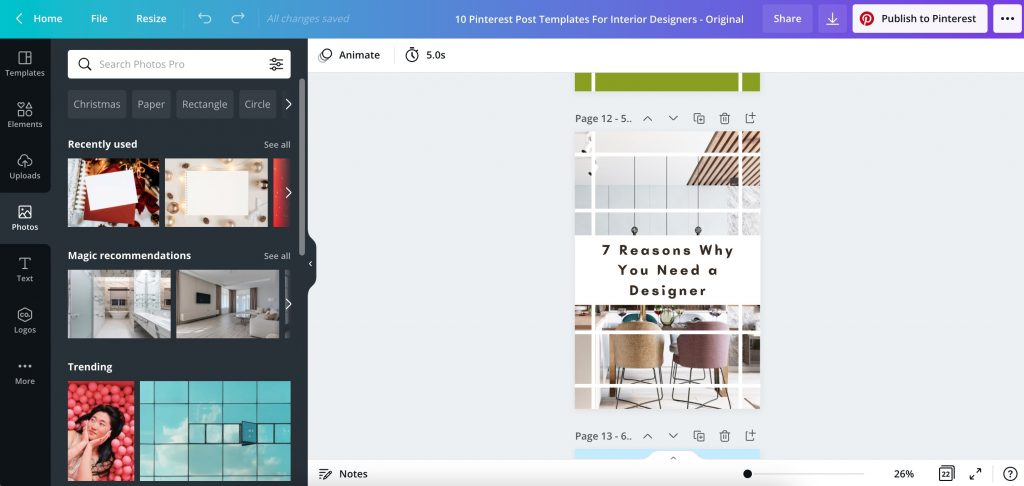 Use your business branding on your Pin visuals
When someone comes across your boards and sees interior design pins that they love, they will likely want to share some pins to their profiles too. Including your branding in your visuals will ensure that new audiences will be more likely to connect your beautiful designs with your brand.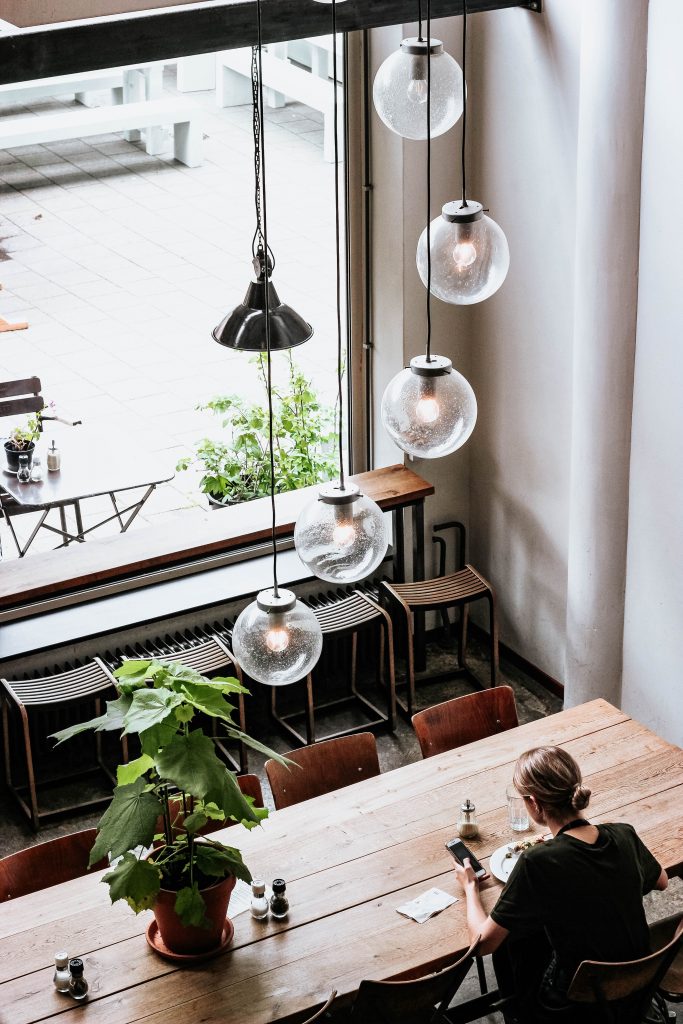 Repurpose content where appropriate
If you are using other social media profiles to promote your interior design business, chances are that you already have content that could be repurposed on Pinterest. You could zoom in on key features or use resized graphics on themed boards to draw your ideal client's attention. Identify key pieces, such as home renovation projects, and ensure that they are properly organized. Don't forget to cross-promote them on group boards too for greater exposure!
Remember that your blog can be a source of pin content too
Linking to your blog to draw traffic to your website is the number one reason to use Pinterest if you have a home decor business. Use bite-size pieces with visuals for specific themes, such as patio designs or bathroom ideas, show your insight and expertise to draw potential clients to your services. If you are not a frequent home decor blogger, don't despair – you can also create new pins for your older blog posts. This way your blog has a higher chance to be found by new audiences.
Create tips and advice pins
Share advice and tips in your Pinterest graphics that your ideal clients would be looking for, such as interior design ideas for modern living rooms, spring bedroom styles or what to expect when planning a renovation. Providing valuable advice helps to build authority in the interior design field and the more people engage with your profile, the more valuable it will appear to Pinterest too. Make your advice pins interesting and valuable, and remember to add relevant links to your website as well as optimizing your captions for Pinterest search.
Make video pins part of your Pinterest strategy
If you have a business profile on Pinterest, you can upload video pins besides regular static pins. Add video content that will introduce you to potential clients, such as walk-throughs or time-lapses of completed projects. As Pinterest is currently favoring video content, you will boost your chances for engagement if you go with the flow and pin content that is currently popular.
Refresh your Pinterest boards often
Do you have outdated or duplicated content on your profile or pins that didn't get loads of engagement? Consider removing non-performing pins and replacing them with fresh, value-add content that more closely aligns with your top-performing pins.
Join relevant group boards and syndicate your pins there
Pinterest can feel like an unconquerable medium if you feel that your pins are simply not getting noticed. However, by joining relevant group boards, you can syndicate your pins there and connect with your ideal client base.
Use scheduling software to save time and make sure you pin consistently 
To stay relevant on Pinterest and appeal to your potential interior design clients, it is important that you pin content often and consistently. One of the best ways to stay on top of pinning is using scheduling software such as Tailwind, which will allow you to pre-plan pins easily and make sure you are doing everything to boost engagement on your pins.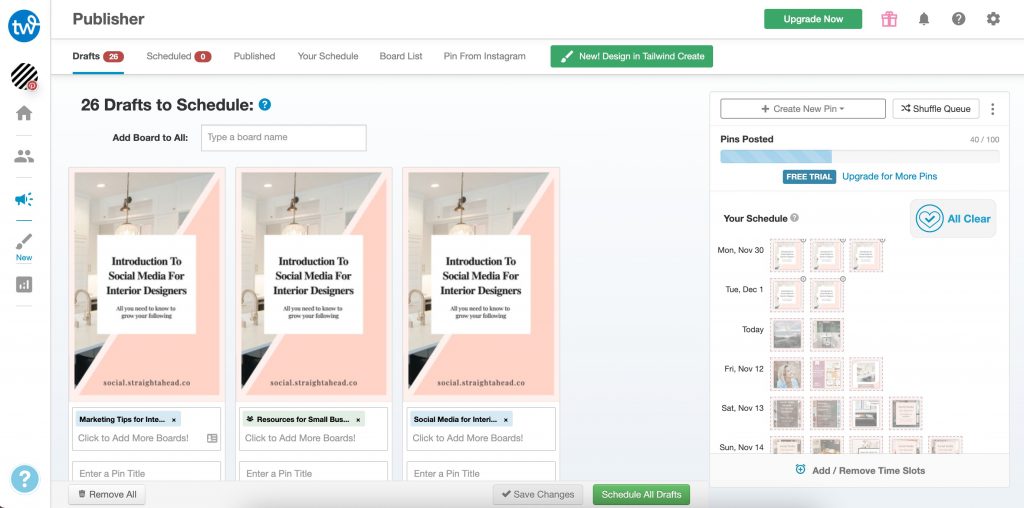 Link your website and social media profiles to Pinterest
Your ideal interior design clients might be more active on certain social media platforms than others. For this reason, ensure that you link your website and other platforms (such as Etsy, Youtube, or Instagram) to Pinterest. This way your content will be always appropriately branded on Pinterest and your ideal clients can more easily connect your designs with your brand.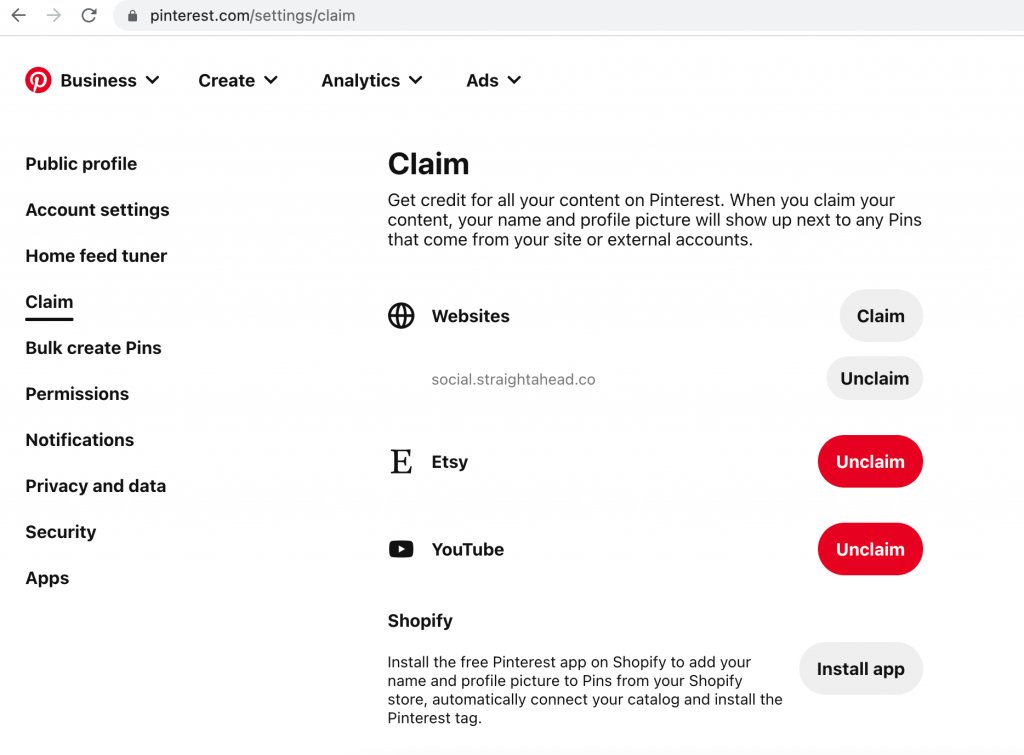 Have a solid Pinterest strategy
Having a strategy centered on the typical content that your ideal clients are consistently searching for will ensure that your pins hit the sweet spot in terms of interest and engagement. As opposed to pinning ad hoc, having a strategy will make sure you always have something to pin so Pinterest will see your profile as active and more engaging.
When creating your Pinterest strategy, include also seasonality and special celebrations in your annual Pinterest plan. Think holidays and season changes (October-themed fall decor or Christmas home decor), special celebrations such as the arrival of a new baby (and nursery designs to accompany this theme), or even the first day of school (designs for teenager rooms or study areas are great board ideas).
Promote your affiliate links
When you sign up as an affiliate for home decor products, you can promote them on group boards too. Create content on your website that promotes your affiliate links (such as shopping guides and blog posts about trends that include affiliate links), and keep an eye on analytics to see which boards bring the most traffic.
Create several pins for each content piece (such as a blog post) and post to several appropriate Pinterest boards (including group boards) for a greater exposure
Creating several fresh pins based on only one long-form piece is a great way to extend the reach of your content. This way you can test which graphic design templates, titles, and captions attract the most attention. You will have also more fresh pins for your group boards, ensuring you don't just repin the same content.
Test various graphic designs and captions to find out what performs best
When writing Pinterest captions and designing visuals, it is important to constantly test what is working and what is not. After all, Pinterest marketing is a constant process of improving, tweaking, and staying up to date with the latest practices. Use your analytics to determine which pins are performing, and how you should adjust your content.
Bonus tip: elevate your Pinterest profile with high-quality stock visuals
Using stock photos on Pinterest can greatly enhance your boards with themed content such as tips and advice, blogs, and even seasonal content. Having said that, do not present stock images as your own work, and credit as needed to avoid copyright issues.