When you are just starting out as an interior designer, you might feel that your portfolio is simply too small to generate interior design post ideas. You might even feel a little bit intimidated when you see your competitors posting project after project, and wonder whether you should wait to grow your business before you start boosting your social media presence.
However, if you want to truly ensure that your interior design business reaches as many people as possible, you simply cannot afford not to be on social media! When you have an active social media presence and a solid interior design social media strategy, it will be easier to attract followers and gain potential clients – even if you feel that you have a lack of portfolio!
So, how do you make this process of content creation easier when you are just starting out in interior design?
In this blog, we are sharing 30 interior design content ideas that are the ultimate cheat sheet for when you need to grow your business profile on social media. By the way, if you are running low on project photos, you can use stock images for many of the ideas below.
Ready to learn more? Check out our ultimate post list below or watch our video on this topic!
1. Introduction posts
When you start your Instagram profile, it is important to not just jump in without a proper introduction. Remember, you are starting a conversation with potential social media followers and clients, so make your news stand out, whether you use pre-made templates or create your posts from scratch.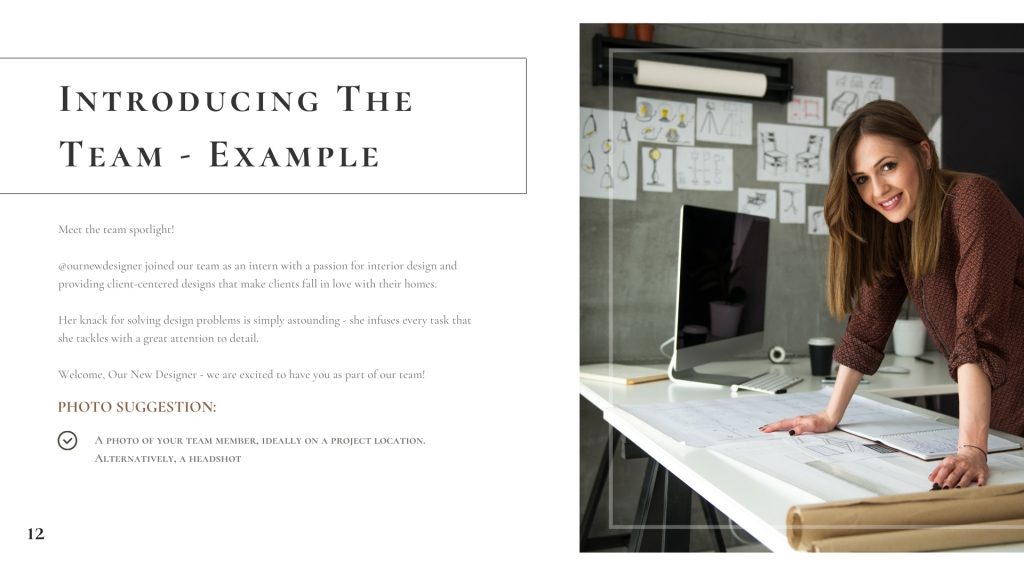 2. Meet the team posts
Just as with your introduction post, Meet The Team Posts on your feed can easily introduce people to your team and create a feeling of familiarity. So, make it interesting: tell the world why you have the best team in the industry and make your followers feel like they know you already!
3. Your personal story
Sharing your inspiration with social media followers can be the hook that will draw them in when they identify with your career journey. Don't be afraid to share how you got into the industry and how you have grown in your capabilities and skills – you deserve to be in the spotlight!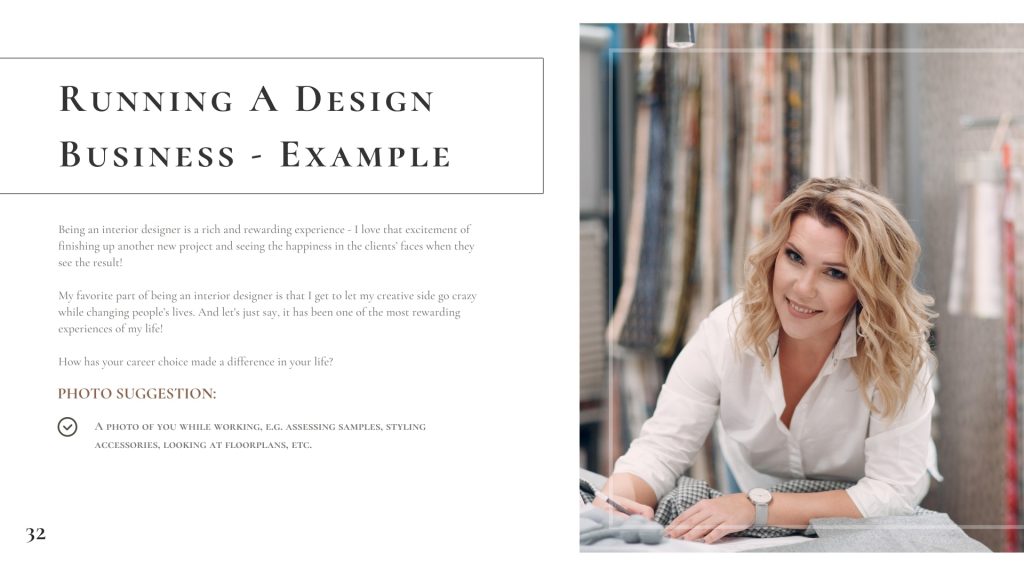 4. Insta story polls
There are loads of interior design Instagram story ideas, and polls are easy formats that you can include in your content plans! Asking your social media followers their opinion about different interior design layouts or styles will not only give you insight into their preferences but will also make them feel like their input counts. So, make your polls fun and exciting – be sure to use eye-catching templates for extra interest!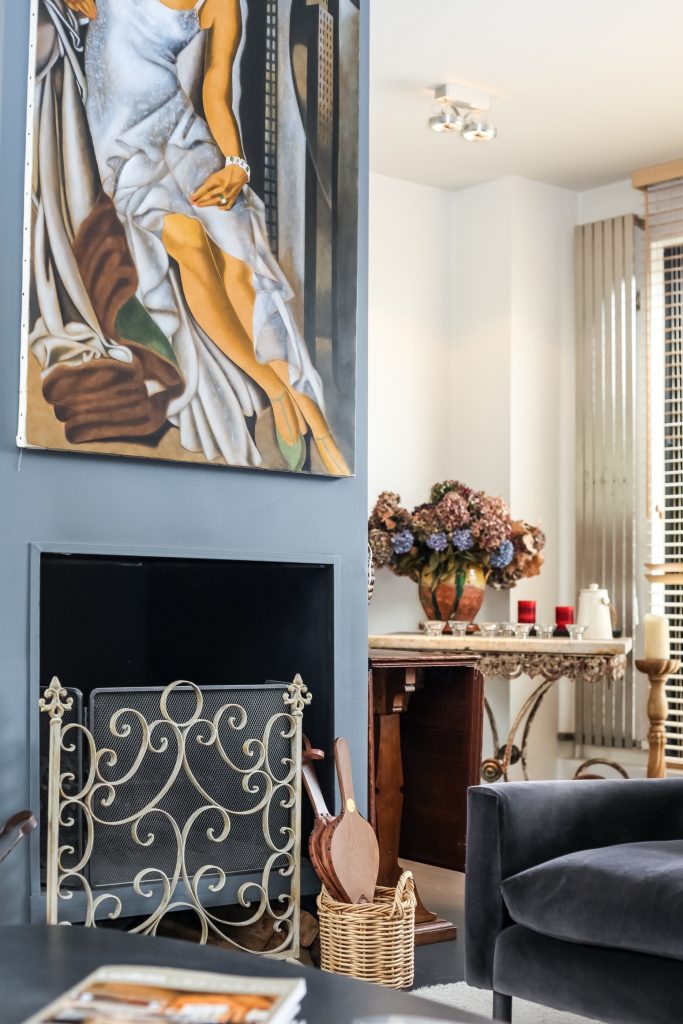 5. New arrivals posts
Have you just gotten new fabric or material samples? Or have you gotten new office decor in? With a little creativity, you can create excitement on your feed and cement that feeling of your business going places and being a hub of activity!
6. Mood boards
Do you like our suggestion number 5? Why not consider using them as mood board ideas! Mood boards are fantastic tools to inspire your followers and show your talent as an interior designer. So, whether you show off new arrivals, mood boards for new client projects, or shopping guides, it is sure to create interest with your followers.
7. Industry knowledge
It is never too early to position yourself as a thought leader in the interior design space, whether you share your thoughts on the latest global design trends or give insight on best practices for home renovations. Remember, sharing knowledge that you gained through your experience can provide immense value for your followers – and make them more likely to reach out to you for your services.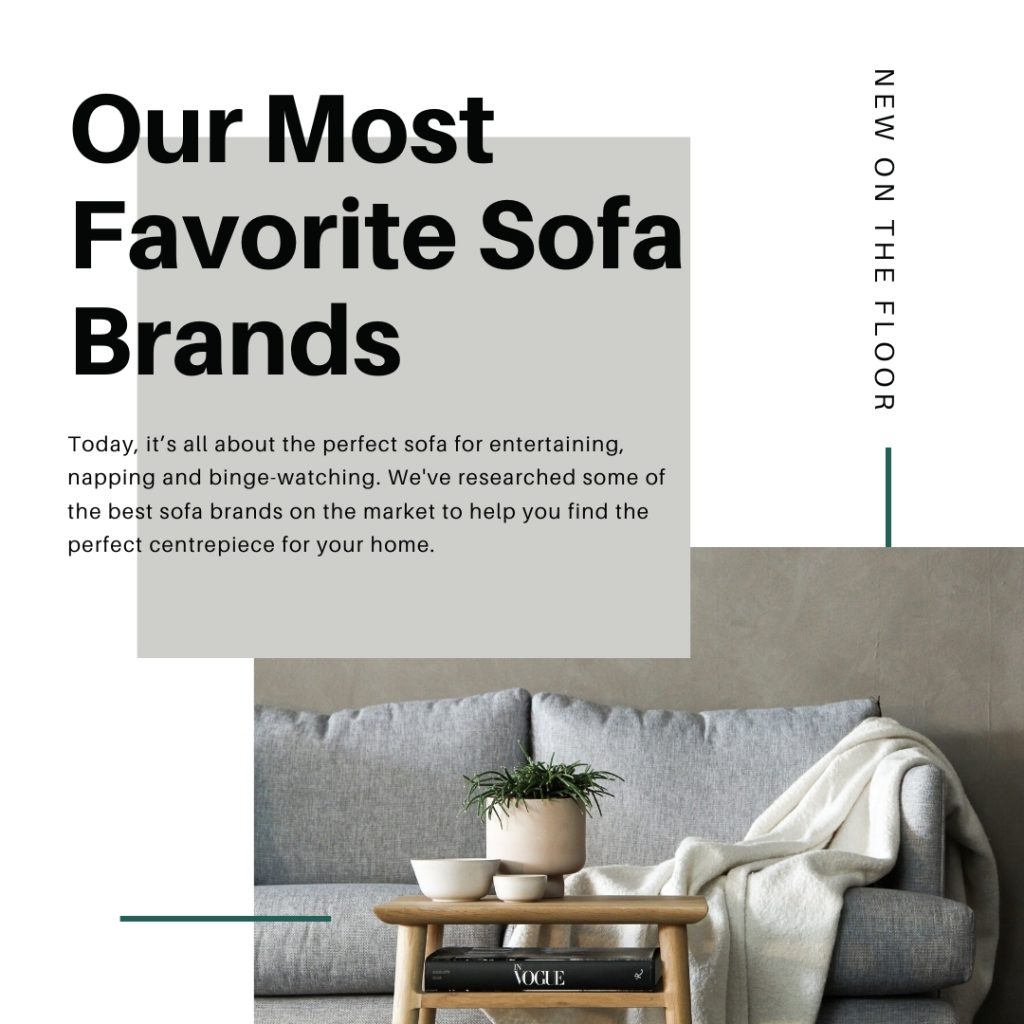 8. Design tips and home decor hacks
Just like industry knowledge, tips and trends for home design projects can be an exciting source of content that your followers will love. After all, they are craving knowledge about how they can make the most of their living spaces and will feel like they have a front-row seat to a bank of knowledge!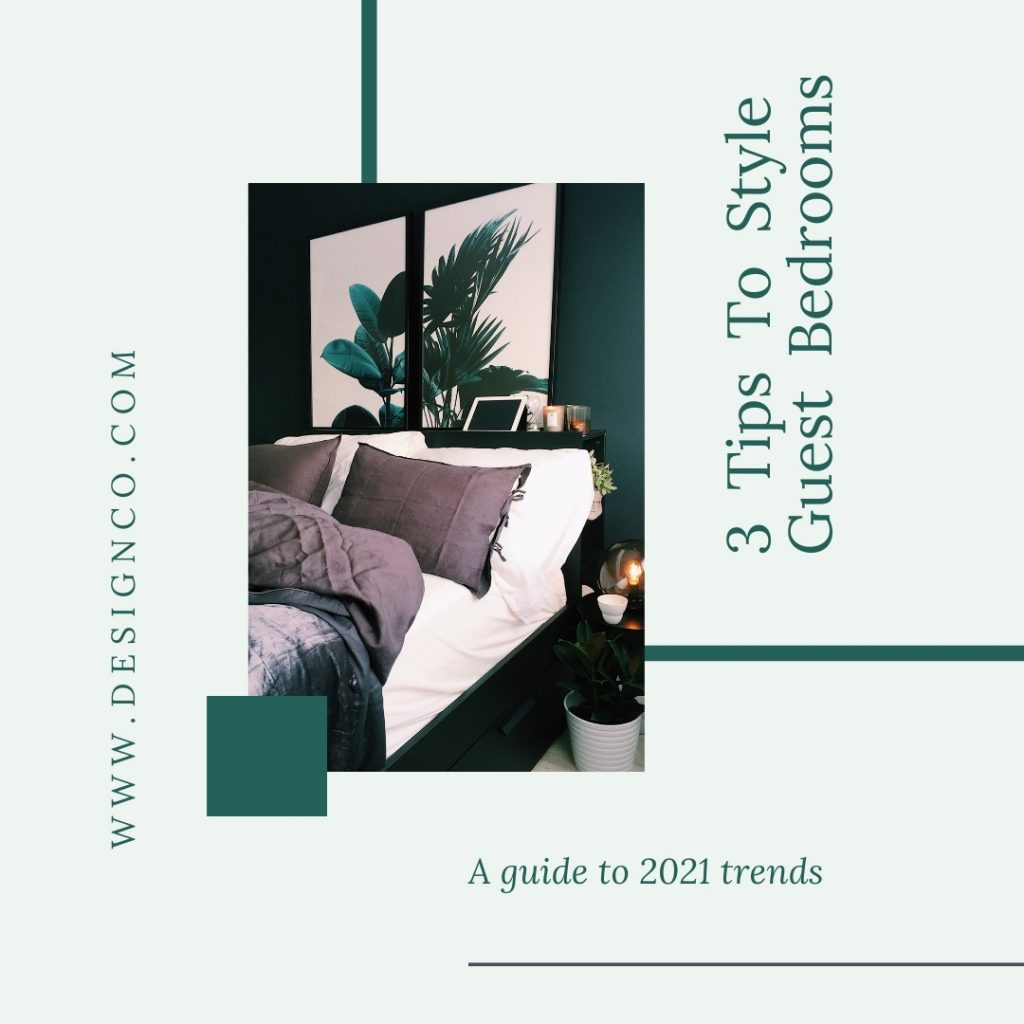 9. Shout out to a collaborator
Showing appreciation to a collaborator on projects should be a recurring theme as part of a social media strategy for interior designers. Not only will you be showcasing your connection to fellow interior design enthusiasts, but you will also earn some credit as someone who is connected to leading players in the industry. Plus, it is a great opportunity to earn recognition through cross-promotion between your and your collaborators' channels.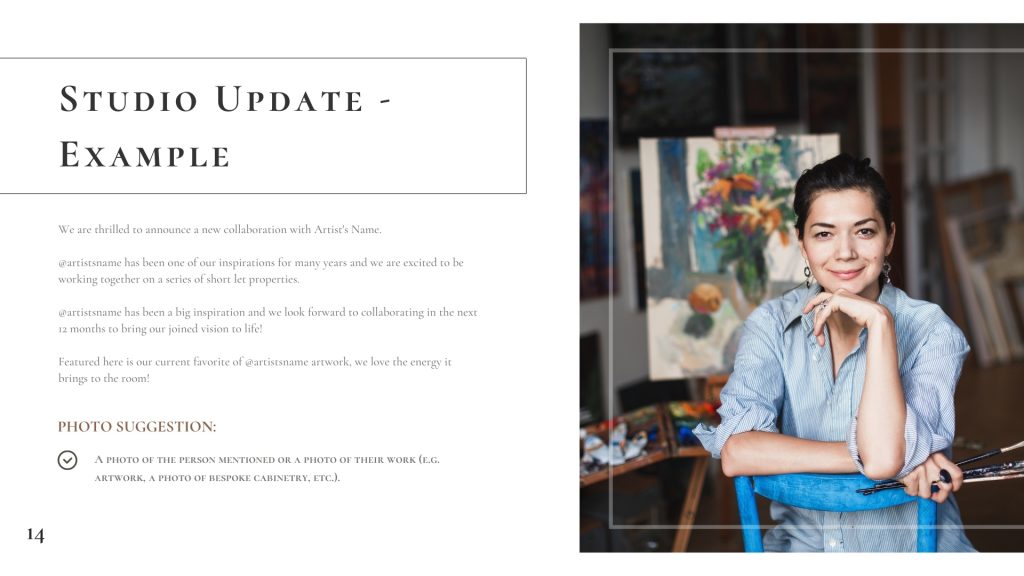 10. Special occasions and milestones
Whether you are celebrating a team member's birthday or your first six months in your brand-new office space, special occasions and milestones are worth the effort to celebrate on social media too! This also shows a bit of personality behind your business and gives that special insight into what your business is up to, over and above the services that you offer!
11. Blog promotions
Showcasing your amazing interior design blogs on Instagram is a fantastic opportunity to drive traffic to your website while also showcasing fresh content and industry news. Remember to use high-quality images and guide followers to where they can find the blogs – as links in Instagram posts aren't clickable, either direct them to your website or a Linktree link.
12. Home decor inspiration reposts
You might be wondering whether reposting content from another account will shift the focus from your business to another; however, when you use it as supplement content and not your main focus, you will be able to augment your feed with content that could inspire your followers and make them return to your feed for more of the same!
13. Countdown posts
Launching a new offering or special promo? Want to promote the opening of your office? Why not create excitement with countdown posts – they are sure to draw attention to your feed and make people return for more information.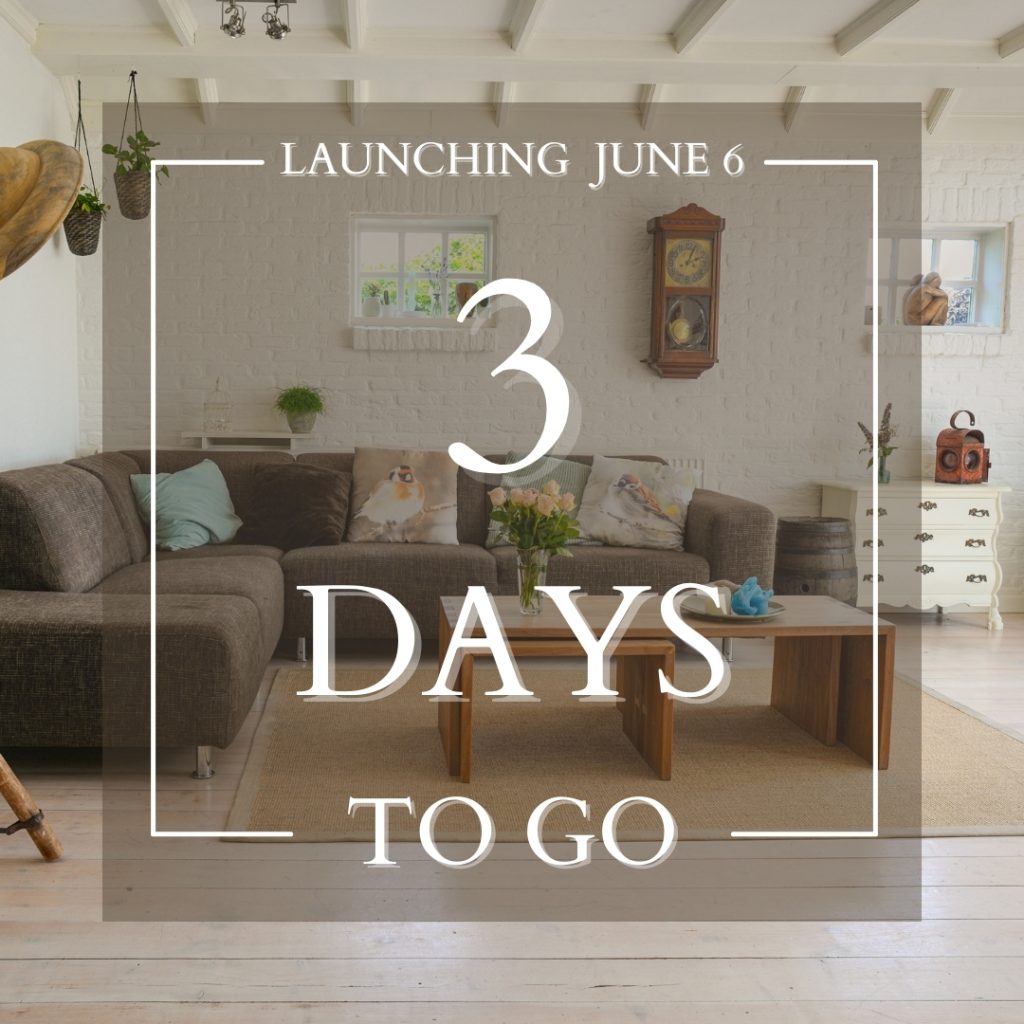 14. Join our newsletter
Your business might still be new, but you can already bump up your email marketing by making use of join our newsletter call-to-actions. Remember to highlight the value and content that your followers will enjoy by receiving your newsletters and could see steady growth in your marketing database too!
15. Behind the scenes
As an up-and-coming interior designer, behind-the-scenes is a great way to make people eager to return to your feed to see what you are up to. Showcase content such as choosing materials, doing a survey, going to a client meeting, or an on-site visit. Making behind-the-scenes content part of your interior design social media plan will ensure you will have enough content to post regularly even if you don't have the budget for expensive photoshoots at the end of a project.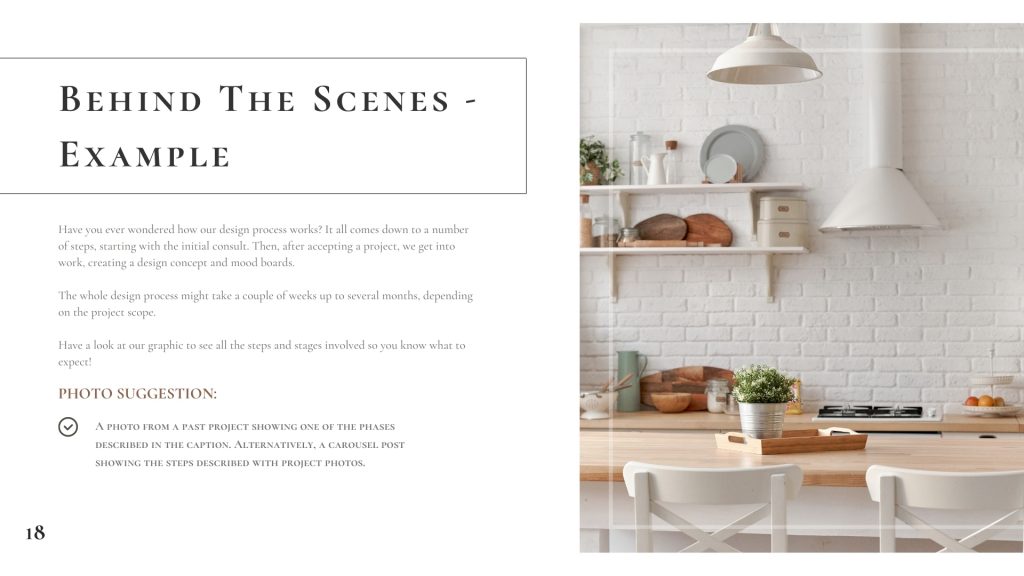 16. Networking and events
Where have you been seen being out and about in the interior design community? Giving shoutouts to industry partners on your feed is a great way to build connections and be seen as an industry expert. Share visuals from the main design events via posts, stories, or go live while you are at an event!
17. Design terms or educational home decor content
Including educational content on your feeds will provide a connection point between yourself and your followers. Potential clients value the knowledge that helps them better understand the world of interior design and what you offer. Make the most of these pieces with beautifully designed design terms that will immediately catch the eye.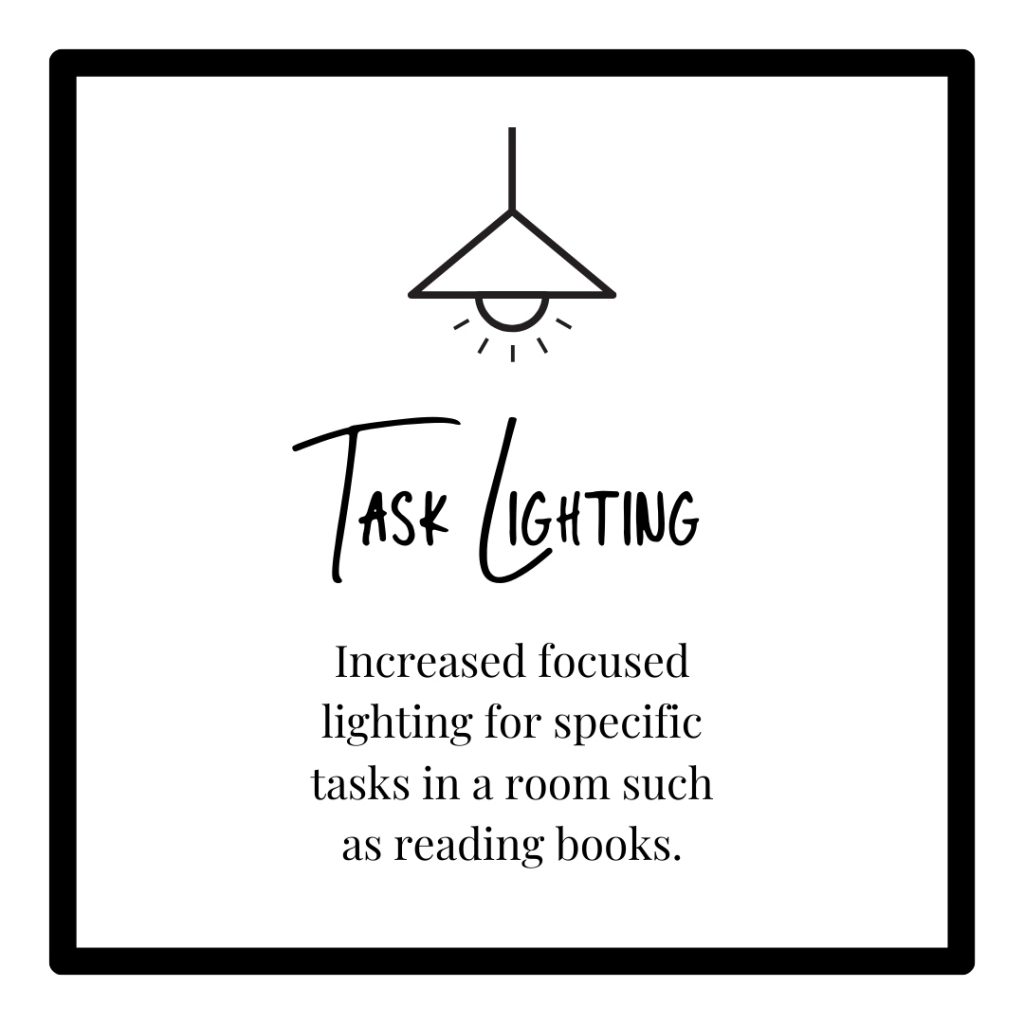 18. Inspirational interior design quotes
Who are the industry giants that inspire you? Sharing eye-catching inspirational design quotes visuals as part of your social media strategy provides opportunities to show your design philosophy. You are also providing shareable home decor content that your followers can relate to!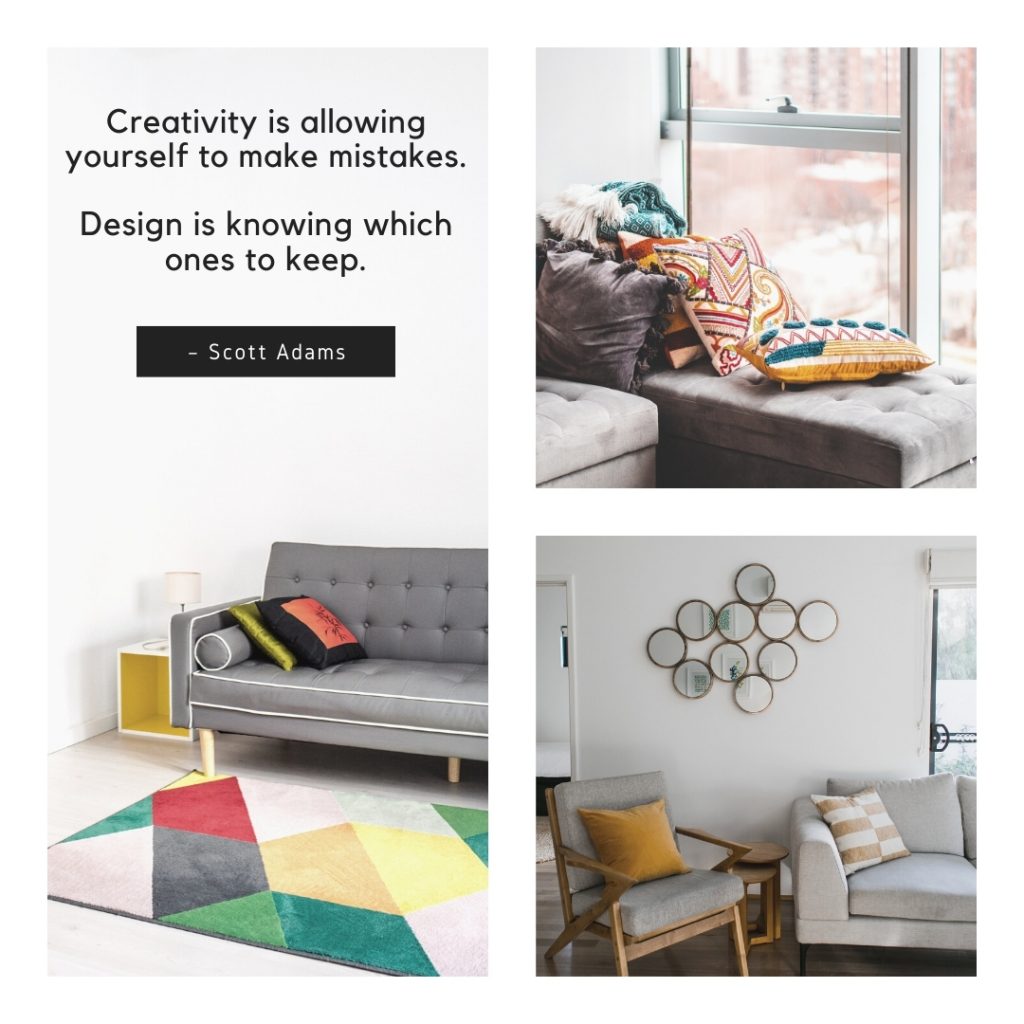 19. What to expect when someone works with you
Want to give your potential clients a taste of what they can expect when working with you? Being transparent and upfront can help them decide whether they would be keen to work with you. Highlight your strengths: your skills, knowledge, client-centered focus, and your unique selling points that they would not find elsewhere!
20. Instagram giveaway posts 
Giveaways are some of the most exciting Instagram content ideas that can add great value for your followers. The thrill of entering and possibly winning will hook followers while creating more visibility for your business.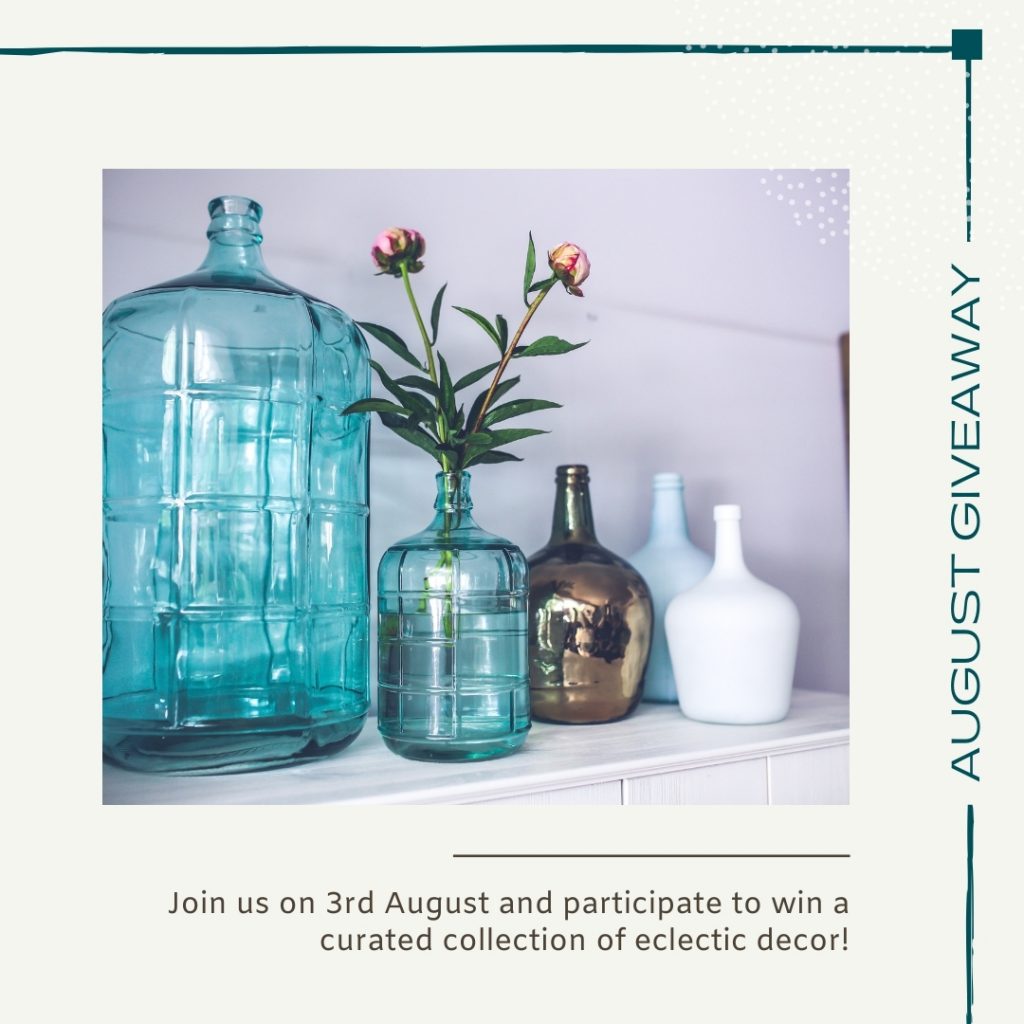 21. Seasonal home decor inspiration
Seasonal inspiration, such as Christmas decor or summer home transformations can create a feeling of connection with your audience. Whether you create seasonal mood boards, carousels with vibrant visuals, or do seasonal this or that posts, there is no limit to the creativity that could unfold in these interior design post ideas!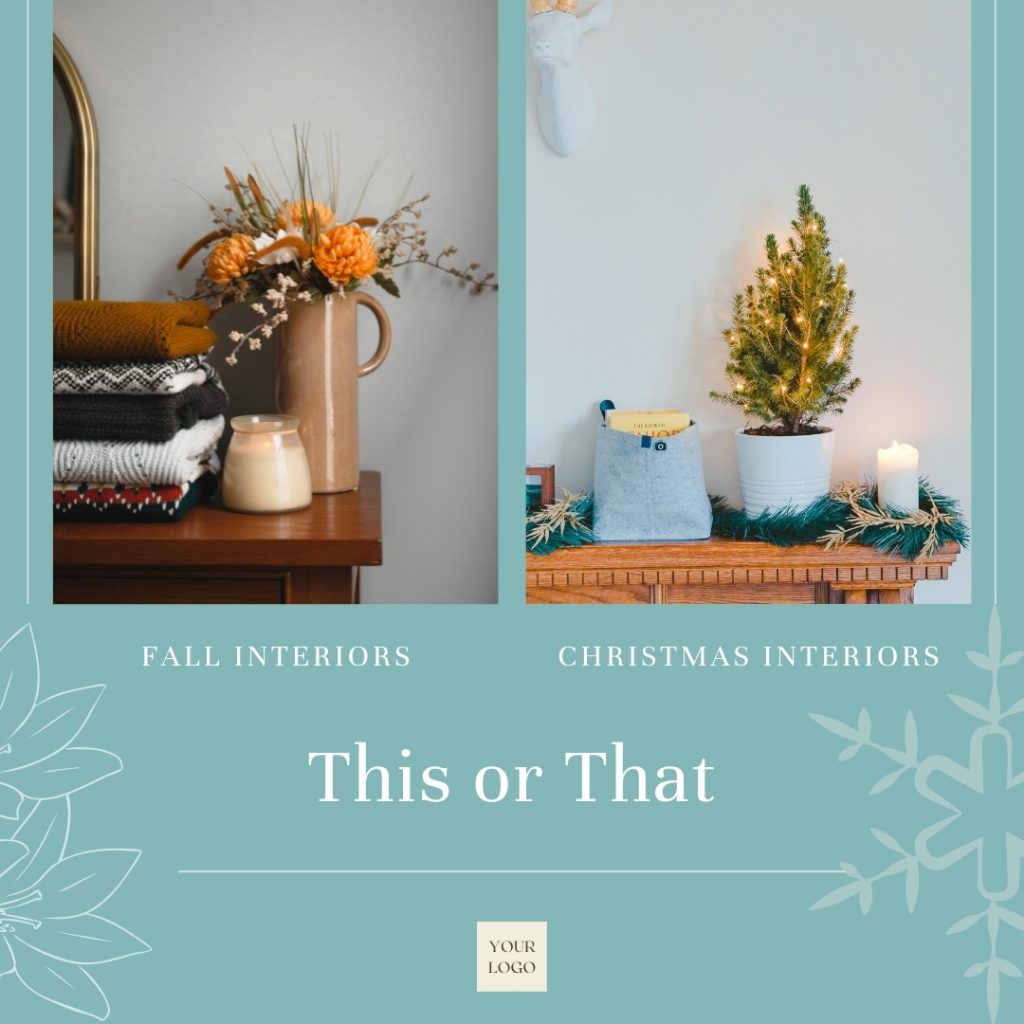 22. This or that interior design posts
Whether you are asking your followers which of your favorite furniture pieces or accessories they love the most or which design themes they prefer, this or that type of Instagram content ideas are a great way to gather insight into which looks your followers prefer. Also, they will feel valued that their feedback counts and will love interacting with your content!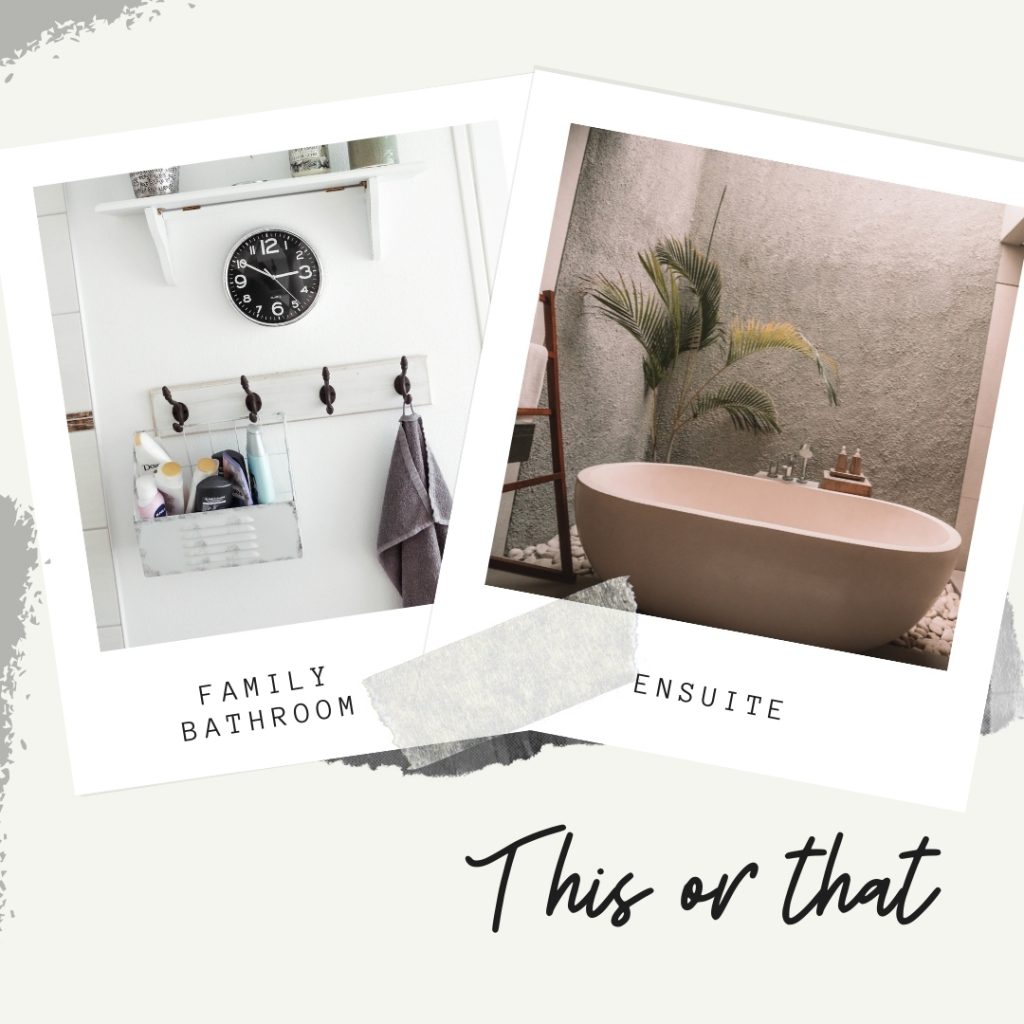 23. Live Q&As
Get your questions ready and prepare for engagement! Live Q&As are real-time Instagram story content ideas that will allow you to build connections with your audience. Use live Q&As also to highlight how your business is tapped into the latest design trends and talk about your current favorites.
24. Favorite artwork and how to use it in interior design projects
Showcasing the artworks that you love to use in your designs can create the opportunity to acknowledge visual collaborators and show your appreciation. Remember to tag and add a little background of the artist in your captions.
25. Throwback to your first interior design project or a past school project
Showing how your skills evolved and what your design journey has been like, throwbacks are fun and engaging Instagram content ideas to provide background on your business and how you developed as an interior designer!
26. Time-lapse videos
Time-lapse videos are so much fun to watch: whether in slo-mo or hyper speed! This format can be used for various purposes, such as project development, doing surveys, finishing touches when staging, or setting up your new office!
27. Before and after posts
Even if it is for your first project or a big project, before and after posts are great to showcase your skill in transforming homes and offices. Carousels and transition videos are all ideas of how you can show before and after visuals. Simply use the format that you are most comfortable with!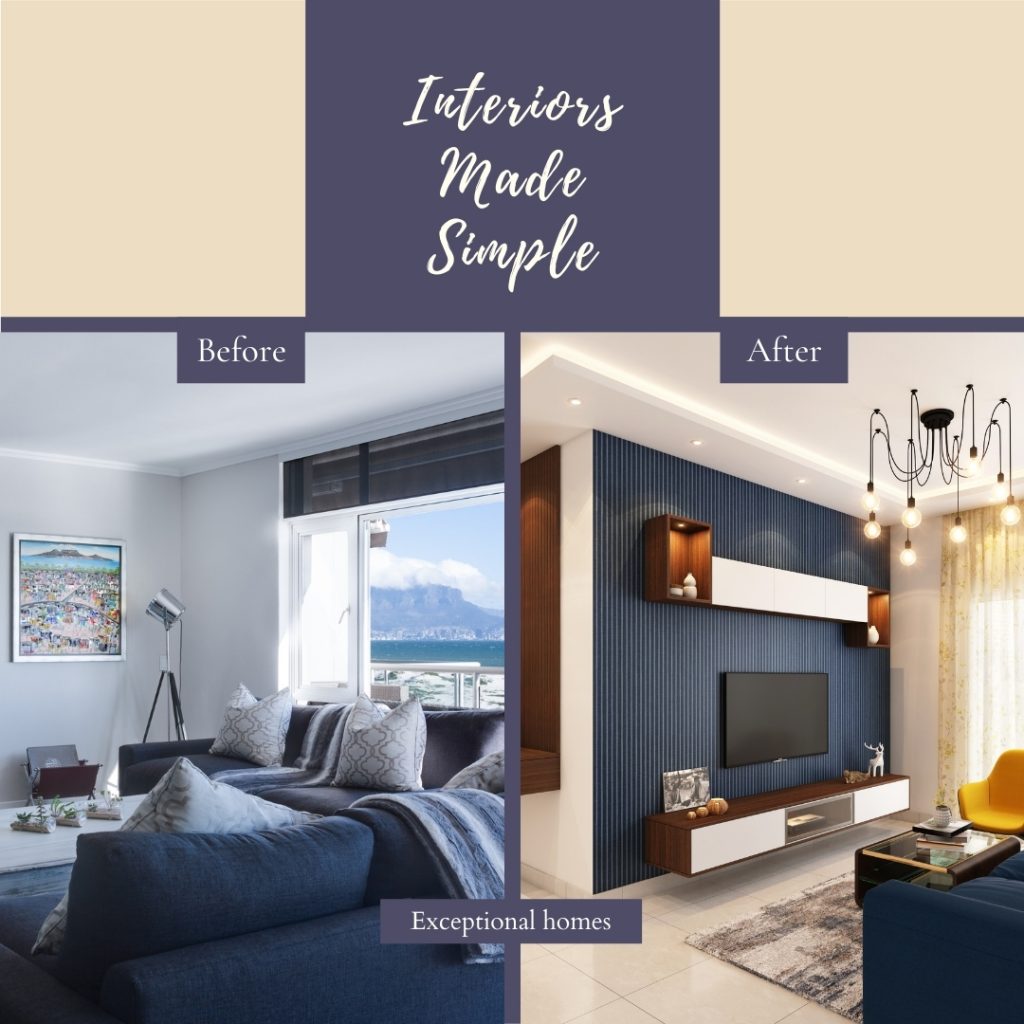 28. Home decor tutorials
Tutorials are a fun way to address pain points that your customers are having in their homes. Whether it is how to arrange a nursery or living room, or how to use storage to free up space, your followers will love how your content pieces are solving their problems. And potential clients will sit up and take notice since they might be looking for someone just like you!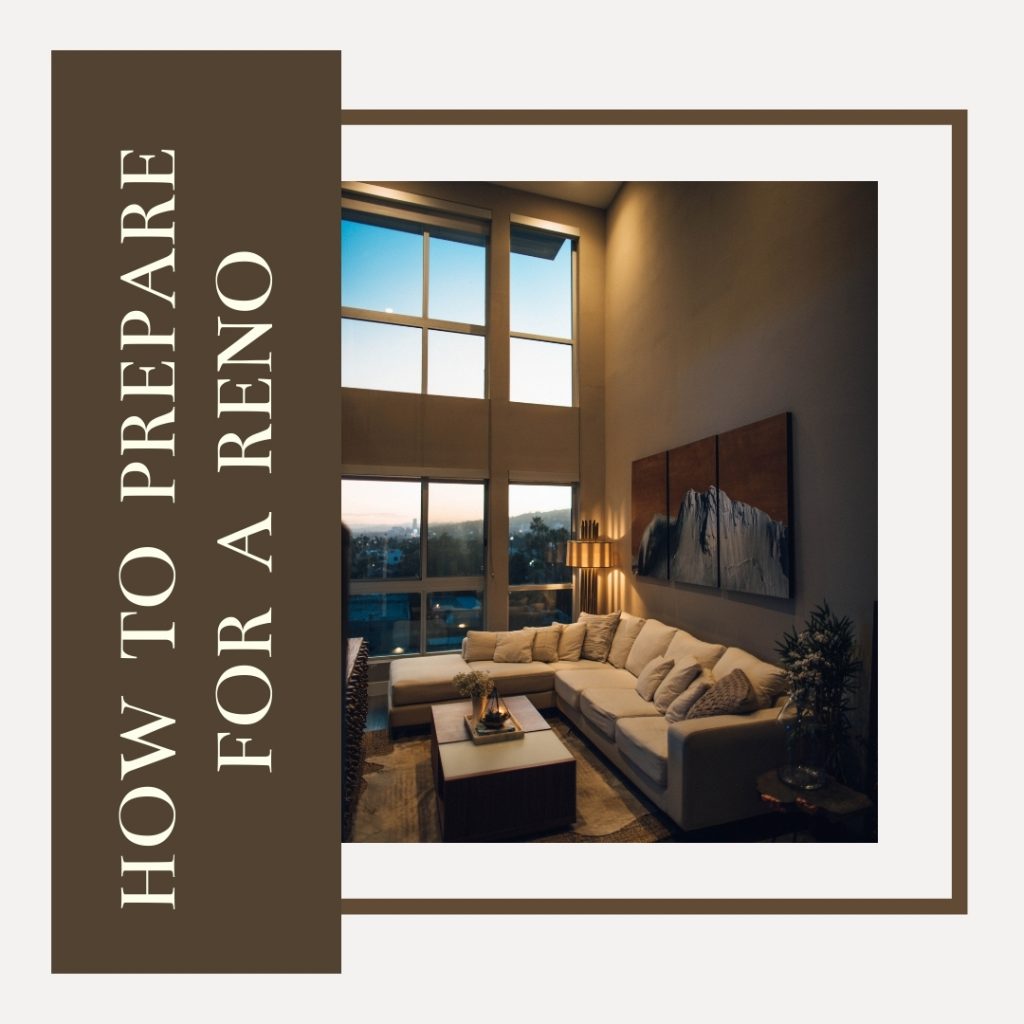 29. Testimonials from interior design clients
Yes, we know. A smaller portfolio also means fewer client testimonials. But consider this: even if you only have a handful of testimonials to show, these Instagram content pieces are fantastic social proof that your business provides exceptional services and value.
30. Reels showcasing your design expertise
Reels can provide bite-size insight into your business and allow you to combine several content ideas in an exciting visual format. Some ideas that you can consider include showcasing your interior design services, walkthroughs, inspirational content, or even business updates. Simply let your personality shine and enjoy engaging with your social media followers!
How to make the most of your Instagram content ideas
Having plenty of content ideas for your Instagram is all well, but don't forget to have a strategy in place so you don't post just for the sake of posting. If you need help with setting up your Instagram strategy, we have a perfect resource for you: our Instagram guide for interior designers and home stagers.
Once you have your Instagram content strategy on track, there will be no stopping you. Even if you still have a small portfolio, you can use Instagram to show off your design talent and attract new clients.
Make the process of growing your Instagram easier by using content planning tools. These will allow you to easily pre-plan your posts and free up your time to grow your business. When creating your home decor content, don't forget to repurpose your photos and captions – in addition to your standard Instagram posts create also stories, video clips, use them in reels and cross-post them on Facebook for maximum exposure.

In addition, the right content creation tools will make creating professional-looking posts effortless and quick. And for that finishing touch, add hashtags that will make it easier for people to find and interact with you.