When it comes to content planning tools for interior designers, questions abound. What is the best app for Instagram planning? Should you use Tailwind for Pinterest? Which apps do you use to plan a content calendar?
No wonder you might feel overwhelmed!
There are many tools to manage social media and their popularity seems to increase and decline in phases. The amount of scheduling software available might seem intimidating if social media isn't your daily job.
But there is no need for you to know all of them. Social media content planning tools include complex features. Many of them you might not have any need for or might need some time to get used to.
In our previous post, we delved into the best content creation tools for interior designers.
This time we will look at the next step after you created your posts. In other words, the best tools to plan and schedule your home decor content in advance.
Our list of recommendations is focused on the minimal amount of tools to achieve everything needed in terms of a solid social media strategy.
Disclaimer: This blog post may contain affiliate links and we may earn a small commission when you click on the links or purchase paid products at no additional cost to you. We only recommend products and software we truly believe to be helpful for your business.
Planoly
Planoly is an all-around scheduling tool that allows you to schedule and auto-post content on Instagram, Facebook, Pinterest, and Twitter.
Planoly's main features are an integrated content calendar, a drag-and-drop planning function, and some basic photo editing functions.
You can add content to Planoly from several sources: your computer, Dropbox, Google Drive, or straight from Instagram if you are reposting someone's content. Story content can be uploaded from your computer, Dropbox or Google Drive.
How to use Planoly
Its interface is pretty easy to get a hang of. It has a straightforward social media calendar and a drag-and-drop function when scheduling posts.
In Drafts, you can create posts and stories and even edit your photos with basic editing options (Premium users only).
Planoly has also integration with free stock photos, although their database related to interior design and home decor is fairly limited.
One of our favorite features is the Hashtag groups function. This allows you to create groups of up to 30 hashtags. You can then easily copy-paste these into your posts when scheduling them.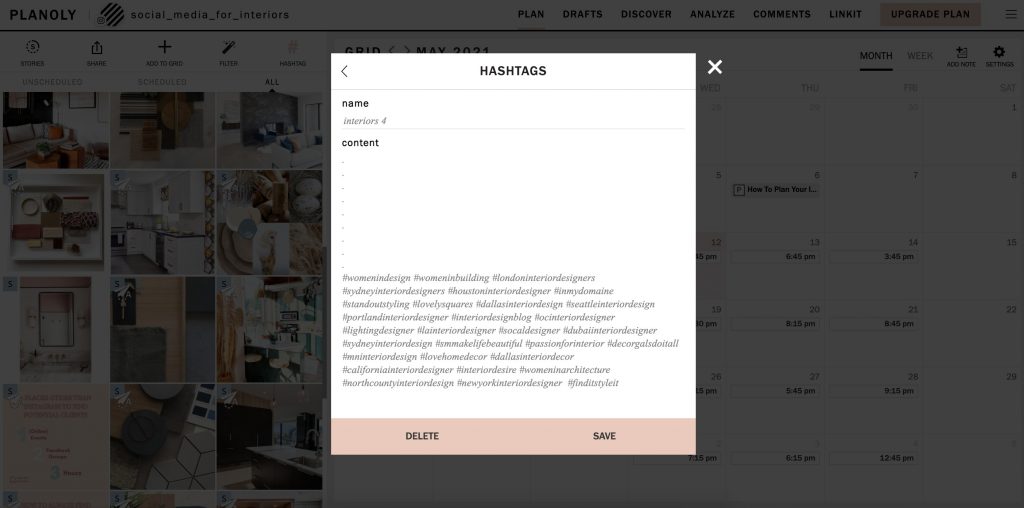 Do you struggle with choosing the right hashtags for your ideal clients? Have a read of our extensive blog post on hashtags for interior designers or get our Hashtag Guide for interior design business owners.
One of the advantages of Planoly is their StoriesEdit feature which allows you to create and plan Instagram stories. Unfortunately, stories are not eligible for auto-posting on Instagram. Instead, you have to post them manually after scheduling in Planoly. This means that when the scheduled time comes, Planoly will send you a push notification on your phone and guide you through manual posting.
This also applies to planning Instagram carousel posts.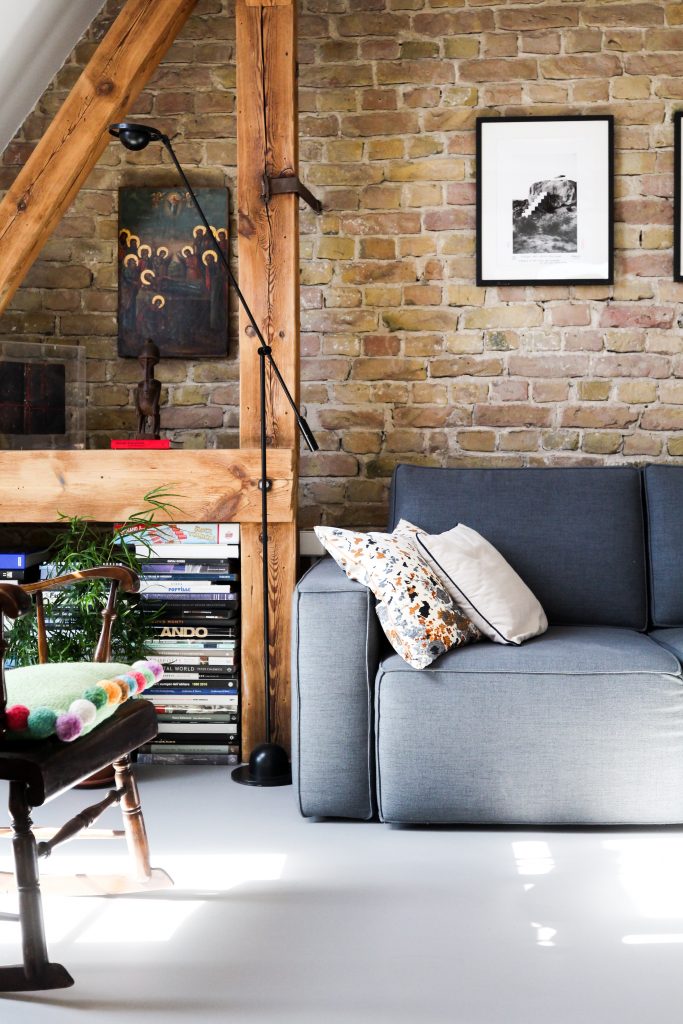 Tailwind
Tailwind is currently one of the most favorite social media tools. And dare we say it is the best free tool (or rather a scheduling tool with a free plan) out there when it comes to Pinterest marketing.
Is Tailwind good for Instagram, you might ask. Are you looking for a one-stop scheduling solution and want to avoid platform-switching? Then Tailwind might be a good choice for you.
We recommend using Tailwind primarily to schedule Pinterest pins. For this reason, we focus on features that are most relevant when using Tailwind for Pinterest.
By the way, do read our write-up on Pinterest if you struggle with Pinterest marketing, or grab our Pinterest marketing guide for interior designers and home stagers.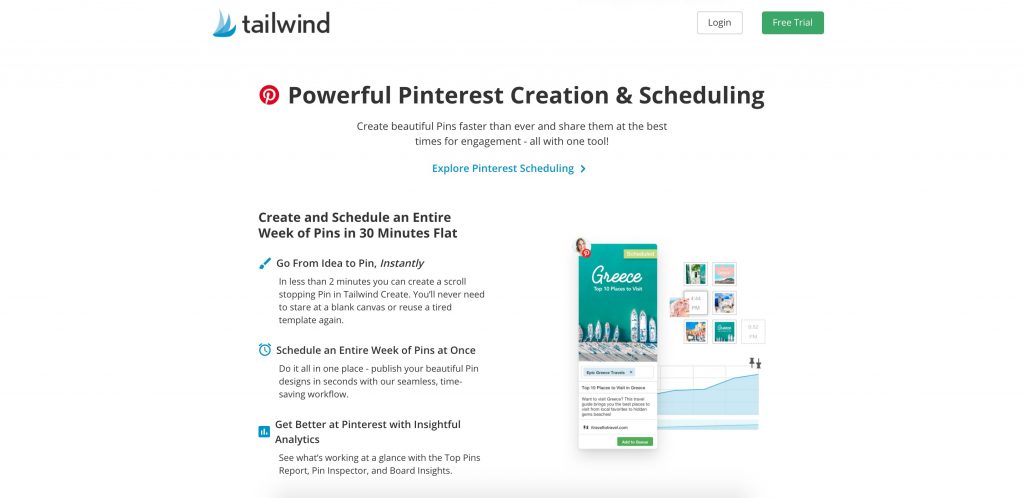 Best times to post on Pinterest
If you were ever looking for the most popular times to post on Pinterest, you're in luck. Tailwind's smart schedule helps you post at times when most of your audience is online. This saves you the guesswork and increases the chances of higher engagement.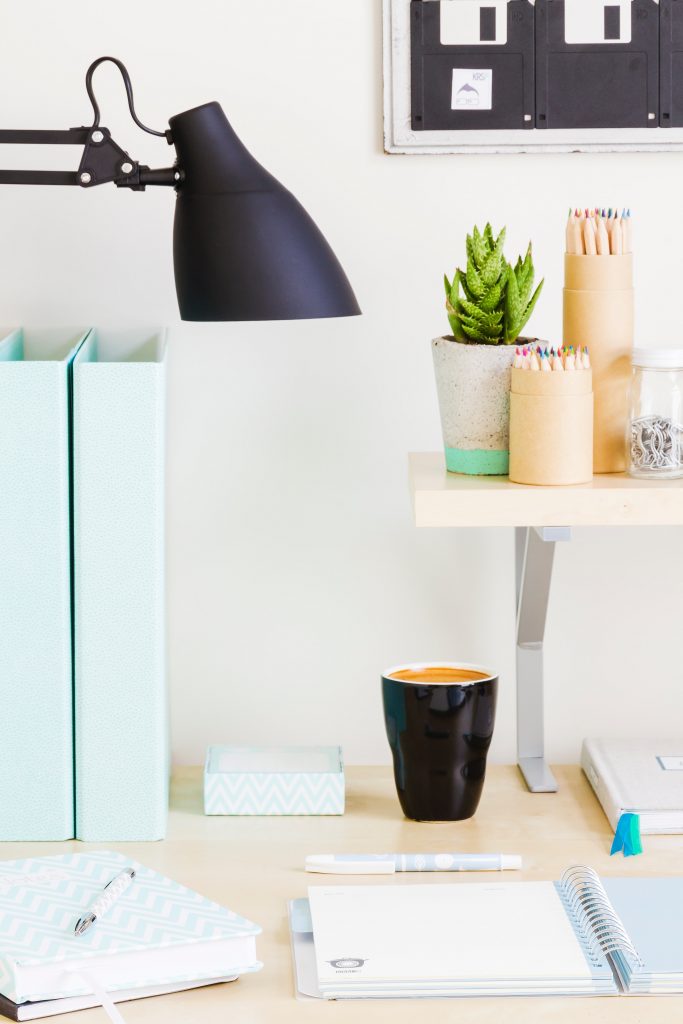 Tailwind Communities
The most standout feature of Tailwind, though, is the Communities. Tailwind's Communities (ex-tribes) feature allows you to reach more people in your target audience by connecting you with Pinterest users who have similar interests. This could be, for instance, Interior Design and Home Decoration or Interior Architecture.
Every Community has its own guidelines for what is allowed and what is not. For example, direct affiliate links or posting the same pin twice might be forbidden so do read the guidelines carefully.
Does Tailwind have a free plan?
Yes, Tailwind does have a free plan and it can be very well enough for your needs. With the free plan, you can have 1 Pinterest profile and 1 Instagram profile, with 20 posts per month. In terms of Communities, you can join 5 Tailwind Communities on the free plan.
How many accounts can you have on Tailwind?
The amount of accounts you can have depends on the Tailwind package you have. The Advanced plan allows for 3 profiles on both, Pinterest and Instagram. With the most expensive Max plan, you can have up to 5 profiles on both platforms.
Planoly vs Tailwind
Both schedulers can be used to schedule pins on Pinterest as well as posts on Instagram. Having said that, Tailwind was developed for Pinterest first and foremost. Its main features revolve around Pinterest's functionality and are designed to help you get the most out of your Pinterest strategy.
Planoly, on the other hand, is more of a general tool and we like to use it mostly for Instagram.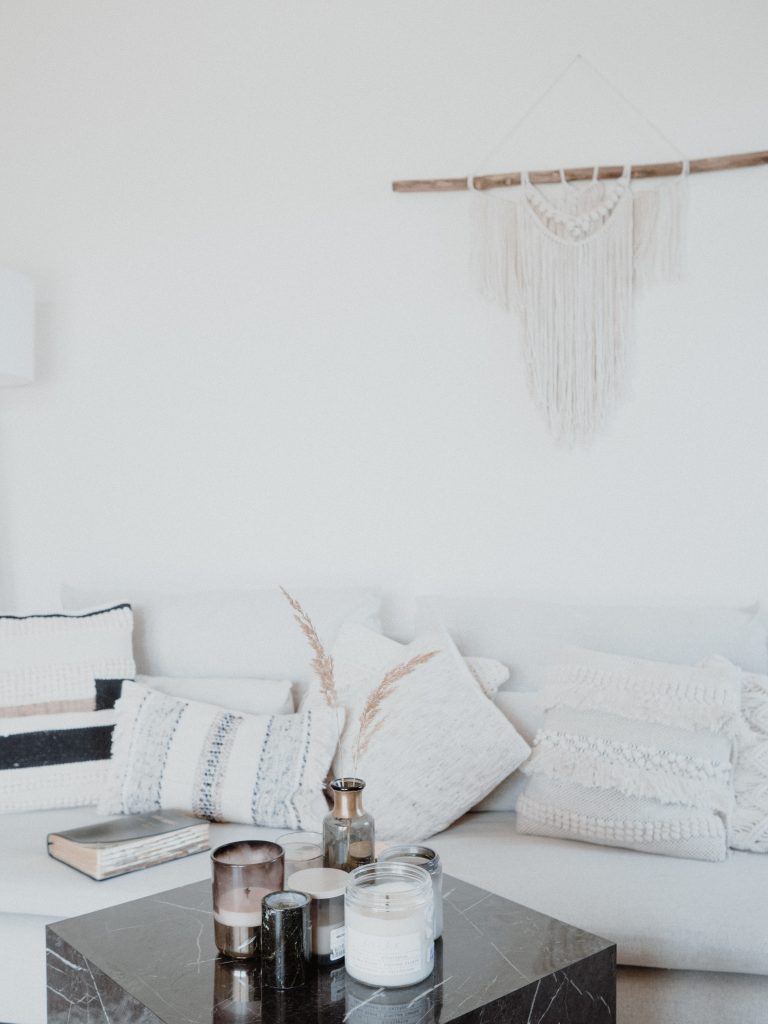 Later
Later is a content scheduler for Facebook, Twitter, Instagram, Pinterest, and TikTok. In its functions and interface, it is quite similar to Planoly, including the same basic content scheduling features.
These include a content planning calendar, drag and drop planning function, basic image editing options, integration with free stock photos from the Unsplash library, and managing comments (pro versions).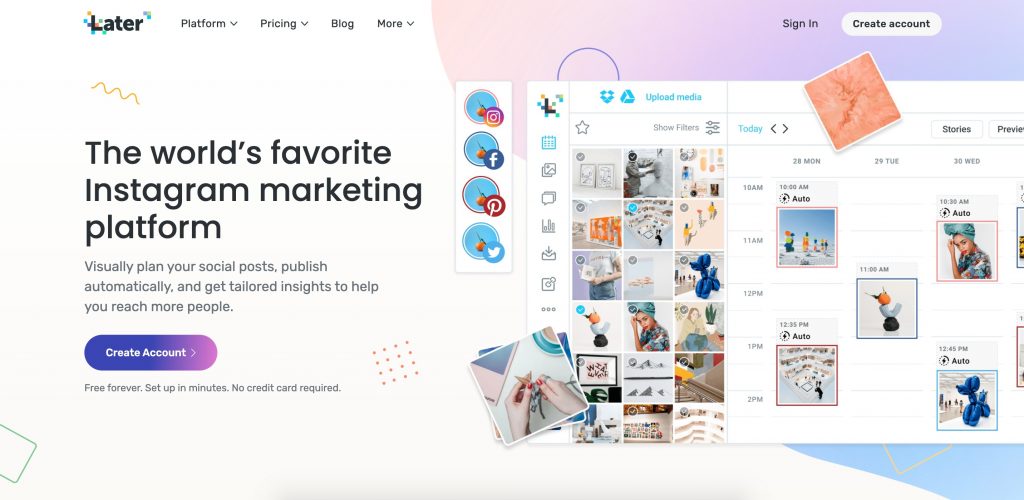 Planoly vs Later
Planoly and Later are both decent choices if you just want to schedule social media posts for free.
Both schedulers include tools to help you find relevant content to repost, including a search function for reposting from your favorite profiles or based on a certain hashtag. Both platforms have also their own analytics tools. Although, for more detailed data you might have to convert to a pro account.
Both platforms also offer a link nesting feature – Linkit for Planoly and Linkin.bio for Later. Similar to Linktr.ee, these tools allow you to nest several links into one main link, that can be used in your Instagram bio.
Which is better, Planoly or Later?
In our opinion, this is very much a personal choice. The functionality of Planoly and Later is so similar that the biggest differences are in the user interface.
What we most appreciate about Later are the collaborative functions and how easy it makes for you to collect posts from team members and collaborators. A caveat – to enjoy a lot of its advanced functionality (such as collaborations, scheduling stories, and analytics) you will need a Pro account.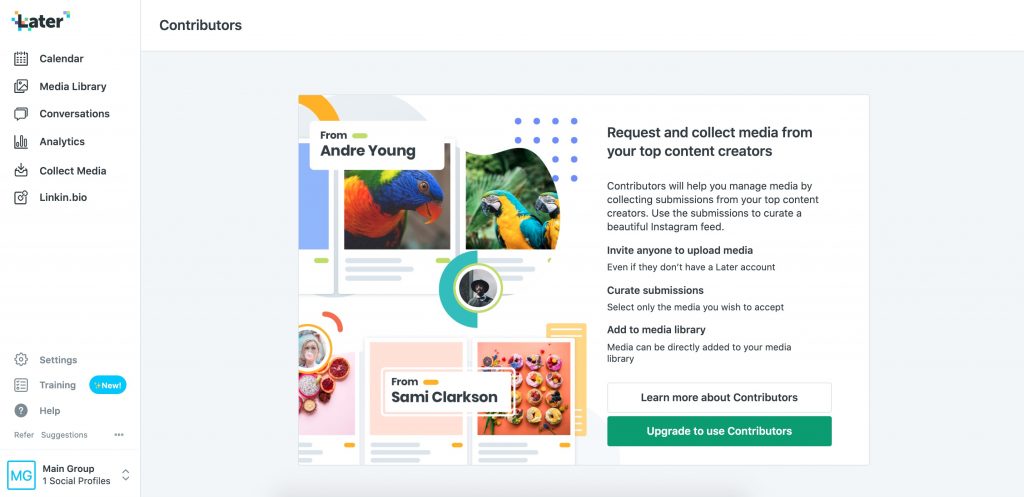 Later vs Tailwind for Pinterest
Later is also an official Pinterest partner. This means that you can rest assured that its Pinterest scheduling function is in line with Pinterest's official rules. While you can do all the Pinterest scheduling basics very well with Later, it is more of an all-around social media scheduler rather than built specifically for Pinterest. Special features that are invaluable for Pinterest, such as Tailwind's tribes, are not available there (or at least not yet).
If you do not wish to switch platforms, don't need super platform-specific features, and would rather have a tool that can handle all your social media accounts at once, Later might be the right choice for your business.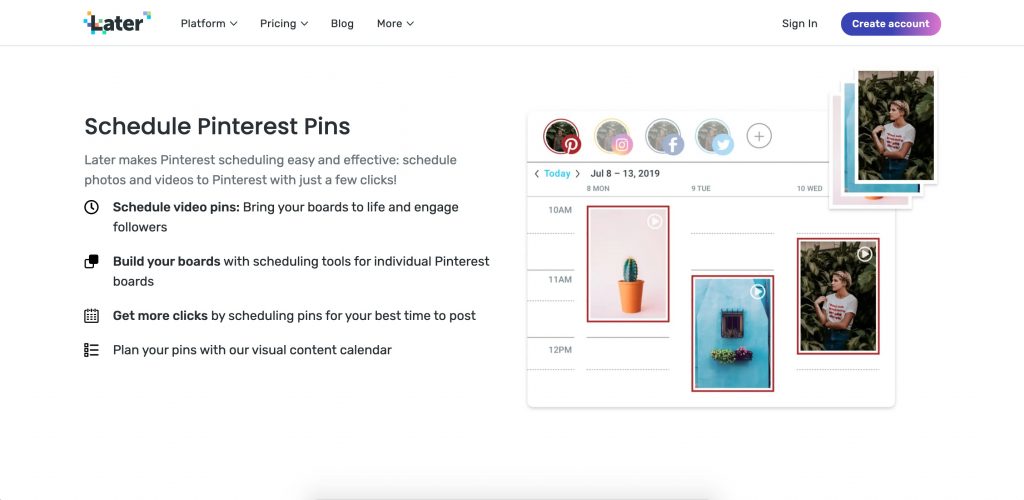 Instagram Insights
This one might surprise you but Instagram's native analytics tool, Insights, is firmly one of our go-to tools when planning Instagram content.
It contains all the necessary data about your followers to tweak your future content and make good content planning decisions.
You can use Instagram Insights to see how each of your posts did individually, which posts were more popular and perceived as helpful (look for those saves and the number of times a post was sent to someone else), how well the hashtags you used worked, whether your call to actions work and make people tap on your website or contact buttons, and also when are most of your followers interacting with content.
For all these reasons, Instagram Insights is one of our most favorite tools for social media management and content planning.
So, which one is the best social media scheduling tool? It really depends on your needs and personal preferences. We hope this post has given you a good starting overview. Try a couple of platforms to find out what suits you the best. And if you still feel overwhelmed, just sign up for one. Using any scheduler and posting consistently beats not posting at all.