Word of mouth and traditional advertising is no longer the only ways that you can get new interior design clients. By strategically using social media platforms, you can reach new ideal clients through digital marketing.
Social media is one of the most important tools when it comes to marketing your interior design business. Unlike traditional print methods, it can be instant, more interactive, and allow you to engage better with potential new clients to give them the information they are looking for about your interior design business.
If you have been wondering how to market your business on social media and how to use them to get new interior design clients, we have some great tips to get you started.
Disclaimer: This blog post may contain affiliate links and we may earn a small commission when you click on the links or purchase paid products at no additional cost to you. We only recommend products and software we truly believe to be helpful for your business.
1. Ask clients to write you a Facebook review
Testimonials and reviews can show potential clients how your services have worked for various clients. It will show that you and your interior design business can achieve similar results for them. You could also use graphic design templates to make your reviews stand out visually and use them in your posts and stories as well.
2. Connect with realtors and builders
Are you following realtors' and builders' social media accounts as part of your social media strategy? When you stay up to date with requests for stagers or interior designers, or simply stay visible by engaging with their posts – you will stay relevant and on their radar when potential new opportunities present themselves.
3. Post consistently on Instagram to build relationships
Social media strategies for interior designers need to include consistent posting to maintain visibility and retain interest from potential client leads. To attract new clients, ensure that you include various formats, such as videos, before and after imagery, and carousel posts of past and current projects to test which format works best for you.
4. Use Pinterest consistently and links to content on your website to drive traffic
Pinterest is packed with inspirational visuals where potential clients often cherry-pick their favorite images of designs that they would love to have for their own upcoming projects. They are likely on the hunt for tips for their home projects too. As an interior designer, you can tap into this habit by using eye-catching visuals linked to your blog in order to drive more traffic to your website. Make this part of your marketing strategy and use easy-to-use graphic templates to present topics that your ideal clients are interested in. This will make them more likely to save your pins and want to read more.
By the way, make sure to grab our free Pinterest Canva templates for an easy leg-up!
5. Join relevant Facebook groups to connect with potential clients and networking opportunities and provide value consistently
Over and above having your own Facebook group, joining groups that align with your business and where potential clients are likely also active is a strategic move for your business. Make an effort in these groups to actively network with potential clients and provide value through your interactions, whether giving tips, advice, or any other value-packed content. While we're at it, come join our own Facebook group to learn how to do this!
6. Create a TikTok account
TikTok might still be relatively new, but it can be a fun platform to promote your interior design brand. Your bite-sized videos do not necessarily have to full-on market your business, but provide interesting content that will make potential clients think, "I want to know more about this interior designer!" As a starting point, have a look at the types of content that other interior designers are posting and how people are interacting with it.
7. Showcase the different services that you offer
As part of your social media strategy, you need to clearly demonstrate which interior design services you and your team are able to offer potential clients, such as full-home designs, nursery layouts, or patio staging. Make your services known by optimizing your social media profiles (in other words, make it clear in your bio!) and having different posts about projects and proven results. This will ensure that your potential clients have a good idea of what value you can add to their projects and how your design style aligns with theirs.
8. Leverage your relationships with past and current collaborators
Your collaborators – whether they be material providers, photographers, or even artists – can be a rich source of potential business. Keep these connections strong and ensure that when opportunities arise, you will be able to join forces for new client projects. Give them a shoutout on Instagram or make a short interview for your Youtube channel to show your appreciation and keep the relationships warm.
9. Use Instagram stories and IGTV to showcase valuable content
Instagram stories and IGTV allow you to showcase your business in a savvy, visual format that is instant and interesting. Make it count – show styling tips, redecorating advice, and any other easily digestible content that your potential clients would likely be looking for.
10. Build a YouTube channel with helpful advice
Think of the typical pain points that your potential clients could have. Are they looking for solutions for home staging, designing a new extension, designing a new build, or simply wanting to refresh the look of their homes? Use your insights to craft content that they would likely be searching for on YouTube. Ensure that you use the right keywords and phrases to make your videos easy to find. Always think as your ideal client would and use the language that is close to them, as opposed to your usual design speak. Don't forget to cross-promote your video content on your other social media platforms too (but make sure that your content is suitable for the platform you are posting it on). Oh, and don't forget to check out and subscribe to our Youtube channel too!
11. Outsource the social media tasks that you can (but keep doing what only you can do the best)
Need assistance with curating and posting content? Outsourcing these tasks in freelancer platforms such as Upwork and Fiverr can free up a lot of your time – just remember to keep key tasks in-house to ensure that you keep control over aspects such as engaging with social media followers and answering questions about your business.
12. Use LinkedIn to connect with realtors and local developers
One of the best ways for interior designers to get new clients on social media is by connecting with realtors and local developers. Often, these industry players have a great knowledge of upcoming projects, and if you are connected to the right parties, it will be easy to get new business through networking and answering calls for partners for new collaborations.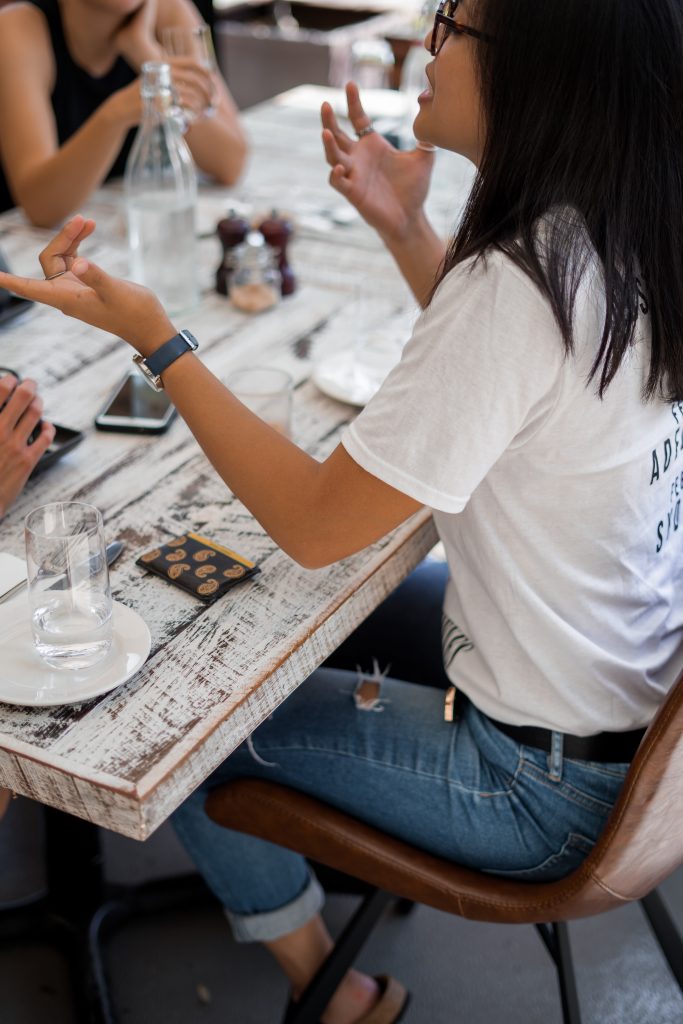 13. Don't forget to show your expertise on LinkedIn via thought leadership articles
Showcasing your insights into your industry can be a good way to build your interior design brand. With LinkedIn, you can curate thought leadership pieces that you know will speak to other industry professionals. This can be anything like eco-friendly furniture trends and benefits, how you can sustainably do a home renovation, or even what impact different design themes can have on different rooms. Make it interesting, make it have value, and make it count!
14. Use content scheduling tools to syndicate social media content
Scheduling content can free up your time to engage with potential home decor clients and grow your business. It will be also easier to keep a consistent posting schedule if your content is all planned in advance and you don't have to make it up as you go. Consider tools like Later, Planoly or Tailwind to streamline your online content on Instagram, Facebook, and Pinterest.
15. Use content creating tools like Canva to create and adapt content to suit several social media platforms
Canva is one of the best tools to use to create eye-catching graphics and to make your social media content fit for the platforms that they are intended for. With its templates and easy resize tools, you can adapt Instagram posts for Facebook or turn them into Pinterest pins. This will make your content more engaging as it will look neater and more natural to interact with. So, make your great designs work in your favor!
16. Create a profile on Houzz and post all your best projects there
Houzz can be a great additional channel when it comes to finding new interior design clients. It is both, an inspirational space, and where potential clients look for designers and other home decor professionals to work on their projects. This is more than enough reason to make a great first impression, so ensure that only your best projects are in the spotlight on this platform. Engaging regularly in Houzz forums can be also another way how to work on your brand and thought leadership.
17. Use the right hashtags to reach more potential clients and a wider audience on Instagram
Make your hashtag sets specific to your services and content, and potential clients will find your posts more easily. Always think about what they are searching for in their interior design projects: kitchen extensions, master bedrooms, bathroom remodels, or others. Include location-based hashtags to help potential clients from your area locate your home decorating business.
18. Use caption templates to save time creating content on social media
Now, caption templates do not mean just using generic content to fill content gaps – it means having templates at hand that you can easily personalize, especially if you are stuck for content and time. Use specific templates tailored to interior designers to save time and ensure you are posting valuable content consistently.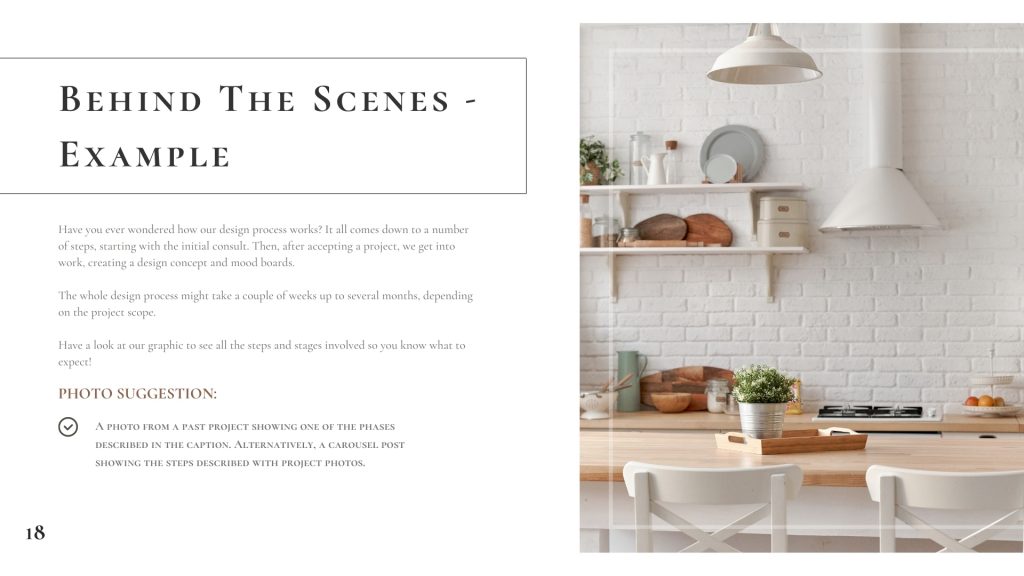 19. Use graphic design templates to save time creating new pins and Instagram content
Creating visuals can take away a lot of time from engaging with potential new clients. When you use graphic design templates, you can get consistent, professional-looking social media graphics without the hassle. Grab attention through your beautiful pictures without spending hours on them!
20. Promote your blog posts and content on more social media platforms than just Pinterest to bring in more traffic
Have a strategic approach to your blog strategy. For instance, you can choose to just post the link to the blog with a short caption, or use your blog as a source for 4 or 5 captions to boost your available content. Don't limit promoting your blogs to just one platform – reuse your content and post it on Instagram, Facebook and make it into a short video for your Youtube channel. Play on each channel's strengths to draw traffic to your website and build your design brand.
21. Have a holistic strategy comprising all your social media channels
Do not make just one social media channel your source of potentially finding new design clients. Think about how you could use each channel to attract new business and how people interact with each platform. Then, use these guidelines to create the best possible strategy to attract new business.
Decide which social media platform you're going to focus on at first and master that one before moving on to the next channel. But whatever you do, spend some time testing to see which platforms work best for you.
22. Using appropriate tools to make your social media management easier
There are several tools such as Canva, Planoly, IQ Hashtags, and more that will make your social media management easier. Whether you use them to create new home decor content, schedule your social media posts, or to choose the right hashtags for your Instagram posts, they will help you to have slicker social media channels and more time on your hands to get and engage with potential new clients.
23. Know how social media platforms differ in what people expect from them and what to find on them
Platforms such as TikTok and YouTube are where people go for video content that speaks to their interests. The type of interior design advice that they are looking for is presented in an easy-to-digest, visual form and the personal narration is a big part of YouTube's charm. On the other hand, Facebook would be where people will be looking for a place to discuss interior design topics and share their opinions. Always tailor your content to what people expect when they visit your social media channels.
24. Convert to business accounts to get access to analytics and tweak your content according to the data
Business accounts come with loads of useful features such as deeper insights into analytics, promoted posts, and ads. This can help you reach more potential clients and see where you need to tweak your content. By doing so you can leverage the types of content that your followers engage with the most and grow your social media following.