Despite social media trends changing over time, Stories remain one of the best ways how to drive sales on Instagram.
There are several reasons for that, including their authentic feel and interactive nature, great conversion tools, engagement stickers, and the fact that they are primarily viewed by your loyal fan base, which is more likely to convert than someone who only recently discovered your profile.
But however instrumental Instagram Stories can be when growing a business, it is understandable if you feel like you don't have time to create them or have little idea how to make them 'right.'
In this blog post, we will dive deep into all you should know about Insta Stories and how to use them to get new interior design clients – from how they fit into a content strategy, to using Story stickers to boost engagement, to how to drive conversions and best practices for interior designers.
Disclaimer: This blog post may contain affiliate links and we may earn a small commission when you click on the links or purchase paid products at no additional cost to you. We only recommend products and software we truly believe to be helpful for your business.
Insta Stories as part of the Instagram content funnel
There are several formats that you can use when it comes to Instagram content – static posts, Stories, and Reels being the three most popular and used content types.
Compared to static posts or Reels, Stories tend to be more casual and unpolished, which makes them feel more authentic and relatable.
Now, that's not to say that you should only post Stories – all types of content play a role in attracting ideal clients and building an engaged following on Instagram.
Each type plays a part in what we call the Instagram content funnel. Reels are at the top of the content funnel – they work best as a vehicle to attract new people to your brand and get your content right in front of them.
The static, feed posts are then in the middle part of the funnel, helping to build on that connection you made and make your followers more familiar with your brand.
The narrowest part of the funnel belongs to Stories – this is where you can truly hook your followers and have a higher chance of converting them into clients. As mentioned, it's most often your core fan base that is keen on watching your Stories and is interested in knowing more about you, meaning, they are more likely to do further action from your Stories.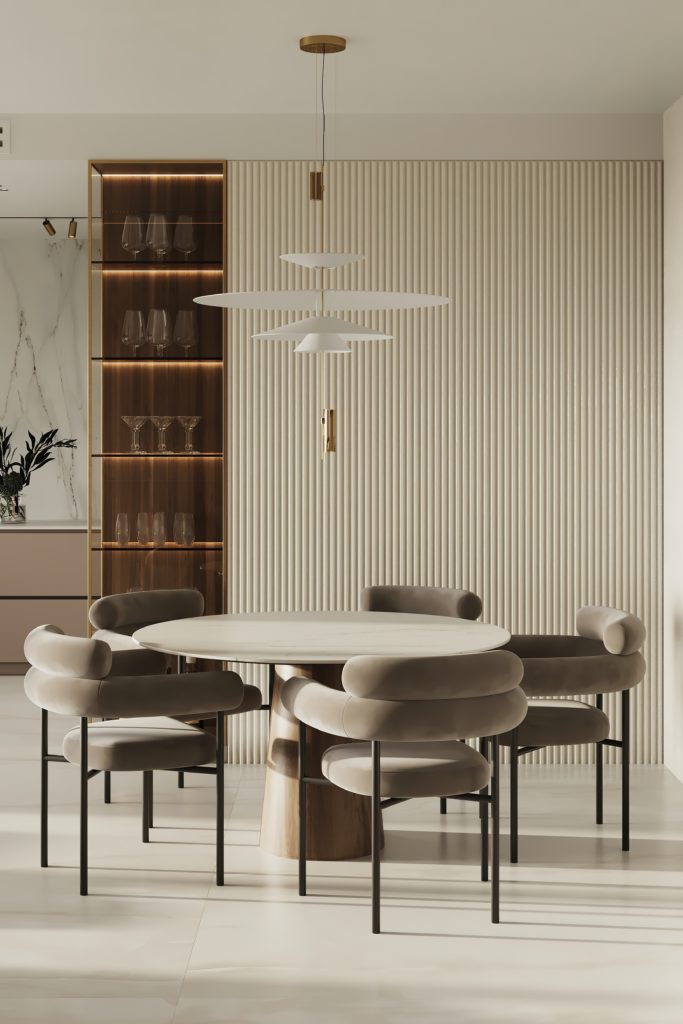 The basics of Instagram Stories for interior designers
The Story format has its own specific features that you should consider when creating Stories – this way you can use Stories strategically and not just post whatever you think of on the fly.
Here is a low-down of the main features that differentiate Stories from static posts and Reels.
Stories expire after 24 hours (unless saved to a highlight)
By default, Stories disappear after 24 hours, creating a sense of urgency and encouraging your followers to check your profile regularly for new content. This helps to build a closer relationship and creates opportunities for them to take further action, like visiting your website by tapping on the link sticker.
If you do not want your Story to disappear entirely, you can save them to a highlight. There is a limit to how many Stories can be saved under one highlight, but you can always create a new one and continue saving your Stories there.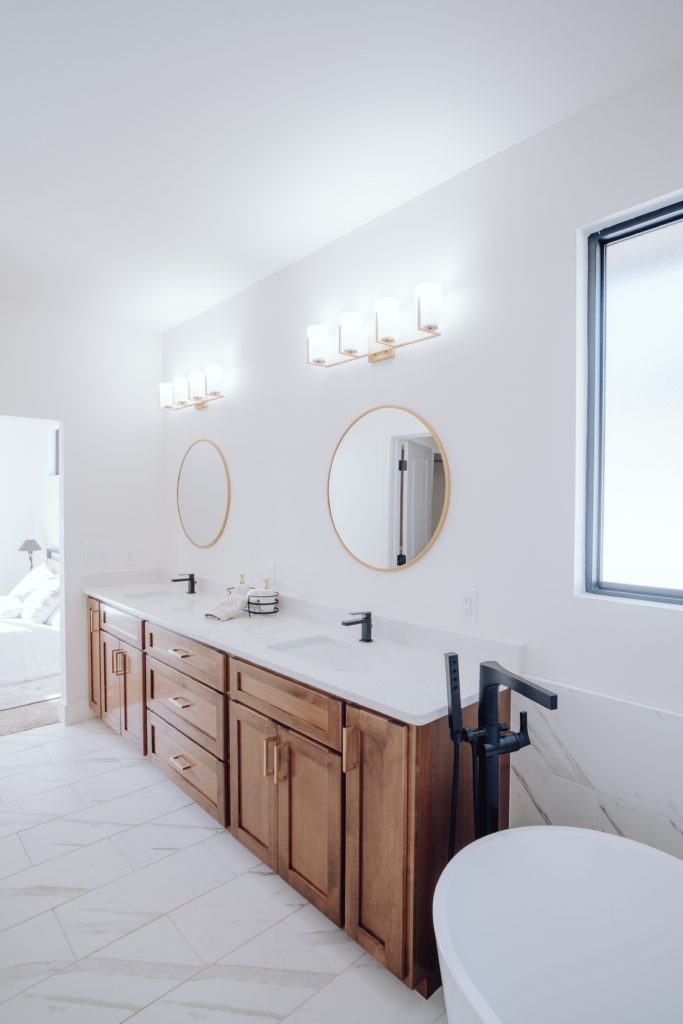 Engagement tools (aka Story stickers)
Story stickers are one of the main reasons why Stories work so well to boost engagement – they add a bit of creativity, make your content interactive, and more appealing to your followers.
The more often people interact with your Story stickers, the more Instagram keeps on showing your Stories to an even larger audience, meaning, your reach will get an organic boost.
There are plenty of stickers to choose from, like polls, quizzes, questions, emoji sliders, countdowns, and more. While some stickers are great for engagement, others are especially handy for conversions. A bit later in this post, we'll get to a more in-depth look at the Story stickers.
Encouraging direct conversations in DM
By allowing your followers to reply to your Stories via DMs, Stories are great to encourage direct conversations with your audience. You can use a call to action such as 'DM me for more info!' in your static posts and Reels but neither of these formats is as DM-friendly as Stories.
When you share a Story that resonates with your followers, they can simply swipe up to send you a direct message without the need of going into their inbox or your profile. And since this conversation happens privately instead of in the public comments under your posts, your followers might feel more comfortable sharing their thoughts and continuing the discussion.
This way you can encourage private conversations, foster engagement and build deeper connections with your followers.
Filters, music, and other creative options
Stories offer an extensive library of filters, music, and sound effects that you can add to enhance the overall experience and set the mood for your Stories. All of these make Stories fun to watch and engage with and stand out from high production Reels and polished static posts.
Viewership insights
With Stories you get access to their own analytics which allow you to see how many people viewed and interacted with your content so you can create more engaging Stories. Later in this blog post, we will look more closely at what metrics you should pay attention to and where to access your Story analytics.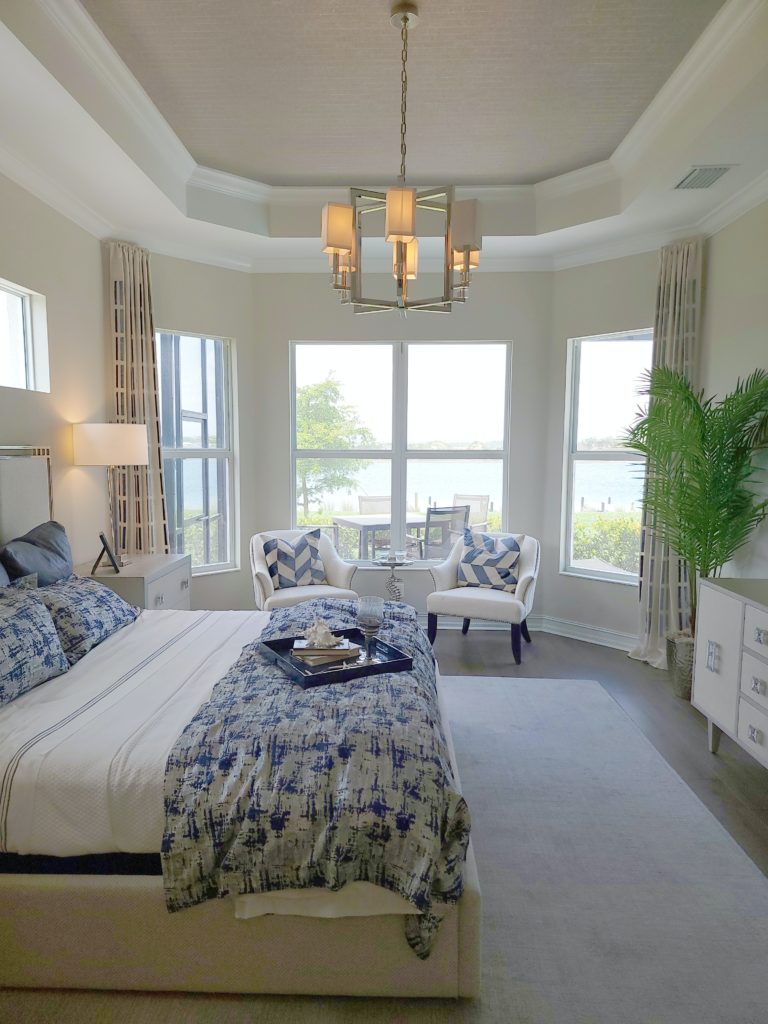 How do you turn Instagram followers into clients with your Stories?
With their more relaxed nature, Stories help to humanize your brand and make it feel more relatable to potential clients. Sharing sneak peeks of your latest design project, or a day in the life of an interior designer, can give your followers an inside look into your design business and help to build trust and credibility with your audience.
This doesn't mean that your Stories have to be necessarily linked to news or only behind-the-scenes content – create a Story where you answer a frequently asked question on your way to work, show how you are sketching design ideas on your sketch pad, or even take pictures of a place that you're visiting if you find it stunning or inspiring.
The important thing to remember here is that your Stories are a place where you are starting conversations with your audience. They shouldn't be used just as a drop-and-go of ideas – instead, strive for conscious interactions with people with the goal of developing deeper relationships, and, eventually, converting followers into clients.
Using Instagram Stories as an interior designer
There are many ways how you can use Insta Stories as an interior designer. Use them to show the behind-the-scenes of your daily life, sneak peeks into new projects, or as a teaser for sales and special offers – the sky is the limit!
Keep in mind, though, that while Reels and static posts work more like a one-way channel, with Stories you want to encourage interaction.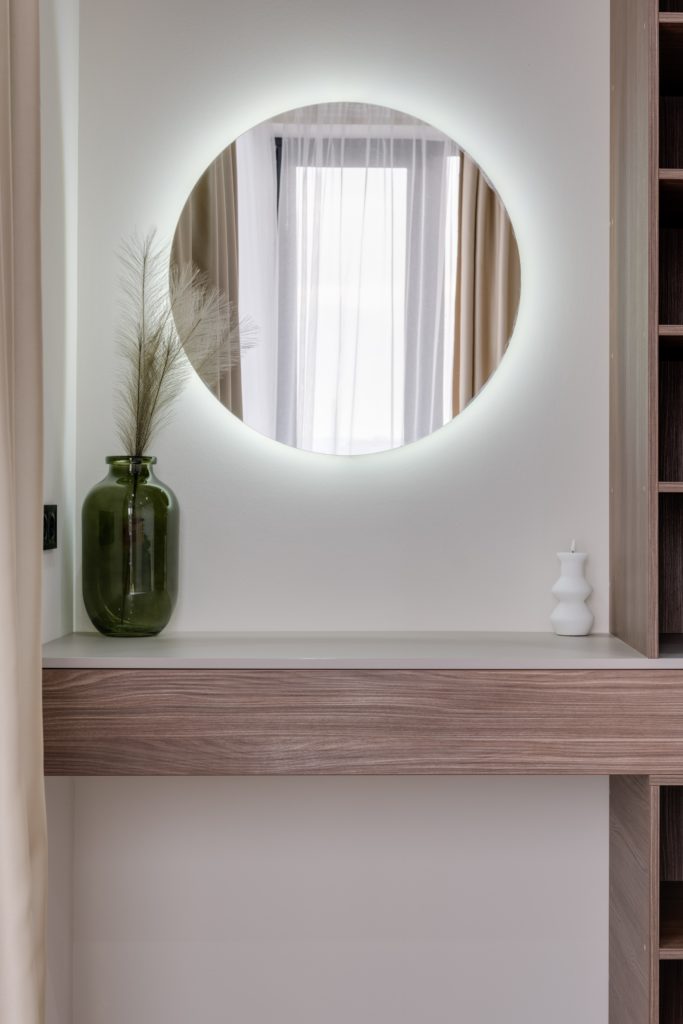 Instagram Story stickers
Instagram Story stickers are an easy way how to encourage interaction and the secret (or not so secret) sauce that makes Stories so effective for boosting engagement and driving client leads.
Here are our favorite Story stickers that we recommend to interior designers:
Poll Stickers: Poll stickers let you ask questions and gather opinions from your followers. You can use them to get feedback on design choices (e.g. asking whether people prefer a specific color scheme or furniture style) or what kind of content they would like to see more in the future (e.g. before & after or design tips).
Quiz Stickers: Quiz stickers allow you to create interactive quizzes where your followers guess which answer is correct. You can use quizzes to test your followers' design knowledge or engage them with fun design-related trivia. For instance, you could create a quiz asking, "Can you identify the famous designer behind this iconic chair?"
Alternatively, you can also use quizzes to gauge your audience's opinions if you don't want to use the poll sticker. Just remind your followers that there are no wrong answers in this quiz!
Question Stickers: This sticker opens the floor for your followers to ask you questions, whether about your design process, specific design advice, or anything else you'd like to answer.
You can share valuable insights by answering their questions in subsequent Stories but also use this sticker for market research. For example, encourage your followers to ask what is their favorite design style or what is the next design project they are planning for the next year.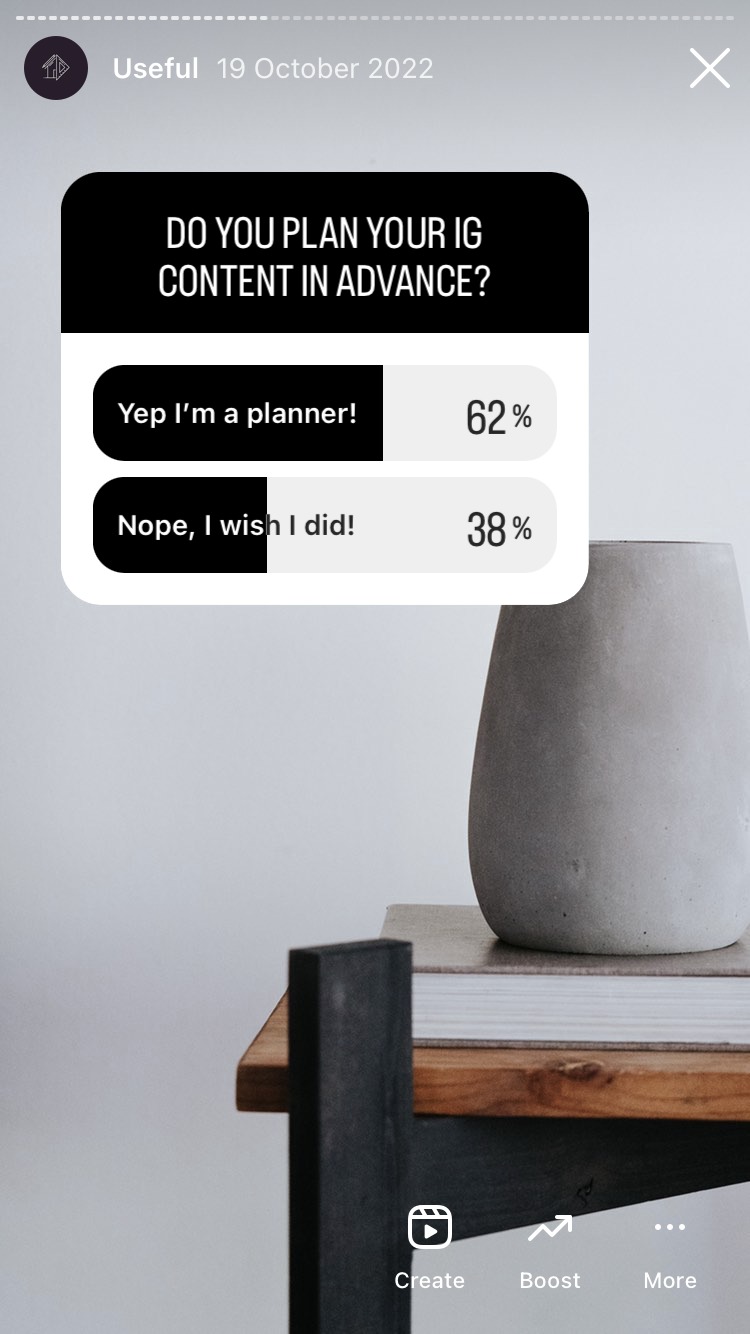 Emoji Slider: The emoji slider allows viewers to rate or provide feedback using an interactive emoji scale. In your case, you can leverage this sticker to gauge opinions on various design elements or trends. You could use an emoji slider to ask, "How much do you love this bold wallpaper pattern?" and let users slide the emoji to indicate their level of enthusiasm.
The icon on the emoji slider can be changed so you can customize the sticker to fit your content and give your Story some extra flair!
Countdown: Countdown stickers can help you build excitement and anticipation for upcoming events, project reveals, or new content you are planning to share (e.g. a new YouTube video on a specific design topic). If you have a home decor shop, you can use the countdown sticker for an upcoming sale or a new collection launch. Viewers will be then able to turn on reminders for this event and you can share a link to it once it's live.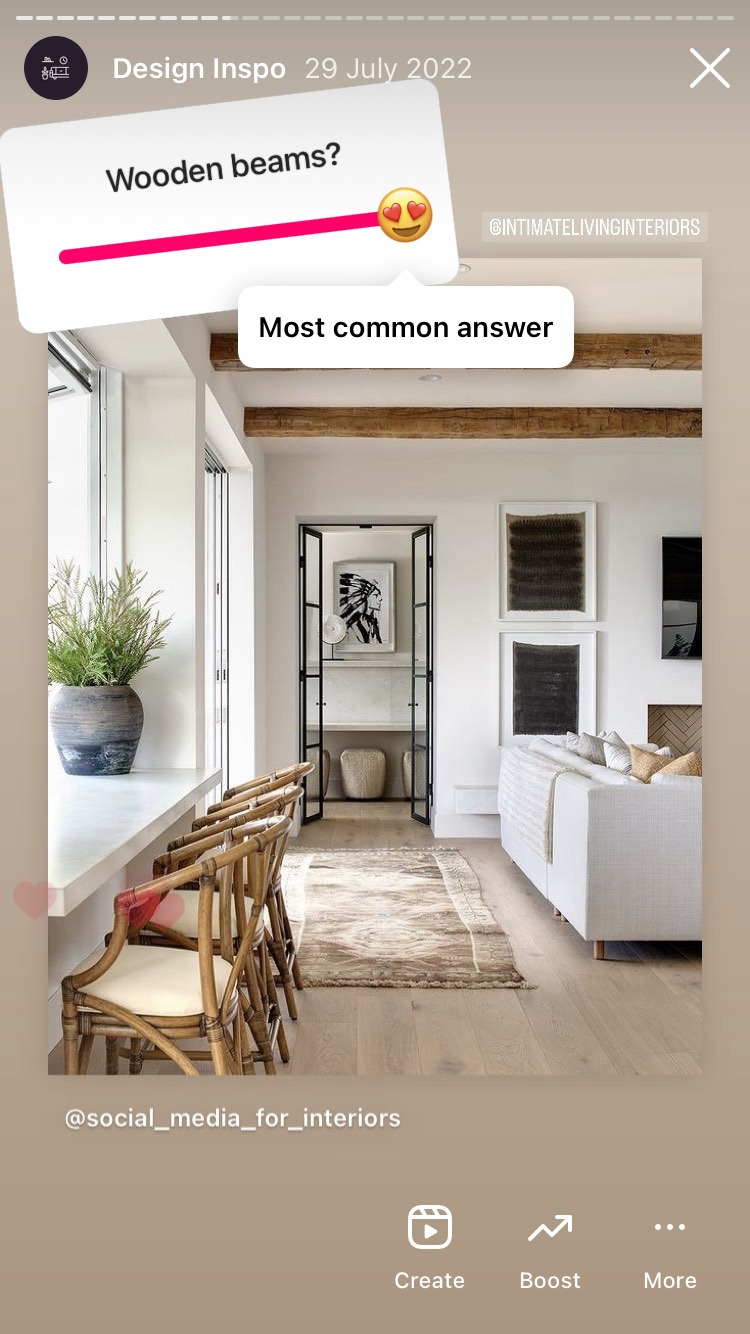 Link Stickers: With the link sticker you can send your followers to your website directly from your Story, or let them use a booking form simply by tapping on the link sticker. Link stickers replaced the swipe-up feature so everyone can now post clickable links in their Stories, no matter how large your audience is.
However, there is a downside to using the link sticker – since Instagram wants people to stay on the platform, you might experience a lower reach when using it. There is a way around this though, and it will actually boost your engagement.
Let's say you want to share a link to a freebie you created (e.g. a mood board template). Instead of using the link sticker, ask your followers to DM you if they want the link to this freebie. Then, after they send you a direct message, you can share the link in a DM, and continue the conversation there.
By doing this you are achieving two things at once: promoting your freebie while collecting emails, but also opening up a direct communication channel with client leads in your DMs.
When using this method, always ensure that your call to action (CTA) is clearly visible in your Story and that your content is interesting enough so that people do want to reach out to you. Try a CTA such as 'DM us to get a free color guide' or 'DM to get more home decor tips like this one.'
There are automation tools like Manychat and Chatfuel that can automate responding to your DMs so you don't have to send the link manually to every follower who asks for it!
How To Add Engagement Stickers To Your Insta Stories
To add the stickers that you want to go within your images or video clips, do the following:
Tap on the sticker icon when creating your Story.
Scroll down to see all available sticker options or use the search function (this is especially handy for GIFs).
Tap on the sticker you would like to use and customize it.
Adjust where you want to place the sticker and how big you would like it to be.
Once you're done choosing the Stickers, publish your Story.
Best practices for using Instagram Stories to drive interior design clients
Just like with your other Instagram content, you need to have an idea of what you want to achieve with your Stories to get actual results.
Here are some best practices to help you leverage Instagram Stories effectively and attract new home decor clients:
Post Stories several times a week
If you want to grow a loyal, engaged audience, you should post Stories often – even every day is fine, if you have time and enough content to do so. It's okay to keep your Stories unpolished so don't overthink them – in fact, that's what makes them so authentic and appealing!
Post original content
Do not simply copy and paste what you share on your Instagram feed. Your Stories should be different from your regular content – that's why people check them daily!
Share behind-the-scenes moments and spontaneous thoughts while you work. Use engagement stickers and voting options to make your viewers feel included. Create longer videos with on-screen captions that aren't polished enough for Reels. Treat Stories as bonus content that entices people to keep following you.
Boost your engagement by asking people to DM you
We've talked about this one before but it's worth mentioning again – ask for a DM instead of using the link sticker when you want to lead people to an external website. Also, encourage them to reach out in a DM if they want to know more about your services or if they have any questions about projects you are sharing – any reason to start a direct conversation counts!
Save Stories to a highlight instead of letting them expire
If you are sharing Stories that will be relevant weeks or even months after you post them, do save them to a highlight so that this content remains visible to your new followers.
You can also create themed highlights – e.g. a series about the services you offer, your past projects in a specific design style, or projects that fall under one theme (e.g. kitchen remodels or bedroom makeovers). This makes it easier for your followers to find what they are interested in and boosts the chances of them staying longer on your profile.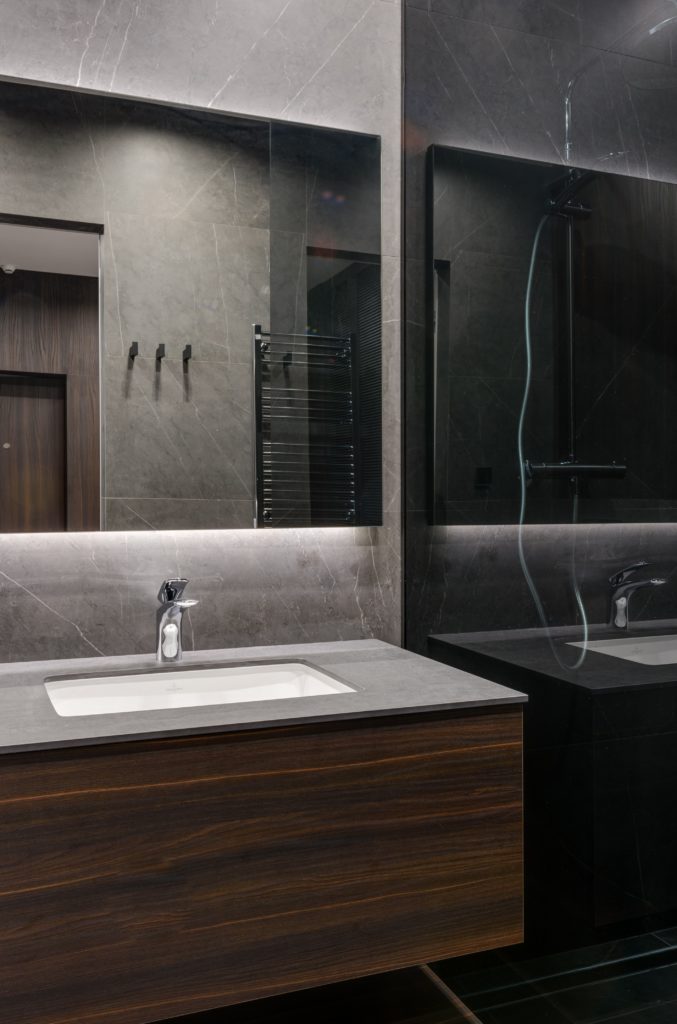 How to use Instagram Story analytics to boost engagement and drive conversions
Checking the analytics might sound like the boring part of posting Stories but the data you can gather can give you valuable insights into whether are your Stories actually working to achieve the goals you want.
How to access Instagram Story analytics
Head over to your Story, and tap on the left bottom corner.
Here you can see people who have seen your Story or interacted with the Story stickers.
Tap on the insights icon and you will get to the insights overview
In the Story insights overview, you can see data such as the number of people reached, engagements, and any profile activity. You can also see how many people tapped forward or back to previous Stories, as well as the number of people who exited your Stories altogether.
Keep an eye on a drop in your Story reach, which might indicate the need for change in your approach.
All this data should help you evaluate if your Stories are working for you or whether you should try different stickers, mix up your CTAs or experiment with a different type of content in your Stories.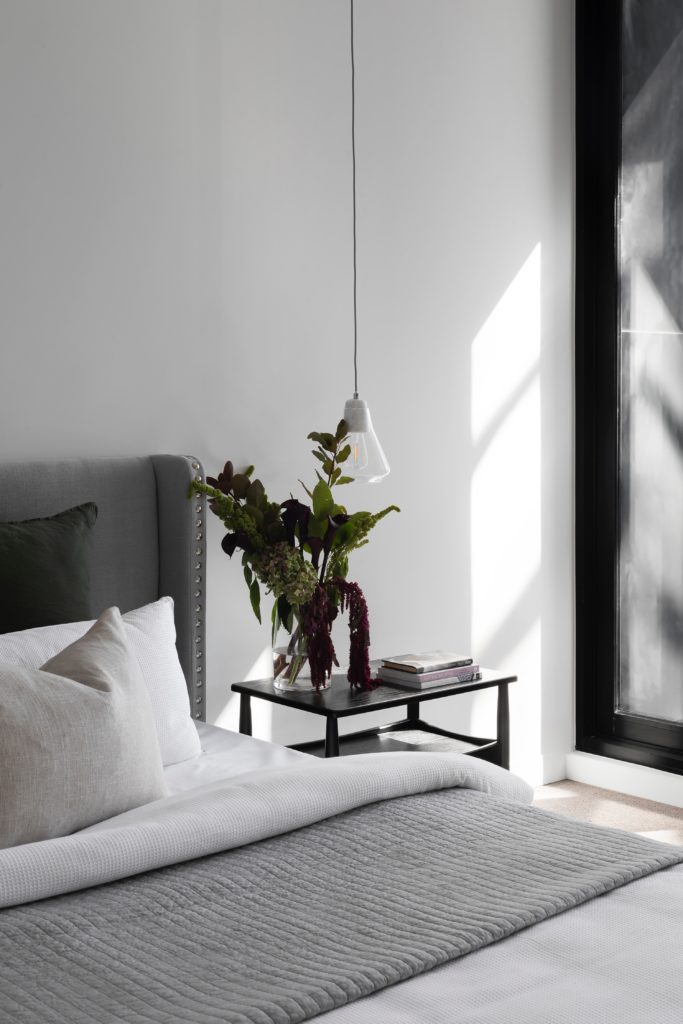 Final thoughts on Instagram Stories for interior designers
Instagram Stories offer a wealth of opportunities for interior design business owners – whether it's to share fun, relatable content, connect with your followers on a deeper level or convert followers into clients.
With all their features and possibilities, Insta Stories truly are one of the main reasons why Instagram remains to be the number one platform for interior designers, decorators, and home stagers.
If you are excited to start creating Stories that will boost your visibility and grow your business, check out our Instagram Story bundle – it's designed to help you increase engagement while saving time on creating fresh content.